●

Best Practices
Feb 16th, 2018
5 Things Dealers Need to Understand About Big Data
With the NADA Show 2018 in Las Vegas a mere matter of weeks away, two words dealers are probably hearing a lot — and will hear much more often at the convention — are big data.
Many of the biggest and most innovative vendors in the automotive space will be touting the latest and greatest in their big data and analytics offerings at the show, and as impressive as it all sounds, it can get a little overwhelming. Sometimes in their enthusiasm to tout the marketing, lead generation, and analytics benefits of big data, its ambitious developers and proponents forget that to minds that are focused on the business of selling more new vehicles and improving profits, the subject can be daunting or hard to fathom in terms of day-to-day use.
What dealers and their staffs want to know is what big data will do for them in daily dealership use, and what benefits it offers in both the short- and long-term bottom line.
Dealer Marketing Magazine has featured many informative and technical articles about big data over the years, but even we struggle to define it beyond buzzwords and simple concepts.
For this feature, we wanted to find out what dealers really need to know to get to the bottom of the abstract concept of big data.
To get answers, we went to three automotive industry pros with extensive experience in selling vehicles, marketing, and business development. We asked them for five things dealers need to understand about big data analytics in terms of what the technology actually is, why dealerships should use it, how it affects their staff in daily use, and the right and wrong ways to capitalize on that data.
It's our hope that armed with the practical advice Valerie Vallancourt, Russ Chandler, and Natalie Born offer here, readers attending NADA Show 2018 will be better prepared to evaluate and assess the increasingly sophisticated big data offerings that are sure to be prominently featured.
PARTICIPANTS

Valerie Vallancourt is vice president of marketing at Outsell, which provides an AI-driven marketing automation solution to auto dealers. Since joining the company nearly three years ago, Vallancourt has transformed its marketing, developing a demand-generation engine and implementing new processes for lead generation and tracking. These efforts significantly improved inbound lead flow while improving quality, helping Outsell exceed its sales goals. Valerie also champions women to be a part of the automotive industry.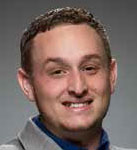 With more than a decade of experience in the auto industry as a dealer, Russ Chandler has seen firsthand the problems dealerships face every day. As a product marketing manager for PERQ, a marketing technology provider that boosts website conversions by creating and delivering interactive experiences to the right consumers at the right time, Russ combines his expertise with powerful technology to provide his clients with increased response and conversion on their marketing. Founded in 2001, PERQ and its solutions are now used by more than 1,000 businesses across the United States. PERQ's brands have been named to the Inc. "500 Fastest-Growing Companies in America" list on three separate occasions.

Natalie Born is an accomplished executive with more than 15 years of experience leading product development and project management teams. Prior to joining Client Command as vice president of product management, Born worked with organizations such as CareerBuilder, First Data, IHG, and ADP. Born has led major initiatives in more than 18 countries with a background in acquisition, integration, and international product development. Her expertise is driving organizational transformation and achieving desired business outcomes in fast-paced, high-growth environments. Born has also worked extensively with start-ups and in aligning leadership teams of acquired companies. She often leads critical initiatives, such as new product development, standing up PMOs, M&A integration, change management, and developing a "culture of innovation" within organizations. 
1. What exactly is big data?
Vallancourt: Big data is typically defined as a data set that is too large to be analyzed using conventional means. That rules out anything in a spreadsheet, and in general, any customer or prospect database a dealer maintains in-house.
In the context of auto dealers, big data typically includes third-party data sets — examples include household data, shopper behavior data, and demographic data — all of which can be combined with a dealer's in-house data to create a clear mosaic of customer needs, down to a single consumer profile.
Chandler: Big data is basically any large set of information that can be analyzed and aggregated to show real and powerful insights that can be applied to business to increase success. For example, PERQ specializes in utilizing online consumer behavior data — how they behave and interact — in order to analyze what drives them, so we can improve the effectiveness of a website.
On the dealership level, big data is being used on multiple levels, from inventory management tools and pricing to Google Analytics and more. In fact, there is a goldmine of data generated at the dealership that is, in many cases, not being fully leveraged. And that's a shame, because while big data might sound intimidating, it is nothing to be afraid of — it simply is a better way for dealers to inform their business decisions, reinforcing gut instinct with hard data.
Born: Big data can be used to predict presidential races, whether a woman is pregnant, or in the case of what we do at Client Command, know the moment when someone is ready to buy a car. Big data can be an overwhelming and overused term that leaves people wondering where the real value lies. But big data only matters if it is being used to create real business insights and drive value to your dealership, the consumer, or both.
Let's be clear on what big data is. The best way to define big data is that it fits into one or more of these three V's: volume, variety, and velocity. Volume: I like to define big data as being too large to be contained in your traditional spreadsheets. Variety: Multiple data types such as videos, photos, and Facebook likes. Velocity: Imagine capturing all the internet searches happening in one day across the U.S.
2. Why do dealers need big data?
Vallancourt: When combined with their own in-house data sets, big data can help dealers identify in-market shoppers, provide them an opportunity to reach out before they defect, and better understand the consumers that visit their store. Big data often gives dealers the insights they need to successfully close a sale. Third-party big data sets can also be helpful for dealers who want to do a better job segmenting to better target their marketing efforts. Big data also helps dealers understand what transpired since the last purchase — for instance, did the person get married, start a family, or relocate? A basic understanding of income and family status can give dealers a leg up when that person is in the market for a new vehicle. Not only can this data help dealers present more relevant offers, but it also helps build trust and long-term loyalty because it shows that dealers understand consumer needs.
Chandler: Dealerships need big data to survive in today's market, and to "future-proof" tomorrow. For example, thanks to competition and data transparency, what you can make on an average gross profit deal is being squeezed. As a result, it's vital to be efficient with marketing dollars, inventory management, and sales investment, and that's where big data is vital.
The business and behavioral insights big data provides can be key not only to increasing the cost-effectiveness of dealership operations, but also to create an experience, online and off, that enhances loyalty. Another important benefit is future-proofing. The way vehicles are being sold is on the cusp of massive change. Anticipating the degree to which this may move from trend to reality can be gleaned from big data. It helps dealers understand potential changes that are coming, and how they need to evolve to future-proof their business.
Born: Big data matters a great deal in today's market, and the one who wins is the one who can engage and convert the consumer the quickest. To put it another way, the difference between you and your competition is how you leverage your data. Your data helps you understand your consumers, and engage them with marketing and offers that are relevant to them.
Amazon created an algorithm to ship items that they anticipate you will buy before you buy them. Target can predict the slightest change in behavior to know if a woman is pregnant. It makes you ask the question: What does my data do for me? And the better question: What could it do if I invest time in this area? What separates Facebook, Amazon, Target, or any competitive threat is the speed at which they collect, process, understand, and monetize the data. It's the speed at which you can turn data into real insight.
3. How does big data affects your staff?
Vallancourt: All dealers have a myriad of data on consumers already — such as contact information, contact preferences, vehicle(s) owned, service history, and maybe some click data on what they are looking for in their next vehicle.
Third-party big data sets you could leverage include: credit data, which helps ensure your salespeople spend their time with qualified prospects; auto shopper behavior data; demographic data, valuable insights that can help a salesperson recommend the right vehicle; and buyer readiness to identify buyers who are currently active in the market, including when a current customer or unsold lead has re-entered the purchase cycle.
An example is Outsell's buyer detection software. These big data sources can help dealers engage customers with relevant marketing communications and help their sales team to focus on the right customers and prospects — so that they can sell more vehicles.
Chandler: Everything from the daily tasks of your sales and operations division to the decisions your marketing team makes are impacted by big data. Today, the sales team uses big data at the showroom and via the website, and F&I managers use it to optimize menu selling so that a customer sees the right offers.
The typical BDC uses it to refine their scripts and adjust how they set appointments; so do the service advisors. All of this is driven by big data, from inventory management and pricing, the quality of traffic, consumer engagement, and how that engagement leads to conversion.
For example, by looking at big data, dealership employees can precisely optimize website activity, looking at micro targets like call-to-action buttons and optimizing them based on each individual consumer's preference, making the website more interactive, more personalized, and with better conversion. Big data analysis drives website action; from the dealership point of view, that ties it to everything.
Born: The success of the data you have in your hands is how quickly you can access, mine the data, and pull back an actionable insight. The data becomes useless if you cannot surface real insights when you need them. But great data strategy doesn't happen overnight. Instead, it requires thoughtful planning, the right support, the right resources, and execution.
You have to sit down with your team and start asking the right questions, and then get intentional about how you are going to get the data you need to create a successful data strategy. You could uncover questions like: Who is our core customer and what do they care about? How effective are my marketing efforts? Which marketing efforts should I stop, start, or continue? Can I anticipate who will buy and when? Can I anticipate what vehicles will be in demand based on my dealership demographic and stock accordingly? Big data can help you answer all of them.
4. The right way to use big data...
Vallancourt: Local agencies and marketing solution vendors often have the expertise to help guide your efforts as well as provide access to data. Identify a vendor(s) who can assist in taking all the available data and make it actionable. There is so much data available today that it is impossible for auto dealers to take action on it on their own.
A savvy vendor can combine a dealership's offline data with behavioral data and third-party data sources, as well as other online sources, to create dynamic individualized communications that increase consumer engagement. There are also a variety of data providers to choose from, ranging from the major players like Acxiom, Experian, or Polk, to smaller players that have tailored offerings for automotive.
There are also vendors such as Outsell providing predictive analytic models and services that, when used as the basis for ongoing individualized marketing programs, can significantly boost response rates.
Chandler: The golden rule of big data is accuracy and automation — being misled because your data is incorrect is a huge liability. What that means is making sure all the data that you collect is being tracked and reported correctly — that there are no errors or duplication.
At PERQ, we integrate directly with Google Analytics, enabling dealers to leverage the big data Google delivers while ensuring that our integration in no way interferes its accuracy, but instead, enhances the learnings and analysis. Having big data stored away somewhere that's not easy to use is like owning a Corvette without the keys.
Born: No one wants to waste time building big data for big data's sake. We use data to become faster, smarter, better, or more effective. If we don't disrupt ourselves, our competitors will do it for us. The data tells us changes in preferences, and how we adapt makes the difference between winning and losing.
For example, the traffic that comes from your Google Analytics and other network sources is a huge gold mine. Ensure you understand it and you are using it to help make your team smarter. When you start to aggregate and understand that data over time, you can build trends, dashboards, and make key decisions past what your gut might be telling you.
Trust your gut, but use the data to back it up! Big data can give you insights into how and where to invest your marketing dollars. Your data needs to operate the same way you do . . . in real time.
5. The wrong way to use big data...
Vallancourt: Don't go out and purchase an enormous data set that you don't know how to leverage, as the data quickly becomes out of date. You already have a plethora of data on hand in your DMS and CRM databases. There are a broad spectrum of data, analytic, and technology offerings. Think about your objectives and the type of data that could support those objectives.
Think about what you want to accomplish with your marketing programs. You don't need to have a data scientist in house to be successful, but you do need the right vendor. A common-sense understanding of how people buy, and the reasons they buy what they do, is all you need to harness big data and generate big rewards. Big data can help you market more effectively and sell smarter, not harder.
Chandler: Clearly, bad data will lead to unwise business decisions — but it's important that your team is able to interpret and analyze the data/reports they receive. Often, data may appear to tell one story, but, with proper analysis and insight, you will find the real story.
Never take data as gospel — it's not a magic potion — and it always requires analysis. Instead, look at big data as an indicator. Expertise and context is what makes for solid decisions. When the power of big data is used in the right context, the results speak for themselves. Bottom line: The worst thing a dealer can do is nothing. That's a wasted opportunity to leverage the valuable data they own.
Born: There are three things you have to have in order to begin leveraging big data. [First, identify] clear objectives on what you'd like to accomplish. [Second, develop] a clear plan on how will reach those objectives. [Third, make sure you have] support throughout your organization to get there.
If these things are not in place, you will build big data for big data's sake. So, start with the end in mind.
What competitive insights do you need to run your business?
What do you need to know about your consumer?
What behavior signals a change in the market, inventory, or consumer?
What could you do to monitor core KPIs to the business?
Only take the time to measure what matters. So where do you want to get better or what do you need to know to win?
That's our starting line for big data.
Curated, quality insights?