●

Best Practices
Sep 17th, 2020
5 Ways Your Dealership Benefits From Driving Difference in Your Community
In today's age of the customer, dealers must compete on more than just price in order to win the sale. Yes, part of that is providing an exceptional consumer experience, but there's also a huge opportunity to earn a customer's business by getting involved in the community. 
According to a CarGurus survey, 45% of CarGurus shoppers said they were somewhat or very likely to switch to a brand that supports a good cause, given similar price and quality. It's simple: when your dealership supports your community, your community tends to want to support your dealership in return.
But the perks of community involvement extend far beyond the sale. Here are five additional ways your dealership benefits from giving back, plus some ideas for how to get involved.  
1. You differentiate your brand and generate positive PR
Getting involved in and driving difference in your community can have a very positive impact on your dealership's reputation. That's because people tend to take notice when someone is doing something good to support the community. Not only will your dealership stand out from others, but it might also benefit from some free publicity. A positive media mention or short feature on your local news channel about your dealership's charitable efforts can reach thousands of people in one fell swoop — you might even influence some car shoppers along the way. Making a big purchase like a car tends to be an emotional process, not just a logical one, and building up feelings of goodwill could pay dividends for your dealership.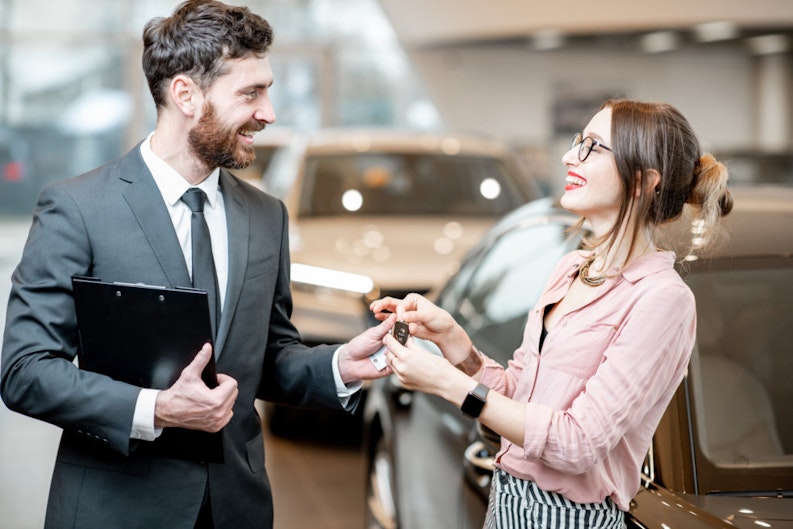 2. Employees respect business leaders who give back
Giving back can help generate positive PR externally, but it can also help you garner favor within your own business. Typically, when employees respect their leadership, they're more likely to stay with a business long-term. Plus, when morale is high, they're more likely to feel engaged and, ultimately, be more productive at work. 
In addition to retaining your top talent though, getting involved can also be an excellent tool for recruiting new staff. Showcase how your dealership supports local causes, and you'll likely appeal more to prospective employees too.
3. Giving back helps improve your local community
When you pitch in around your local area, you help make your community a better place to live. For example, cleaning up a local park provides a more enjoyable place for everyone to relax and play. Similarly, making a donation to a nearby school gives your employees' children a safer and better place to learn and play. Whatever way you choose to give back, a stronger community frequently leads to a stronger local economy, which can only benefit your dealership. 
4. Your business may be able to take advantage of tax deductions
Giving back is good for your community, but it's also good for your dealership's bottom line — the ultimate win-win. How? In some instances, businesses can deduct charitable contributions to qualifying organizations on their tax returns. 
Tax-deductible contributions aren't limited to money either. Your dealership can donate equipment — like a used minivan to a local community center — and may be able to write it off. Mileage accrued when doing charitable work also generally qualifies as tax-deductible. Make sure you choose an organization that the IRS has approved as a recognized charity to take advantage of the tax benefits that come with philanthropy. Also, make sure to consult with a tax advisor to understand the applicability to your organization better.
5. You connect with others and build your network
It's easy to go about your day-to-day business interacting with the same type of people on a regular basis. But how will that ever broaden your reach? Getting involved exposes you to a variety of different people and is a great way to diversify your network. You might just meet your next biggest customer or a dealer peer you can learn from while serving others. 
How to get started
Money is helpful and often necessary, but giving back doesn't have to mean writing a huge check to an organization. There are plenty of ways for you to make an impact with your time, expertise or another type of contribution. Here are some ideas:

Organize a food drive. Whether you collect canned goods from employees, or you open it up to include your shoppers, this is a relatively easy way to help others. Set up a bin at the front of your store, put up a sign advertising the food drive, and watch the donations roll in. 
Deliver meals to those in need. This has recently been a popular way for dealers to give back to frontline hospital workers, but meal delivery is also a great way to help senior citizens in your area. 
Donate a car to an organization in need. As a car dealer, you have access to a variety of vehicles. Pick one — it doesn't have to be your flashiest, just one that's reliable and safe — and donate it to a cause you believe in.  
Whether you choose to invest time, money, property, or all three, pick a cause that you believe in and get started helping others. As you can see, it can have a powerful impact on both your community and your business.
Curated, quality insights?