●

Commentary
Nov 28th, 2012
A Dealer's Perspective on Video SEO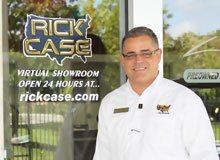 I am interviewing Richard Bustillo, GM of Rick Case Honda of Davie, part of the Rick Case Automotive Group. Richard has seen his Honda store go to number one in the nation for new car sales for June 2012, is ranked number one in the nation for gross profit, is currently ranked number one in the Southeast, ranked number three nationally YTD, and has won the Honda President's Award four years in a row (2008-2012). Here is a recap of Richard and my discussion during my interview on his insights into Video SEO marketing and how it impacts his dealership.
AJ: Why is it important for a dealership to have a Video SEO strategy?
RB — I think video SEO is the future. We all know that video leads convert four times better than regular pay-per-click ads. If you want to continue to grow you must be willing to learn and adapt to the best strategies. VSEO is that strategy today.
AJ: Can you explain what Video SEO does for your dealership?
RB — It has given me video domination on page one, and not only for Honda, but for conquest brands as well.
AJ: How has your Video SEO strategy impacted your website's visibility on search engines?
RB — The impact has been huge. Our videos engage customers based on the model they type into Google and then lead them directly to our website.
AJ: How do you measure the effectiveness of your Video SEO strategy?
RB — That's a great question. Video SEO is a lot like Network TV. When I am on TV, the phone rings more and we have more walk-in traffic. With Video SEO, I know I have more traffic to my website. Since I began Video optimization I have seen a substantial increase in google search referral traffic.
AJ: Why haven't more dealers starting implementing a Video SEO marketing strategy?
RB — I think it comes down to understanding and execution. Like anything else, you don't know what you don't know. To capitalize on VSEO, you need to understand the roll that VSEO plays as part of your overall strategy, and most importantly, you need solid internet processes to convert that additional traffic into web leads. Once dealers start to educate themselves, I think VSEO will be like PPC or SEO are now.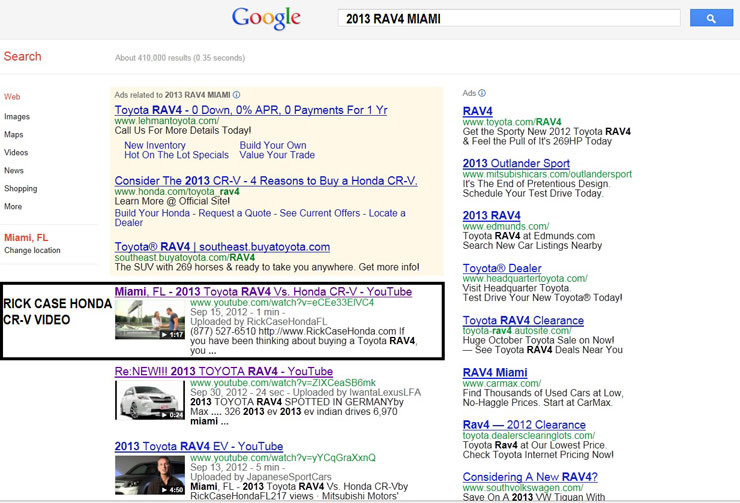 The screenshot example shown here is for the search phrase "2013 RAV4 MIAMI", and shows Rick Case Honda's CR-V video dominating the number one spot for organic search targeting local buyers looking for the competing Toyota product. This enables brand conquesting where traditionally a Honda dealer's website is not relevant enough to show up for Toyota search phrases. Video SEO is a competitive tool that can help get your dealership the extra exposure needed to gain new market share. Every percent of market share your dealership gains equals additional sales and service revenue.
AJ LeBlanc is the managing partner of Car-mercial.com and Carbuyersengine.com.
Curated, quality insights?