●

Commentary
May 21st, 2014
Advanced PPC Geo-targeting to Drive More Sales
No doubt your dealership has been spending a portion of your advertising budget in paid search advertising. You probably have fairly reasonable insights into your ad copy and top keywords, maybe even what keywords and ad groups are driving the most leads or phone calls. But when was the last time you dove into your geographic data? You may have originally set-up your account to target 20 miles around your dealership and left it at that. Fortunately, with a little help from a digital marketer's best friend (data!) you may be able to make some impactful changes to help boost lead and sales volume.
First, it's important to realize the targeting capabilities you have within paid search, most notably Google. You are probably aware that you can target by state, city, or radius around a certain location. In actuality, you can target by all these methods plus township, county or even as granular as zip code! You can also set-up exclusions (areas you don't want to target) the same way. And when you add your unique location targets into your location settings, you can also increase or decrease your bids by these areas. Let's use a quick example.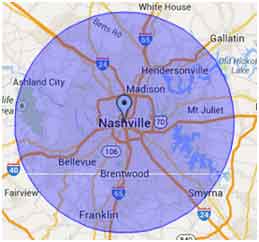 Let's say you run a Honda dealership outside of Nashville, TN. Over the past 12 months, two new competing dealerships have opened up within 15 miles of you and you have noticed sales dropped off from certain locations within your own backyard (Franklin, Brentwood, and La Vergne). You have also noticed that some of your strong sales areas have remained steady (Mt Juliet, Antioch, Nashville and Madison). Your latest PPC reports show an increase in clicks from Ashland City, but you haven't seen an increase in leads or sales. Does this scenario sound familiar?
With this knowledge, you'd like to make a shift in your targeting — put more focus on your slow sales areas, remain flat within historically stronger locations and stop targeting Ashland City altogether. Some simple location adjustments can turn your standard radius targeting from this (image displayed to the right):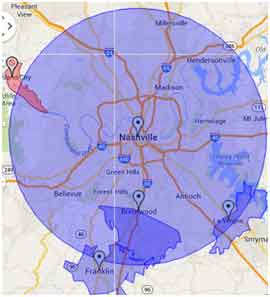 Into this (image displayed to the left):
From here, you can increase your bids to Franklin, Brentwood and La Vergne, while keeping your radius bid flat. You have also completely excluded Ashland City since it is driving wasted clicks and costs.
This is a fairly simple example, but if you have a lot of data you could make adjustments to dozens or more locations within your targeted area.
With this knowledge in mind, I challenge you and your marketing team to use past and recent data to test your targeting options within paid search. You probably have even more data then you realize to dissect and analyze. Here are the top three sources I would consider using:
Internal Sales Data: This one of the best places to start. You already have a monthly list of sales by city and zip code within your dealership. What trends have you seen over the last several months or year-over-year? Where can you be putting more dollars into advertising and what can you reduce or remove altogether?
Polk Data: You know your own numbers; now what can external data tell you? What cities are you losing sales to other competitors? Should they be shopping with you instead of them? Use this in combination with internal data to further strengthen your targeting.
Digital Data: Every click you incur from paid search also includes information with where that click resulted from. You can pull historical reports by zip code or town and analyze this traffic vs spend and lead volume. Spending a lot in Town X, Y and Z but receiving very little leads or sales? It may be time to make some adjustments.
If you found these PPC tips helpful, click here to download your complimentary copy of our newest eBook, PPC & SEO: Understanding How They Work Together To Maximize Results.
Brock Clauser is the Director of Paid Search at Stream Companies, a Philadelphia area advertising agency.
Curated, quality insights?