●

News
Apr 26th, 2018
April Auto Sales Expected to Dip, Edmunds Forecasts
Santa Monica, CA — April 25, 2018 — Edmunds, the leading car shopping and information platform, forecasts that 1,335,313 new cars and trucks will be sold in the U.S. in April for an estimated seasonally adjusted annual rate (SAAR) of 16.9 million. This reflects a 19% decrease in sales from March 2018 and a 6% decrease from April 2017. Analysts note that there were 24 selling days in April this year, compared to 26 last year."April's sales slip may seem disheartening, but the spike we saw in March was an anomaly considering our expectations for 2018," said Jessica Caldwell, Edmunds executive director of industry analysis. "Overall, we expect April will still be a solid month and more of a true indicator of where sales are trending for the year as demand declines and interest rates continue to rise. Sales are still in a very healthy place, and we're seeing encouraging signs that automakers are continuing to improve their product mixes and inventory levels to match consumer demand."
SALES VOLUME FORECAST, BY MANUFACTURER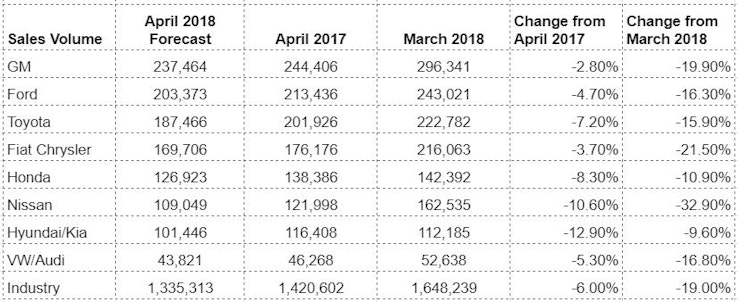 *NOTE: April 2018 had 24 selling days, April 2017 had 26 and March 2018 had 28
Edmunds estimates that retail SAAR will come in at 13.5 million vehicles in April 2018, with fleet transactions accounting for 20.1% of total sales. An estimated 3.5 million used vehicles will be sold in April 2018, for a SAAR of 39.2 million (compared to 3.7 million — or a SAAR of 39.2 million — in March).
MARKET SHARE FORECAST, BY MANUFACTURER

More insight into recent auto industry trends can be found in the Edmunds Industry Center at www.edmunds.com/industry-center/.
About Edmunds
Edmunds is the leading car information and shopping platform, helping millions of visitors each month find their perfect car. The company also hosts a 20-year-old forums community that connects members to other car shoppers and enthusiasts. The company is regarded as one of America's best workplaces by Fortune and Great Place to Work. Edmunds is based in Santa Monica, California, and has a satellite office in downtown Detroit, Michigan.
Media Contact
Talia James, Edmunds, 310-309-4900, [email protected]
Curated, quality insights?