●

Commentary
Sep 11th, 2013
Are You Ready for the Mobile Marketing Revolution?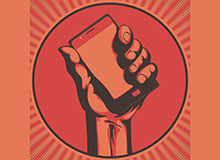 Although it wasn't called it at the time, the first smartphone to come to market was the IMB Simon in 1993. The Simon was the first phone to combine a PDA and cell phone and it even included basic apps such as a calendar, calculator, and address book; it was eight inches tall and weighed 18 ounces, that's over a pound!
Fourteen short years later the first iPhones hit the market. At a svelte four and a half inches tall and weighing only 4.8 ounces the iPhone is much faster and easier to use and carry around than the Simon and its nickel-cadmium battery. When it was first released, the iPhone only had a few dozen apps, but with the creation of the App Store that number has increased to over 900,000 today and Google's Play is expected to surpass that number sometime in 2013.
According to a study by Pew research, 79 percent of 18-24-year-olds and 81 percent of 25-34-year-olds have a smartphone. It's not just the Millennials who are trading in their old cell phones for smartphones, however, 69 percent of 35-44-year-olds and 55 percent of 45-54-year-olds also own a smartphone (Pew Research Center). These are your customers and if more than half of them own a smartphone, you had better learn how to connect with them on it.
The future of the internet will definitely be mobile, the question is: How can dealers continue to reach customers online who are increasingly bypassing their computers and connecting to the internet on smartphones and tablets? Mobile technology is still growing and changing, but there are already a myriad of technologies available to dealers to help market themselves to their mobile customers. What works best for you will depend on your dealership's specific situation, but to determine what that is, you need to hear from experts to learn the best practices for mobile marketing.
Fortunately, we were able to speak with two experts on mobile technology and marketing for auto dealers: Mike Martinez, chief marketing officer for DMEautomotive and Brad Perry, co-founder/CTO of DealerSocket Inc. They were kind enough to answer our questions and explain how dealerships can take advantage of the mobile revolution to find new customers and grow their profits.
Dealer Marketing Magazine: What are the latest trends in mobile marketing for auto dealers?
Mike Martinez: Only a few years back mobile was perceived by most dealers as a niche "sideshow," with the overwhelming focus on building everything for the desktop/website. But now dealers are really digesting facts like these:
2013 is the first year that the majority of Americans own smartphones (56 percent) — with 50 percent growth in 2012 alone. (Pew Research Center).
Time spent with mobile is growing at 14 times the rate of time spent with desktop/laptop computers (52 percent vs. 4 percent). (eMarketer data).
Mobile search now trumps desktop search (Google data).
Almost half (46 percent) of consumers searching for local products/services (like car dealers) now exclusively use mobile as their research tool. (Ad-Telemetrics Mobile Path to Purchase Study).
Roughly one-third (31 percent) of consumers now use mobile devices when car shopping. (Chrome research).
Consumers spend more time per day with mobile apps than they do on traditional websites, and it's approaching the amount of time they spend each day watching TV! (Flurry Analytics data).
So, for dealers, pretty suddenly, it's no longer mobile as "footnote" to a marketing strategy — it's mobile
Dealers and third-party sites have placed a big emphasis on being "found" in the mobile car-shopping process. For instance, more dealers are embracing mobile paid search and display marketing, which, of course, drives competition and pricing up. One expert in a recent Automotive News article (July) explained that mobile paid search cost-per-click ads jumped 20-30 percent just from February-July, compared to less than three percent for advertising to desktop users.
Cobalt data cited in the article showed that the average increase in cost-per-click skyrocketed 60 percent in that time frame. eMarketer just published that they expect nearly 50 percent of all display and search spending to be on mobile channels, which probably means that these costs are just going to continue increasing. So, while you want to have a great mobile presence everywhere, mobile search and display advertising is quickly becoming less of a deal.
Other examples of mobile marketing action on the sales/car-shopping side are all the major third-party car buying/research sites — from Kelley Blue Book, to Cars.com, to eBay, to Edmunds — trying to translate more of the car-shopping experience onto mobile, and in some cases, apps, from helping shoppers better connect to dealers, to even buying used cars on phones. To take just one example, Edmunds is rolling out app functionality that lets shoppers establish a price and text with dealerships, and will soon let people have virtual tours of dealerships from tablets.
I would say that the biggest trend (and one that will necessarily sharpen) is dealers realizing that while they need to "well-covered" on mobile for sales/car shopping, that this is a very infrequent purchase, and that the real opportunity for mobile for dealerships lies in forging mobile-powered retention and loyalty programs that result in a lifelong car ownership and service relationship. That's a mobile app's very DNA and that's why more dealerships, including the biggest retail operators in our industry, are getting one.
Among all mobile marketing options, it's pretty obvious that a service and ownership-focused mobile app is the most logical and relevant "customer-connection" tool for dealerships. Because when an app is installed on the device, it has an icon on the device desktop making it very easy for a consumer to engage with the dealership, time and time again. A mobile site can't do this...
Mobile websites are an important part of a dealer's mobile strategy, but apps are faster, easier-to-use, and specialize in serving up useful tools that tangibly make people's lives easier, day in and day out. And unlike the mobile website or ad, they can take advantage of location and user-account-based info that can power super-relevant, high-action messages, including push notifications. The big app advantage: unlike a mobile website or ad, they occupy priceless real estate on the screen of people's smartphones, 24/7, so they alone can deliver an "always-on" customer connection. More and more dealers are discovering that if they're designed right and used smartly, apps are a marketing dream.
Brad Perry: We see an increase in consumers using their mobile phones to view marketing content that is sent to them from companies like DealerSocket. For example, we have seen an increase in email open rates, because consumers are constantly on their mobile devices communicating with family, friends, shopping, and researching interests. This trend has lead DealerSocket to design marketing emails with mobile users in mind.
Also, because our system allows dealers to target market customers with specific messages, our email content must be actionable. These actions come from links that take consumers to web pages with a responsive design pattern. Take for example our Smart Reply product that will send an automated email back to a consumer after submitting vehicle inquiry. This email will has an eBrochure link for the vehicle of interest as well as alternative vehicles the customer might be interested in. The responsive design of the eBrochure allows a mobile user to see a mobile optimized version, a tablet user to see a tablet optimized version, and a desktop user to see a desktop optimized version all within the page.
On the dealership side, we are seeing an increased need to enable sales and service reps to send high quality digital media from our Mobile CRM products to prospective consumers. Today our Mobile CRM product enables sales reps to send the above noted eBrochures and DealerSocket Smart templates to a customer while walking the lot, sitting in the back seat of a demo, or from home when they get a new lead at 10 pm at night. Most of these advanced marketing features were generally only available from the desktop before.
DMM: How can dealers integrate mobile marketing with their other online and offline marketing?
MM: First, dealerships need to make sure that they are taking a comprehensive approach to designing, deploying, and measuring the lift of a mobile marketing strategy, including a mobile website, mobile search and display advertising, and the five key forms of direct mobile communication which include:
1. Responsive Design Email — Based on our research and analytics, we know that over 43 percent of emails are opened on a mobile device, creating a significant challenge for emails which are not formatted to conform to ever-changing mobile devices. Responsive Email Design is an email technology that sends emails which automatically sense the device a customer is using to read an email and changes the layout of that email on the fly to best fit the device, thereby increasing the performance of all email communications.
2. Mobile Apps — We've already said a lot here, but it's worth mentioning that 88-95 percent of automotive customers use mobile apps weekly or more frequently, performing tasks like receiving coupons/discounts, service and maintenance reminders, recall information, scheduling an appointment, browsing new models, and receiving notifications that repairs have been completed. All of these features should be part of a dealer's mobile app requirements.
3. Mobile Wallet — Mobile wallet technologies like Apple's Passbook are powerful tools that can be used to reward prospective and current customers with loyalty programs. Best of all, the deals and rewards are with the customers 24/7 on their mobile handsets, and deals can be updated as frequently as needed.
4. Quick Response Codes (QR Codes)
5. Compliant, Opt-In-Based Text Messaging
While mobile apps are the increasingly preferred digital channel for more people (especially that hard-to-reach "next generation" of buyers and servicers) they are, of course, just one channel; mobile websites, email designed for mobile and print aren't going away. In your marketing messages (with that caveat that with apps about seriously need to check the hard sell approach at the door), you need to use all channels, including your app, to reinforce one another.
Just one example: if you have a loyalty program, build that platform into your app, so people can view and manage their points, and have greater engagement with the program. And dealers certainly need to use every marketing channel to get the word about their app out there!
BP: Having responsive media is a key player when creating any marketing artifacts. If you can drive one message or voice that can be consistent among a sea of devices, you're in good shape. Most offline efforts are pointed to online efforts and how the consumer will access those online assets is what is changing. Obviously the proliferation of hand-held devices are norm. You need digital assets that are consistent and drive the same easy experience on anything. Minimize your efforts by utilizing technology.
DMM: What kinds of apps are the most popular with consumers?
MM: Aside from gaming and media consumption apps, apps that are the most successful provide at least one "yes" to these questions: Does it solve a problem? Does it make a person's life easier in some way? Does it help them save time and/or money? Does it offer a unique service and enlightening information? Does it delight and amaze people? Any business that wants to adopt an app needs to honestly ask themselves: Would I use and value it?
There are 1.5 million apps out there. And ever-more apps from OEMs and third-party auto sites focused on car shopping — or cool, popular things like BMW's Driving Roads app, which lets people locate, rate and comment on their fave driving roads. Given that dealers can't out-muscle these apps, they need to offer people a proposition only they can offer: a "one-stop" place where they can manage much of their car ownership. A dealer customer may have 50 diverse apps, but their dealership is the logical provider of their car ownership app.
BP: Consumers that have a long standing relationship with a specific dealership are looking for apps that enable them to easily schedule service appointments. Today this is a small portion of consumer demand simply because they only interact with a dealership two or three times a year when their vehicle is due for service.
We see this trend slowly changing overtime as dealership specific apps provide more value to consumers that will get used on a regular basis. This will come through push notifications to help customers know when it's time for service, applications that enable them to find their vehicle in the parking lot, and tools that will enable a consumer to see the current market value of their vehicle and help them make intelligent decisions on the right time to sell or trade in their vehicle to maximize its value. Applications that provide value to consumers will create better dealer loyalty and increase long-term customer value.
DMM: What kind of mobile apps can dealers use to bring more customers to their dealership?
MM: So, first things first, a dealer's immediate focus for acquisition needs to be a powerful mobile website. Fewer prospects will download a dealership's mobile app than will visit the dealership's mobile website.
Once you have the mobile website covered, you can use vehicle promotions in the dealership mobile app to entice low-funnel customers to take the plunge. You can also use the mobile app as a sales tool by making sure it's in the hands of every one of your salespeople — there's no need to make the trek back to the sales tower to find the lot sheet and see if you have that car the customer's asking for — just check that mobile app.
An ownership-focused, truly useful dealer app is the best way to keep all customers close and servicing, but it also may be your best weapon in bringing more customers in for purchases beyond service. Because when it's your app, you're controlling and building the relationship. You're creating this intimate customer connection; it's you that is in their pocket or purse.
BP: Value and utility. What's the consumer going to value by using this technology? Users want to be able to get a return on their investment of time. Even if it's the time it takes to go and download that app from the app store. If that value and utility is not there it's going to expose the integrity of that dealers brand. They have to let the consumer drive that motivation to do so. In our eyes, that gateway is our service app, because it so utilitarian which creates that trust and bond with costumers for the lifecycle of the vehicle.
DMM: How can apps help dealers increase their service business?
MM: A great service-revenue-driving app needs to subtly interweave practical, useful, clever tools that keep customers coming back to the app frequently, with the right functionality that keeps bringing them back to that dealership's service lane. These are not at war: platforms that help customers manage their vehicles' service histories and enable one or two-tap service appointment scheduling are a major win for them and your dealership.
The absolute lynchpin to driving more service business is making sure the app integrates completely with all your DMS and lifecycle marketing systems. Only that enables super-targeted communications like special offers/coupons, alerts, and marketing campaigns based on a vehicle's service lifecycle or the customer relationship. An overwhelming fact: when the right message/offer is sent at the right time to the right customer about the right car, service conversions take off. (And because these personalized alerts are sent directly to the device, the regulatory headaches of text messaging don't apply.)
BP: As mentioned before, apps can enable a consumer to schedule a service appointment and ultimately pay for their service before they arrive at the dealership. A dealership's marketing strategy must lead consumers to this apps or mobile enabled sites that create a faster more user-friendly experience with service. However, doing this will only create value if the dealership recognizes and respects the consumer's service appointment.
Too often we see dealerships driving people to book appointments on mobile device, because it's more convenient for them, but when the customer arrives, they are treated like a walk-in customer and shoved to the back of the line. Customer who book an appointment in advance need to be treated like VIP customers and handled first. The point is, the dealer's process at the stores must match the innovative experience apps create.
There was a lot more from our experts that we weren't able to fit in this issue. If you'd like to read more of what they had to say, please visit www.DealerMarketing.com.
Need Help with Your Mobile Marketing? These Companies Can Help
DMEautomotive | www.dmeautomotive.com | 866-714-9449
DealerSocket Inc. | www.dealersocket.com | 866-813-1429
Curated, quality insights?