●

Research
Apr 21st, 2021
Auto Parts & Accessories eCommerce: Amazon and eBay
It's no surprise to anyone, let alone anyone working in or around a dealership, that the automobile industry is a powerhouse — generating almost a trillion dollars each year in the United States. At about 3.5% of the U.S. GDP, there's no denying the importance it plays, even with online sales alone. The same is true for the parts and accessories portion of this behemoth industry. 
Specific to online sales for auto parts and accessories, the year-over-year (YOY) growth is unmistakable. According to the RevolutionParts 2020 Parts eCommerce Year in Review, sales through just RevolutionParts have grown 117% over the last three years — and they aren't stopping. Even more impressive, when you look at the totality of aftermarket eCommerce, the growth rate for 2021 is expected to be over 30%, with an estimated $390 billion in sales according to Hedges & Company, a research firm specializing in the automotive aftermarket industry. And when it comes to eCommerce, are there any bigger players than Amazon and eBay? That's an easy no. 
Not only are they huge players, but their sales are soaring more than ever, especially during our current era of COVID-19. During the pandemic, many people have been spending most, if not all, of their time at home which gives car enthusiasts ample time to tinker on hobby cars. Or, many people just aren't in the position to purchase a new car, which means an increase in making whatever vehicle they have last longer through repairs and the purchase of parts or accessories. For 2020, that resulted in a dramatic increase in parts and accessory sales. And it's expected to keep climbing. 
Big Business of Amazon and eBay
Among the many surprises of 2020, one of them was an unbelievable $861 billion in online sales and a YOY increase of 44% for the year, according to the estimates by Digital Commerce 360. Given the stay-at-home directives during the pandemic, people obviously did more shopping online, which gave way to the highest U.S. eCommerce growth jump in two decades — nearly tripling the growth rate in 2019. Even more stunning, Amazon alone accounted for almost a third of all U.S. eCommerce in 2020. 
Likewise, eBay's U.S. marketplace had stellar growth rates, with gross-value sales increasing 22% to $37.53 billion throughout 2020. This growth was, in part, due to the addition of 11 million new customers last year, as reported by Digital Commerce 360. Also, it happened to be their highest annual sales growth since at least 2013.
Tapping into the Successes of Amazon and eBay 
According to Hedges & Company, Amazon is aggressively going after the auto parts market at a claim of nearly $7 billion in sales for aftermarket and OEM replacement parts. With more than 300 million consumers on Amazon, and 46.7% of U.S. online shoppers using it as a platform to start product searches, it's one of the ideal places to find buyers looking to do exactly that, buy.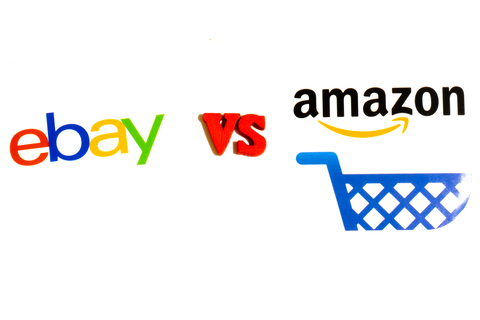 Similar to its counterpart, eBay continues to have impressive sales in the auto parts market. Every minute of everyday buyers is tapping eBay for their auto parts and accessories needs. And the numbers are there to prove it, with eBay itself reporting that throughout 2018 and into the first half of 2019, there were approximately 90 million live auto parts listings. That means, for every second those listings existed, three auto parts sales took place. For the category of wheels and tires, a sale took place every six seconds. That's a lot of parts sold in just the time it took you to get to this point in the article, even for the quickest of readers. eBay also claims that auto parts have been among the top 20 best-selling products to date since June of 2020. 
When it comes to dealers looking to increase revenue, the growth of auto parts and accessories eCommerce is a huge opportunity for them to capture consumers online. Dealers selling on Amazon with RevolutionParts alone generated $11,014,300 in revenue in 2020. And for dealerships selling on eBay through RevolutionParts, it was an incredible $38,133,774. As a great complement to their own online store, dealerships are quickly and affordably gaining access to a growing market on Amazon and eBay while successfully increasing their sales volume and revenue.
Summary
Although both are fantastic platforms for parts and accessory sales, each has its differences and unique challenges to consider. Whether it's the incredibly high standards for accuracy and customer service, optimizing to get the right traffic, or navigating the tricky balance of pricing and free vs. charged shipping. It often takes more time than many dealerships have available and consideration should therefore be given to enlisting the help of third-party specialists. 
Ibrahim Mesbah is the Co-Founder and CEO of RevolutionParts, which transforms the way parts buyers and sellers connect.
A technologist, founder, and CEO, Ibrahim is passionate about marketplaces, payments, and eCommerce. Having spent the last decade leading the RevolutionParts platform, which has powered more than $3 billion in parts and accessories sales. 
View full profile
Curated, quality insights?