●

Commentary
Jun 12th, 2018
Dealer Reserve Remains in Jeopardy, Even With CFPB Rollback
The recently approved resolution to repeal the Consumer Financial Protection Bureau's (CFPB) dealer participation guidance by both the U.S. Senate and House of Representatives got me thinking about the struggle dealers are having in preserving their often relied-upon dealer reserve.
My conclusion: This important profit center is in jeopardy regardless of what the CFPB is up to. A key reason is the changing demands of today's car buyers. They crave transparency and self-service (i.e., they want to do much more online before they reach the dealership).
To them, that means selecting their preferred vehicle (and negotiating pricing), understanding trade-in value, and getting payment and finance terms up front.
Two out of three of these consumer preferences are becoming more and more common on dealer websites, but getting real payment and finance terms upfront remains a huge — and complex — pain point. (I'm not talking about pre-qual here; I'm talking about real payment and finance terms.)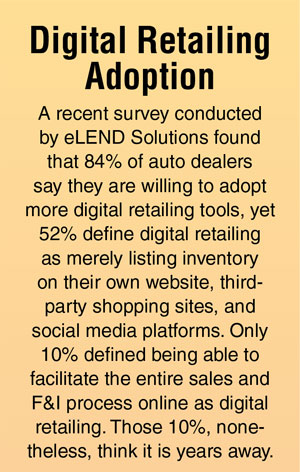 Without this final piece of the puzzle, online car buying will never get the traction consumers hope for — and that digital retailing vendors are promising.
The inability to get real payment and finance information upfront and online feeds into the overall consumer distrust of auto dealers. Yet, ironically, this lack of transparency has far less to do with dealers themselves then it has to do with their OEM and finance partners.
An example is auto manufacturers' advertised incentives. When an ad touts something like "payments of $299 per month with $1,000 down for 60 months," the fine print usually includes the disclaimer "on approved credit."
More often than not, the offer will be tied to Tier 1 credit guidelines from the auto manufacturer's captive finance company. A large segment of consumers do not qualify for Tier 1 credit, however, so false expectations are already set in a consumer's mind.
I'm not implying that this is intentional. The OEMs are doing their job to encourage consumer interest and get them to engage with the brand and the dealer, but the end result is a distrusting consumer.
This practice will always put a dent in the digital retailing promise. Instead, we should be considering how to make the online process a more seamless and transparent transition, from online shopping and research to in-store buying.
For example, today's tech-savvy shoppers simply assume that what they do on a dealer's website (such as indicating vehicle preference, negotiating a trade-in, etc.) will be connected to the showroom sales process, saving them time when they go to buy the car.
But what they find is often quite the opposite. This is partly because most online retail tools used by dealerships today are standalones without significant integration between the dealership website, CRM, F&I, and DMS platforms, which leads to a less-than-effective experience for the consumers.
Nothing annoys a consumer more than having to repeatedly provide the same pieces of information. Sadly, most vendors are more interested in protecting their own interests than in moving to an open model that supports improved customer satisfaction — which in turn boosts CSI, loyalty, and profit for dealers.
As a result, the lack of collaboration between vendors contributes to downtime, disconnects, and profit leaks during every single transaction. Which brings us back to the somewhat archaic dealership financing process.
It's well-known that the biggest disconnect of all in the in-store process is between the sales and finance departments. More often than not, sales and finance operate as silos, independent of each other.
Finance terms discussed in the negotiation seldom include the finance department or its lenders.
The sales desk uses educated guesswork to match up the consumer's qualifications to finance terms with enough markup to ensure the deal gets financed through the traditional shotgun methodology.
Dealer finance participation usually becomes clear after the deal is complete — which is backward no matter how you slice it. And why is that? Because the biggest disconnect — and something we don't talk about enough when looking to improve the car-buying process — is a fundamental lack of transparency between auto dealers and their lenders.
To complicate matters, some of the biggest lenders in the country are moving to complex black box automated-decision platforms that come into play after a deal has been negotiated.
This may result in quicker decisioning, but even less information is being shared with dealers before and during the negotiation process.
Until vendors and lenders start to work more collaboratively to the benefit of dealers and consumers, dealers are constantly at risk of losing their fair share of the dealer reserve, and the adoption of digital retailing will stall — regardless of what the CFPB is up to.
Pete MacInnis is founder and CEO of eLEND Solutions, a company specializing in online and in-store credit, finance, and deal-making solutions designed to create a more efficient, faster-moving sales and F&I workflow that helps dealers sell more cars in less time, improve profitability, and increase customer satisfaction. eLEND Solutions' patented platform streamlines car selling by bringing more functionality online.
Curated, quality insights?