●

Commentary
Jan 7th, 2014
Dealer Video Marketing Profile—Bob Kirek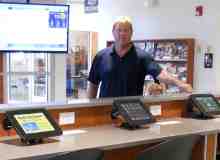 For this month's interview I met with Bob Kirek, CEO of the multiple award winning Global Commercial Furnishings Inc, whose company has successfully helped over 1,800 automotive dealers design and build out their internal commercial store furnishings over the last 25 plus years. Bob's company is a certified vendor for GM and many manufacturers' DID/EBE programs, as well as a member of the U.S. Green Building council for dealerships looking to implement the use of environmentally friendly GSA building materials which has specific business tax advantages.
AJ: How have you seen the inside of dealerships change over the last 30 years?
BK - The dealership business has changed a lot over the years. Most stores have gone from individual sales offices to an open-thread environment (customer lounges, open sales desk areas, etc.) which allows for the customer to be more involved throughout the whole experience. Also, there is more of a focus on creating a comfortable customer environment for people whom sit and wait while their cars are being worked on.
AJ: How should a dealership setup a successful inside store environment?
BK - Setting up the inside of a dealership is somewhat complicated, because some dealerships just want the most basic requirements, but the first step is to identify what are the specific needs of the dealership. Quality of materials used and a strategically planned interior layout can set up the dealership environment for a truly successful customer experience. One of my favorite sayings is "anyone can be a carpenter (supply the basics), but not everyone can be a craftsmen".
Today's customer demands and expects a truly amazing customer experience from their dealership, so just supplying the basics doesn't cut it anymore. A proper plan identifies the layout and the furniture to the facilities needs, not the opposite. By doing things the proper way, many dealerships experience a better customer flow-thru whether for sales or service customers. The furniture model must specifically fit the needs of the dealership's business model, so the layout doesn't feel cluttered and create bottleneck areas for the customers.
Attention to detail with things like custom millwork even in places like restroom partitions, sink cabinets, refreshment centers etc. are vitally important to creating the most appeasing customer environment possible. Also, working with one lead company can help alleviate possible coordination issues that end up happening when trying to work simultaneously with multiple vendors for the initial build-out or renovations. In addition, by working with a lead company, dealers can save money by having one install company which ultimately saves time, money and reduces frustrations from having mulitple install vendor companies.
AJ: How can dealerships use video inside the dealership to create a successful customer experience?
BK - A lot of our customers are using video messaging within their stores to support many items. They are using internet ready television screens in F&I departments and service departments to run specials in-between the syndicated TV programming, continued support of the dealership mission statement, looping in customer testimonials, iPad bars that allow customers to surf the internet while waiting for sales or service help, etc.
Implementing video screens that both that play information and allows interaction, creates an environment that allows customers to have a more comfortable and engaging experience while onsite in the dealership. Customers end up getting information about the dealership that in the past they would have never known.
To contact Bob or his company for more information, please email him at [email protected], call his office at (561) 429-4004, or visit their website at www.gcfnew.com.
Curated, quality insights?