●

Commentary
Mar 8th, 2021
Dealers: Are You in the Clubhouse?
If anyone missed high school cliques, you could thank Clubhouse for bringing that feeling back. Yes, the newest social media app is consuming our industry with exclusive invites to the platform where you can connect with others in audio-only chat "rooms" (what the app refers to for different discussion topics). Clubhouse is essentially an unfiltered, live podcast that's extremely interactive.
And like anything else, you're either in or out when it comes to Clubhouse. There is so much content, networking, and brainstorming that happens in these rooms that it's just another chance for you to miss out if you're not a part of it. The opportunity is tremendous as there is so much room-- no pun intended-- for dealers to grow from the conversations that happen in real-time. Nothing is pre-recorded or accessible after it happens, which means no editing (and frankly, no B.S.)  
So while Clubhouse has been around for quite some time, it's really making its mark on automotive right now as invites are creeping across the industry. As a rookie user, I've already participated in rooms about one-price stores, modern-day car sales, and auto cocktail hours. All the things I love about conferences jammed into one social media app! But as I mentioned before, if you're not in, you're out, and below are some critical things you could be missing if you're not jumping on the Clubhouse train. 
An always-on 20Group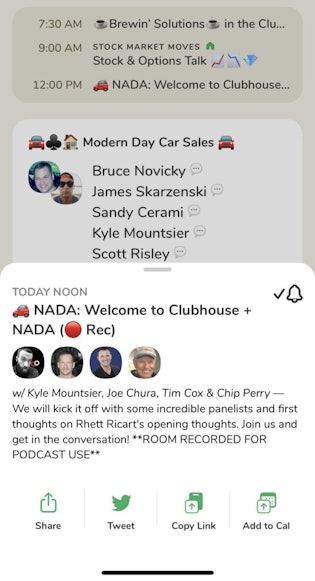 The automotive rooms in Clubhouse-- like Modern Day Car Sales that goes live every morning at 6:45 AM EST (you read that right)-- allow you the opportunity to brainstorm and kick around ideas with dealers all around the country. It's basically like an "always-on" 20group, giving you access to different types of dealers everywhere. One morning a dealer asked for feedback on his website, and within minutes he had so much work to do to make his website 10x better. Instead of waiting for the next 20group meeting or conference, you can simply jump into a Clubhouse room to get this kind of feedback and information every single day. You can basically assume that other people in the room share similar interests, so connecting with them will widen your network and introduce you to even more conversations.
Convene around industry-wide news and events
We all have expectations about events, conferences, and press releases that get a lot of attention. Now, with Clubhouse, the automotive industry is able to run discussions around these big-impact events so we can share experiences and discuss exciting and/or controversial topics. This means anything from NADA Preview rooms to prep for the biggest annual convention, to reactions to the anti-dealer Vroom commercial rooms. This activity fuels your dealership with informed next steps on how to get the most out of any situation that hits automotive. And, the shared feedback helps understand different perspectives. 
Connecting with your vendors
I also noticed quite a bit of vendors hosting rooms for their clients to pop into -- while I haven't personally tried this yet, I can imagine this is extremely beneficial for dealers. Not only does it give dealers access to "office hours" from different partners, but it also allows them to connect with other dealers using the same vendors. Clubhouse is essentially facilitating a user community for dealers to ask, compare, grow, and hold vendors accountable for performance as it becomes easier for dealers to interact on this platform. 
So, feeling left out for the first time since high school? I have some invites left in my app, so reach out to me before they run out and if you're on the platform, connect with me @ilanashabtay! (PSA: app is only running on iOS right now)
See you in the Clubhouse?
Ilana Shabtay is the VP of Marketing at Fullpath, Automotive's first customer data and experience platform (CDXP). She is an experienced marketer, highly skilled in digital marketing and artificial intelligence, and the host of the InsideAuto podcast. Having spent almost a decade in the automotive industry, Ilana continues to develop critical skills to drive marketing and serve the dealership community in a new era of technology.
View full profile
Curated, quality insights?