●

Commentary
Oct 22nd, 2021
Dealers Will Soon Have More Choices for Connected Car Services
Native Connected Car Services Now Coming to Dealerships
In past articles, I've touched on the many services that dealers can expect from Connected Car technology. Some of these have included vehicle location, lock/unlock, key management, theft notifications, diagnostics, inventory audits, loaner and demo administration, service reminders, and many more. Together, these services promise to increase dealership productivity and reduce costs, while improving customer satisfaction and retention.
Today, Connected Car services for dealers mostly rely on independent third parties, using aftermarket OBD2 plug-in devices for data collection. There are many capable providers offering these dealer-focused connected services. Some good examples of these include Spireon LoJack, Dealerware, and Geotab.
But, as I've also mentioned in past posts, vehicles increasingly come equipped by the OEM with built-in telematics systems that can provide the data and commands needed for dealer-focused connected services. And, some service providers are beginning to take advantage of these native connections for a limited range of services, particularly in the management of loaner fleets. Connexion Telematics and TSD Solutions are offering these connected services, with the support of select OEMs.
And finally, some OEMs are now beginning to offer limited dealer-focused connected services directly to dealers – mostly focused on post-sales & delivery as well as service-based customer retention. OnStar's Dealer Maintenance Notification is one example, in which Dealers are notified when vehicle diagnostic codes indicate an upcoming need for service.  
The choices for connected services available to dealers will continue to evolve rapidly as more of these OEM-provided connections become available, and as new dealer-focused connected services develop.
Fleet Industry Offers a Preview for Dealerships
For a window into the way that services are likely to develop in the next 18-36 months, dealers can look to the experiences of the Fleet industry. Fleets have been using telematics to manage vehicles and drivers for many years now, with obvious benefits in terms of additional uptime and increased driver productivity. These benefits have easily supported the development of several fleet telematics providers. As with dealer-focused connected services, Connected Fleet services were all originally delivered through third-party, aftermarket devices – but they are increasingly delivered through native OEM-provided connections.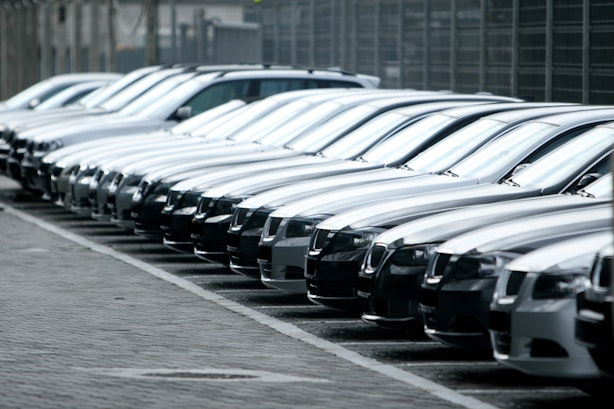 Most fleets include vehicles from more than one manufacturer, so there is a natural inclination for fleets to use brand-independent fleet telematics providers. Companies like Geotab, Donlen, FleetComplete, Spireon, Samsara and others offer comprehensive fleet management solutions that were all originally powered by aftermarket plug-in devices. Increasingly however, OEMs have enabled native data connections to these providers in response to demands from their fleet customers. Ford Data Services, OnStar Business Solutions, and Toyota Data Solutions all offer connections for fleets through fleet telematics partners. Fleets can go to a provider of their choice and take advantage of OEM data connections when available, or use aftermarket connections for older vehicles or for OEM makes that are not yet capable of connecting to fleet applications.
To create further options for fleets, some OEMs have also begun to create their own proprietary fleet management systems. GM offers its OnStar Vehicle Insights service, which provides comprehensive fleet management services. And in a recent announcement, GM is making OnStar Vehicle Insights compatible with aftermarket devices. Ford has also announced a similar move.
Expect Similar Offerings, Options, and Interoperability for Dealerships
These trends in Connected Fleet services point to the kinds of options that dealers should expect in the next 18-36 months. Dealers are similar to Fleets, in that most represent more than one OEM brand, plus used vehicles of varying ages. Dealers should therefore expect choices for their Connected Services between:
Independent Service Providers using plug-in aftermarket devices
Independent Service Providers using both aftermarket devices and OEM data feeds
OEM-Designed Services using both OEM data feeds and aftermarket devices
As fleet owners do today, dealers will need to choose the service provider that provides the best-connected services for their particular situation. It is a good idea to get started with an independent dealer-focused provider to begin to experience the benefits of Connected Dealership Management. An independent provider can get dealers up and running quickly, using easily installed aftermarket hardware. As dealers learn how to use these services effectively, they can then consider some of the OEM-provided or hybrid options as they come to market. 
Curated, quality insights?