●

News
Jun 18th, 2013
Dealership Profile—Branhaven Chrysler Jeep Dodge Ram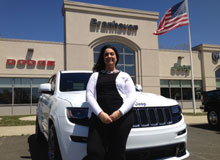 For this month's dealer video marketing profile, I interviewed Paula Sullo, internet director of Branhaven Chrysler Jeep Dodge Ram, which has been family owned and operated for more than 42 years. Paula has been with Branhaven for more than 15 years, and she grew up in the dealership learning all aspects of the dealership process from service to sales. Paula has utilized her vast knowledge of the industry, as well as her MBA, to head up the digital marketing efforts which have helped make them rank the number one selling dealership within its district for 23 consecutive months. Below is a transcript of our conversation:
AJ- Can you give us a brief overview of your basic marketing strategy and philosophy?
PS- We concentrate heavily on our online presence with the use of a consistent pricing strategy as well as reputation management. We have been family owned and operated for more than 42 years, we have built our dealership on trust and values, and we attract customers from across the country, because of our strong online presence.
AJ- What type of marketing efforts do you implement in the stores on a consistent monthly basis?
PS- We implement digital marketing, Video SEO, SEO, and SEM marketing on a monthly basis. We use traditional print or radio advertising rarely for special events.
AJ- Why is it important for a dealership to have Video SEO as part of an overall marketing strategy?
PS- Video is the most mainstream and highly utilized outlet for advertising, the use of Video SEO as part of our marketing strategy has allowed us to capitalize on the consumers desire to be able to find the information faster and with less effort than traditional print.
AJ- Can you explain what Video SEO does for your dealership?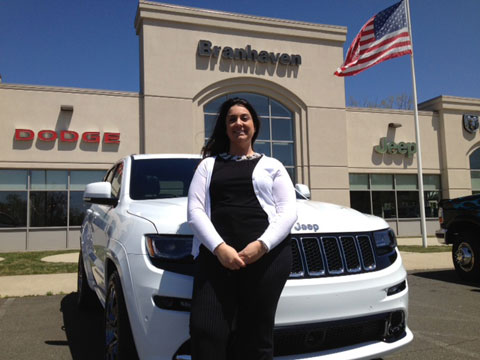 PS- Video SEO has forged our presence farther ahead than any competitor in our market. Consumers searching from anything from where to get their oil change to specific vehicles are given a "live" taste of what Branhaven has to offer with the use of video SEO. We dominate the search with a tangible look into our dealership.
AJ- How has a Video SEO strategy impacted your websites' visibility on search engines?
PS- Like I mentioned before Video SEO has allowed us to dominate search engines often filling the entire first page of a search. We have seen a steady increase in our dealership website traffic, Video SEO and its strong search results have played a large roll in this increase. We strive on generating out of state sales, many out of state customers have mentioned they have found Branhaven by searching "2013 Dodge Charger R/T" and your dealership came up first! Lucky for us we had that presence and the first opportunity to earn their business.
AJ- How do you measure the effectiveness of your Video SEO strategy?
PS- We use Google Analytics to measure the effectiveness of our Video SEO strategy. We are able to measure the volume of visitors as well as our rankings on the search engines.
AJ- Lastly, when did your dealerships implement a Video SEO strategy and what is the average increase your group's stores have seen in sales/market share since implementing this strategy into your overall marketing plan?
PS- Branhaven implemented its Video SEO strategy in June of 2011 in conjunction with launching a full internet department and BDC. Since that time we have seen and increase in sales of 15-20 percent, with an out-of-state sales increase of more than 70 percent.
Start using video marketing today to help your dealership gain additional exposure online to in-market automotive buyers.
AJ LeBlanc is the managing partner of Car-mercial.com and Carbuyersengine.com. Email [email protected] for more information.
Curated, quality insights?