●

News
Dec 22nd, 2017
December Auto Sales Expected to Close 2017 on a High Note, Forecasts Edmunds
Santa Monica, CA — December 20, 2017 — Edmunds, the leading car shopping and information platform, forecasts that 1,587,640 new cars and trucks will be sold in the U.S. in December, for an estimated seasonally adjusted annual rate (SAAR) of 17.7 million. This reflects a 14.0% increase in sales from November 2017, but a 5.8% decrease from December 2016, which was a record month for the industry.
"Auto sales got off to a sluggish start in 2017 but managed to finish in a fairly decent place," said Jessica Caldwell, Edmunds executive director of industry analysis.
"Even though December sales were down year over year, we expect it to be the highest volume month of 2017.
Shopper traffic to dealerships really picks up once we get on the other side of the Christmas holiday as automakers pull out all the stops to eke out every last sale before the end of the year."
Based on this forecast for December auto sales, Edmunds expects to hit its full-year sales forecast of 17.2 million new vehicles in 2017. "Sales are still strong historically, but 2017 will mark the first down year for the auto industry since 2009.
With sales tapering off, we could be in for a high-stakes incentive war in 2018 as automakers and dealers fight for consumers in a smaller and highly saturated market," Caldwell said.
SALES VOLUME FORECAST, BY MANUFACTURER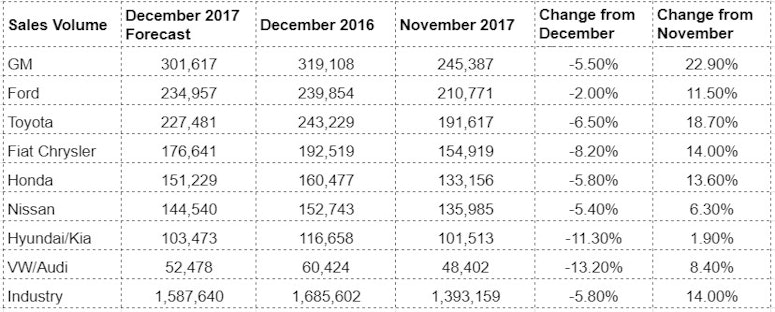 MARKET SHARE FORECAST, BY MANUFACTURER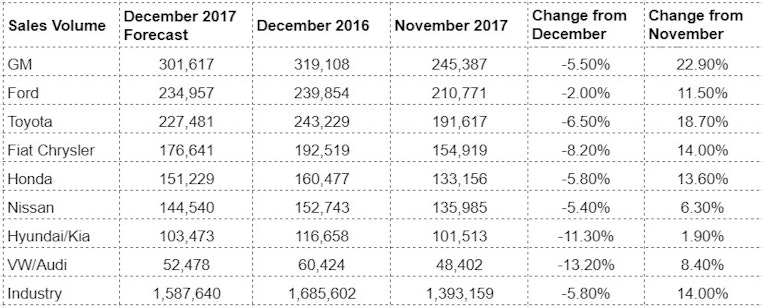 More insight into recent auto industry trends can be found in the Edmunds Industry Center at www.edmunds.com/industry-center/.
About Edmunds
Edmunds is the leading car information and shopping platform, helping millions of visitors each month find their perfect car. With products such as Edmunds Your Price, Your Lease and Used+, shoppers can buy smarter with instant, upfront prices for cars and trucks currently for sale at more than 13,000 dealer franchises across the U.S. Edmunds' in-house team of unbiased car-shopping experts provide industry-leading vehicle reviews and shopping tips. Edmunds has a 20-year-old forums community of car shoppers and enthusiasts, where members can get shopping advice and learn what others are buying and leasing cars for. The company is regarded as one of America's best workplaces by Fortune and Great Place to Work. Edmunds is based in Santa Monica, California, and has a satellite office in downtown Detroit, Michigan.
Media Contact
Talia James, Edmunds, 310-309-4900, [email protected]
Curated, quality insights?