●

Research
Aug 1st, 2022
Exploring Influential and Impactful Automotive Advertising Campaigns (Part Two)
Disruption for the Modern Age in Automotive Advertising Campaigns
From 2001 on, the auto industry took a new approach for disruptive marketing that aligned with a world that was rapidly changing and evolving.
Disruptive marketing is all about standing out from the crowd. In today's loud, digital, tech-savvy world, businesses are desperately trying to sell you something from every angle, in every space, and on every platform, making it hard to connect with an audience that is already overwhelmed and oversaturated with content and advertising.  Since the technology boom in the 2000s, disruptive marketers are the ones who have been able to cut through the noise and find success – more so than any other time in history, particularly in the auto industry, where competition is fierce, and customers are bombarded with advertising on a daily basis. 
Today, disruptive marketing practices are more important than ever. From turning conventional showrooms upside down to selling cars online, disruptive marketers have been shaking up the status quo and driving sales by appealing to customers' sense of adventure and modern technology. 
Automotive Marketing in a Post 9/11 World
The automotive industry was one of the first to be impacted by the events of September 11th. In the aftermath of the terrorist attacks, GM launched the 'Keep America Rolling' campaign. The objective was to encourage people to buy GM cars to help support the economy. The campaign was highly successful and is credited with helping GM weather the economic downturn.
Keep America Rolling was a massive success, with GM sales increasing by 20% in the months following the campaign's launch. It was a perfect example of how a well-executed, disruptive marketing campaign can help a company weather an economic crisis.
Cashing In on Clunkers
Disruptive marketing is all about making a splash and getting people to take notice. It's about thinking outside the box and coming up with creative ways to get people's attention, and with a looming car shortage in the 2000s inspired one of the most memorable campaigns in auto industry history. Launched in 2009, the program offered consumers a cash rebate for trading in their old cars for new, more fuel-efficient models. The results were dramatic. In just six weeks, the program boosted auto sales by nearly 30%. More importantly, it changed the way people thought about car buying. Suddenly, fuel economy was a top priority for consumers, and automakers were scrambling to keep up. The Cash for Clunkers campaign was a true game-changer for the auto industry, and it's a perfect example of the power of disruptive marketing.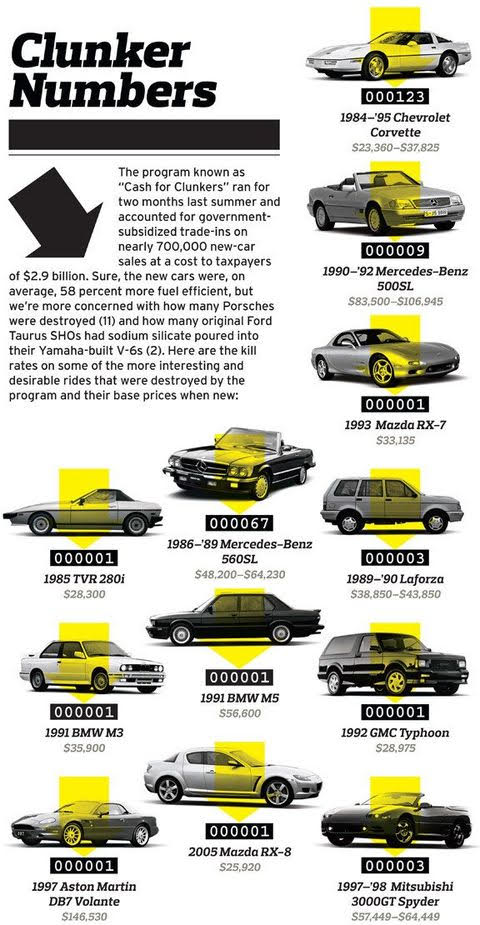 Automotive Advertising that Electrified the Industry
The Model S was a breakthrough vehicle for Tesla. It was the first all-electric car that had a range of over 200 miles. This made it a viable option for long-distance travel and helped to change people's perceptions of electric vehicles. Tesla's marketing campaigns have been highly influential in driving sales and generating buzz for the company.
The beauty of this is that the campaigns were not made by Tesla itself, but rather by someone in the audience. Someone who believes wholeheartedly in the brand, so much so that they felt compelled to create their own version of an advertisement; a creation which has had over 375k views, completely unsolicited by the brand itself: Gallons of Light.
Capturing the Power of Black Friday 
Taking a cue from major retailers throughout the United States, car dealerships began embracing the "retail frenzy" model known as Black Friday.  Black Friday has been widely embraced as one of the most effective pieces of disruptive marketing in history.  Held on the Friday after Thanksgiving, the Black Friday campaign is widely marked as the official start of the holiday shopping season.  While Black Friday has traditionally been a retail event for big box stores or smaller shopping experiences, the automotive industry began pivoting their marketing dollars in recent years to entice consumers to purchase a car.
"Marketing convinced public that that "Black Friday" is a great shopping day to get a jump on the holiday shopping season. This provided a very effective "disruption" of the norm – staying home and watching football with the family," said Kirk Oleson, President of Graham Oleson. 
Marketing While the World Stood Still
The unprecedented circumstances of 2020 forever changed the face of industry, commerce, and advertising. Positioned against the backdrop of a catastrophic global pandemic, automotive marketing teams scurried to find a new, impactful advertising approach when most were sheltered in place.
As car dealerships remained empty due to social distancing and health concerns, television ads began shifting their tone and approach to connect with car buyers. "While this TV ad campaign wasn't the first to promote buying a car from home, it was launched at the very beginning of COVID and was very successful," said Tony Roland, Automotive Account Executive at Spectrum Reach. "Car buyers weren't going to dealerships at the time. Many people aren't comfortable making such a big purchase without seeing it, touching it, and talking directly to a person."
As demonstrated in a commercial that showcased a local car dealer, Joe Maus CDJR, this approach assured the consumer that the process could be both simple and non-threatening. "At a time when many other local dealers were talking about the measures they were taking in their stores to make them clean and safe, this alternative resonated with TV viewers throughout the market," said Roland.
Modern Challenges for a New Era in Car Shopping
The way consumers behave has changed dramatically in recent years, and businesses have had to adapt their strategies accordingly. One of the most significant changes has been the shift away from weekend shopping. In the past, businesses focused their marketing efforts on getting potential customers to add their products to their shopping list by Friday. In the auto industry, weekends were traditionally when dealerships offered their best deals. However, with more and more people shopping during the week, dealerships have had to adjust their strategies. As a result, the way businesses operate has changed dramatically in recent years, and companies must continue to adapt their strategies to keep up with the changing consumer landscape.
Beyond the new challenges of modern shopping patterns, the media landscape has more fragmented than ever before, creating a more saturated environment to connect with audiences. With the rise of digital media, there are more ways for consumers to get their information. This has led to a disruptive marketing environment, where companies must fight for attention. One way that car companies are achieving this is by using cross demographic targeting, allowing advertisers to reach a wider audience with their message. In the auto industry, for example, companies are targeting young adults with social media campaigns. This is because they know that this demographic is more likely to be interested in new car models. By using cross demographic targeting, companies can reach a larger audience and increase their sales, such as the 2022 Acura "Your Turn" campaign with Vince Staples during the NBA Finals.  According to Torrance Hampton, Creative Director and Executive Producer for GFACTOR FILMS, "The disruptive nature of the campaign originates with Vince himself, and you can see his direct influence over the campaign visuals: the artistic 360 freeze frames, jump-cut car performance shots and kinetic camera movements all while showcasing multicultural millennials experiencing the new Acura Integra. It's not about the car, it's about the lifestyle."
Reimagining Disruptive Automotive Marketing in the 21st Century
There have been many other disruptive automotive marketing campaigns in the past century. The automotive industry is constantly changing, and so is the marketing landscape. What worked in the past may not be effective today, and what's popular now may be out of style in a few months. To stay ahead of the curve, automotive marketing teams will need to continuously find new, innovative, and disruptive ways to capture the consumer's heart, imagination, and loyalty.
If you missed Part One of this series, click here. 
Donna is a fiercely driven strategic sales and marketing executive. She is an idea generator, campaign developer and a results oriented professional. As the Regional Vice President of Graham Oleson, Donna has built a successful 17 year track record in marketing, branding, sales and leadership. By drawing on vast expertise to discern and cater to the unique needs of each client, Donna consistently raises the corporate bottom line by generating campaigns and promotions which in turn generate substantial market awareness and interest. With a passion for continued professional development, Donna's list of specialities extend to include the full spectrum of marketing.
View full profile
Curated, quality insights?