●

Commentary
May 8th, 2012
For Stronger First Party Leads—Think Action!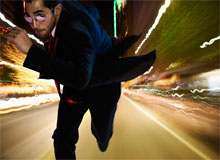 According to industry experts, the average dealer closes about seven percent of their internet leads, but close their first-party leads at more than 20 percent. That means first-party leads — those leads dealers generate from their own activities and websites — bring in three times the sales with the same amount of leads. With these numbers, it's important dealers make the best use of their website to pull in first-party leads. Below are some ideas from lead vendors on how to make the most of a first-party lead marketing campaign:
Menu items
With more than 95 percent of clicks taking place on a dealer's website menu, it's a surprise that this area is ignored so often by web designers. Strong calls-to-action that help browsers contact the dealership are essential to the success of a first party lead campaign.
So what are some of the best call-to-action terms? Links like "Value Your Trade," "Get Your ePrice," "Check Payments," "Schedule Service," "Order Parts," "Schedule a Test Drive" and "Apply Online" are great ways to direct consumers to pages on your website containing lead forms. Items like links to blogs, staff directories, and the "about us" section are good menu fodder as well, but they often take the viewer further from a conversion. Keep "action" links near the top of your menu. These are your most important menu items for driving leads.
Buttons
Online consumers often follow a clear pattern, known as the "F" pattern, when they view virtually any page on the web. This means they generally view what's along the top, the left margin and left middle of your website; but little else. Clearly, if your goal is to generate leads, it is critical that you place any buttons that contain calls-to-action in this F-pattern.
Because this real estate is so useful, don't waste it with "inventory" buttons or "specials." Visitors to your website will seek out this information without the use of prime real estate buttons to find it. Again, think "action" buttons for the F pattern that push a web visitor to take action, whether it is a test drive form or e-price button. Use this real estate wisely and reap the benefits of improved leads and conversion rates.
Lead forms
Deployed prominently throughout your website, and above the fold, the ePrice Form will be your top producing form. Pay special attention to the verbiage you employ for the call-to-action. While "Get Your ePrice" does a great job driving leads for most dealers today, beware of the dreaded "Contact Dealer." By the very virtue of the way these shoppers are browsing online, it should be clear the last thing they want to do is talk to a dealer at this point in their buying process. Make it easy for them to take action, such as an emailed "ePrice," and you can then escort them down the path of research and be there when the shopper is ready to buy.
Above all else, review your website as if you were a consumer and ask yourself "Is this call-to-action strong enough to entice me to divulge my contact information?" If the answer is yes, you are on your way to additional first-party leads and a higher conversion and closing rate.
Matt Buchanan is the principal at Sarasota Ford and co-founder of Dealers United, www.dealersunited.com. An upcoming deal offered through the company is expected to include first party lead generation tools. To become a member of Dealers United at no cost, visit www.dealersunited.com.
Curated, quality insights?