●

Commentary
Nov 10th, 2020
Four Trends to Come from the Summer Shutdown and How They'll Affect 2021
Some of the changes brought about by a worldwide pandemic were felt instantly – business and school closures, public mask wearing, social distancing of six feet or more – while others are slowly making themselves known as we ease our way out of the shutdown. Digital retailing is, of course, the biggest story coming out of COVID on the auto side, but other trends like personalization and a run on used cars are just beginning to rear their heads for dealerships across the nation. Below are four trends I see being game-changers as we head into 2021: 
Trend 1: Massive Digital Adoption Changed the Buying Process Overnight 
While the fact that dealerships had to change to digital retailing overnight should come as no surprise to anyone, the incoming numbers that show dealerships smashed numbers over the summer season should surprise most of the market. A recent Wall Street Journal article by Nora Naughton interviewed several New York dealers who crushed it over the last few months – the thing they all had in common? They were ready to go digital before the world turned upside down. It makes sense that the dealerships who had the tech in place pre-COVID came out as the winners after a hard summer. And those who didn't have tech? They're still racing to catch up. The pandemic showed the world, and our entire industry, that rapid digital changes can happen overnight with the big winner being the car buyer. 
Trend 2: Movement Away from Mass Transit 
Another trend I'm seeing more being written about is movement away from mass transit. It makes sense that with the CDC and other public health groups encouraging us to keep our distance, people who have heavily relied on public transportation in the past are wary of being crammed into a commuter train now. CNBC, CNN, and other travel sites have been pointing to an uptick in subscription based car services, rental numbers increasing, and many Gen Z buyers entering dealerships for the first time in their life. In fact, Ilana Shabtay of AutoLeadStar told me a story recently where a driver in New York came in to buy his first vehicle at the dealership, learner's permit in hand. If that doesn't prove that new buyers are flocking to auto sites or lots for the first time, I don't know what does. 
Trend 3: Personalization across the Board 
In an extremely well written article from Sarwant Singh of Frost and Sullivan in Forbes, he relates the top 20 automotive trends coming post-COVID and the word of the day is personalization. From the way we market and advertise to would-be car buyers, to the options given in the actual vehicle, to the way that buyer will have it delivered, personalization at every single point during the process will be key. Sarwant astutely observes that younger generations now think of extreme one to one personalization as commonplace. 
Trend 4: Used Cars are Hot, Hot, Hot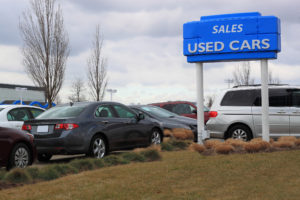 Due to a slowdown in the production of vehicles during COVID, dealerships are now feeling the pinch of low vehicle inventory at a time when the first-time car buyers I talk about above are coming into dealerships in droves. The simple solution? Used cars. A recent CNBC report shared that the typically vehicle-adverse city of New York saw a 40% increase in dealership walk-ins in June 2020. This trend is only accelerating as generation Z, and others are enticed to dealerships due to worries over public transportation. These first time buyers typically don't have the need, or desire, to purchase a brand new vehicle, so used models are fitting the bill nicely for them. 
I'm sure we'll see other trends and market hot spots as we continue toward the holiday season. In fact, news is coming out as I write this that we're seeing a recovery in the third quarter, bolstered by sales of SUVs and trucks supporting the comeback. If dealerships are able to jump on these trends and cater their business to digitization, personalization, and the used car boom, they'll be in good shape for the holiday buying season and beyond. 
Laurie Halter owns Charisma! Communications, a boutique PR agency specializing in the automotive technology space. A super connector, establishing and managing relationships with top publications, Laurie and her team also create content to execute marketing and social media campaigns that deliver on-brand PR strategies for their automotive industry clients
View full profile
Curated, quality insights?