●

Best Practices
Sep 9th, 2013
Four Ways for Auto Dealers to Capture the Mobile Consumer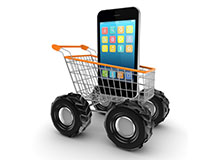 Is your dealership ready for the rise of mobile devices? If your dealership prides itself on meeting customer needs during in-store visits, make sure that you anticipate customer needs with your digital communications as well. The following tips can help you engage your on-the-go customers on mobile devices with minimal effort.
1. Optimize your emails for mobile
Did you know that eConsultancy reported over 40 percent of emails are being read on mobile devices — and that the percentage is expected to creep above 50 percent in 2014? Don't be alarmed, with emails designed for viewing across all devices, you can put your dealership in your customers' pockets. If you don't have the resources to implement a responsive design email, choose a software provider that can do it for you.
Key stat: over 80 percent of customers recently reported that they would delete emails that aren't optimized for viewing on mobile devices, according to BlueHornet. Don't eliminate your dealership from buyer consideration by missing the mark on mobile-optimized emails.
2. Create an SMS loyalty program
Your service department is a cornerstone of your business, with first-time and repeat customers coming in and out every day. Why not offer them a text message (SMS) option that sends coupons right to their phone? Display signage that encourages customers to opt-in to your mobile service club with a few quick keystrokes, or install a kiosk that allows them to opt-in right at the counter. Promote your SMS loyalty program in your direct mail pieces, enable opt-in on your website, and provide a sign-up Facebook app. Does your marketing software help you design and execute SMS campaigns quickly? If not, investigate software that makes delivering SMS campaigns easy and effective.
Key stat: Customers see value in dealerships providing them with mobile coupons — 47 percent of consumers said they would find the most value in mobile deals and offers. A recent study from Pew Research indicates that 91 percent of American adults own a cell phone, meaning SMS campaigns can reach almost everyone — almost anywhere.
3. Implement a mobile version of your website
Make sure that consumers who browse your website are able to quickly and easily navigate to key content. Looking at inventory or trying to find directions to your store can be difficult if your site requires a consumer to pinch or zoom. You've worked hard to get them to your webpage, so don't lose them in the homestretch! If you don't have in-house resources dedicated to your site, many website providers now offer mobile-optimization off the shelf.
Key stat: According to a recent study by Walker Sands, web traffic from mobile devices made up almost 25 percent of all online traffic in Q1 2013! This includes tablets too, so make sure that your web provider optimizes across Android, Apple, and other mobile operating systems.
4. Ignite your non-interactive campaigns with mobile
We know it's hard to believe, but consumers often browse the lot when sales team members aren't around — why miss out on a chance to provide them with valuable information? And with more than 56 percent of the population now owning smartphones, according to Pew Research, you can make your offline campaigns interactive. Insert QR codes (Quick Response) on your window stickers to drive smartphone enabled shoppers to vehicle inventory pages. You can even drop QR codes into your print ads, linking to everything from inventory details to high-impact video clips. Not only does this provide consumers with value, it also enables your dealership to measure how consumers respond to your offline channels.
Key stat: Pitney Bowes reports that 19 percent of US survey respondents scanned a QR code in 2012 and 62 percent of customers who scanned QR codes also clicked on something else after scanning. Maximize consumer engagement with your print materials by setting up QR codes that drive back to your assets.
Preparing your dealership for mobile efforts doesn't have to be difficult, expensive, or time-consuming — it can be as simple as choosing the right marketing partner to engage your customers on this important channel.
Katherine Lyman, senior product marketing specialist at Outsell (www.outsell.com).
Curated, quality insights?