●

Commentary
Apr 12th, 2021
Get More Traffic to Your GMB Pages with User-Generated Content
If your goal is to grow the number of searches and referrals you see from your Google My Business pages, step one should be to see what to expect as a baseline. Friendemic conducted research recently, examining hundreds of auto dealer GMB pages of various sizes. Following is what a dealer sees from their Google My Business page in an average week, based on data from September-December 2020: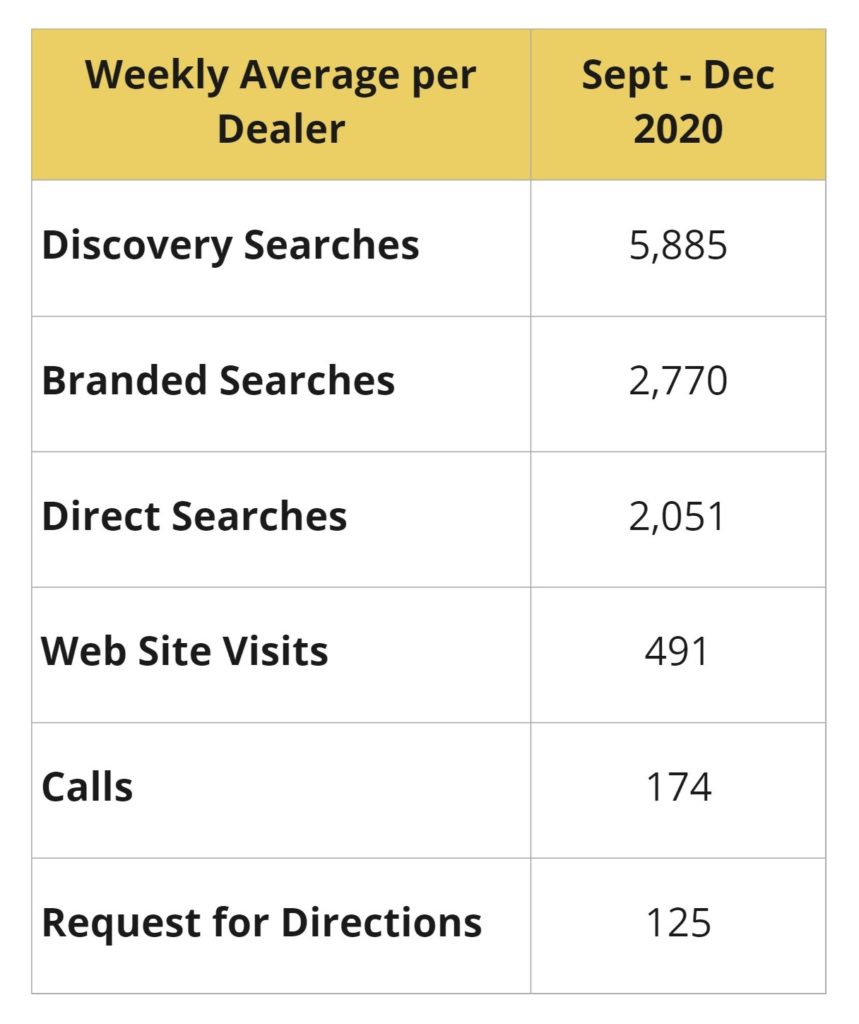 How do you compare? Track your Insights on your GMB page to set a baseline, and check how you compare to the average. There are multiple methods to grow the number of searches and interactions you generate on your GMB pages, one of which is to start or increase your posting of specific sales and service content to your corresponding GMB Sales and Service pages.
Content that gets the most engagement is User Generated Content (UGC), but questions are common about what specific content fits into this category, so we will break down content into more specific categories for clarification. User-Generated Content is very much what it sounds like: any content — text, videos, images, reviews, etc. that is created by people rather than by the brand. The confusion sometimes occurs where the dealership uses software that allows salespeople, or other employees, to capture photos and videos, especially of customers, for social posting. Some will count this as UGC - since it contains a photo of the customer...others consider UGC only content captured and posted by consumers themselves. Since we love acronyms in the automotive space, we'll create our own here to break this all down.
Let's break out UGC into two types: Consumer Generated and Dealer Generated, which both are separate from branding content from the OEM. Here is how we use these in our GMB posting strategy.
Consumer-Generated Content (CGC)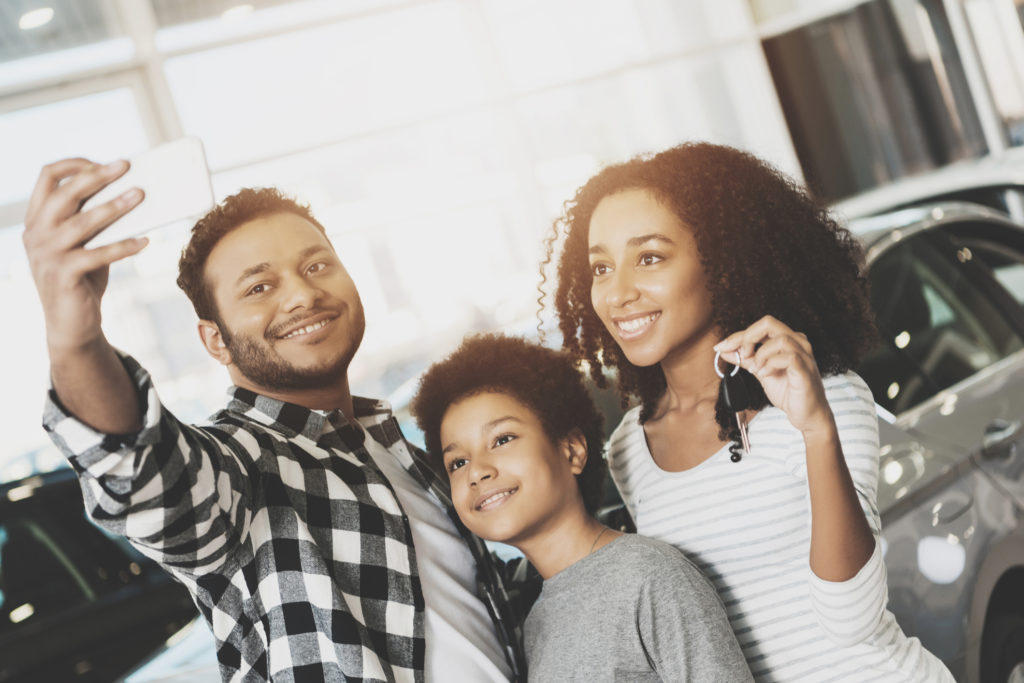 Consumers are more likely to trust a buying experience when it is shared by other consumers. This is the main reason online reviews are so critical to your business. Online reviews are the most critical type of CGC you can add to your GMB page. Another type is photos. Photos are highly viewed content on your GMB page (see above chart). Getting consumers to post photos of their visit to the dealership can help build your photo library, so encourage consumers to share photos/videos on their next visit. It also adds value to reviews when customers add a photo to their review as well. We see this all the time with restaurant reviews. Food photos add to the story. Follow their lead. The last type of CGC is when consumers post to the Questions section on your GMB page. Be sure to answer promptly, Answers, is one type of content you want to be strictly generated by the dealership, but Google allows consumers to answer if you do not.
Dealer Generated Content (DGC)
What about those happy customer photos? We will categorize this as DGC since the dealership staff is capturing and posting, but it will still see increased engagement because it is consumer-focused. Photos/Videos of customers sharing their happy experiences at your dealership in many ways is at valuable as a 5-star review. In some cases, more valuable because a consumer will view photos and videos at a much higher rate than text-only content. By the same token, encourage (or incentivize) your team to capture customer photos/videos/testimonials for use on your GMB page. Also, don't limit DGC to customer posts. Use the Offers option and post-sales and service specials (only to their corresponding page); at least monthly, weekly is better.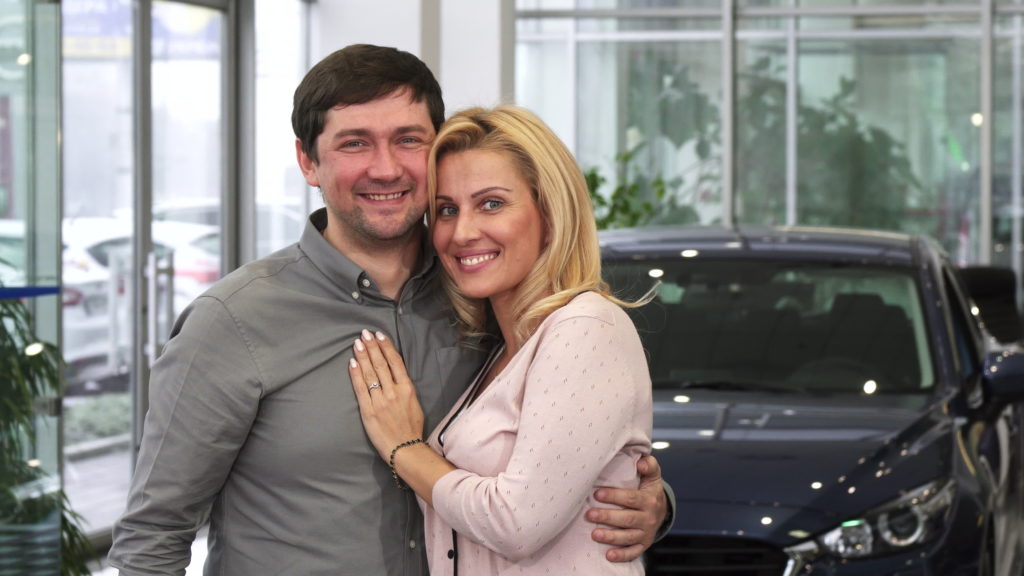 Manufacturer Generated Content (MGC)
Generally, this is referred to as OEM content for dealers. There is value in posting content from OEM, but the objective with this content is much more on branding vs. engagement. Just as with advertising, repetitive exposure has value, so it can help promote your brand by posting similar content as your OEM, but because it lacks the local factor and is typically not unique to your dealership, the benefit is less. While good to build into your posting schedule, this should be the lowest priority of our mix.
I know there will be some uncomfortable with the idea of encouraging consumers to post photos and videos to your GMB page. However, there is a disconnect between the content consumers seek and what dealers/marketers are creating. According to a study by Stakla, 79% of people say UGC highly impacts their purchasing decisions, yet only 13% said content from a brand is impactful.
The focus of your posting then is for DGC to get the same love and attention that CGC receives. To clarify, Google doesn't treat UGC differently than other types of content; however, Google does rank content based on relevance and quality, and if consumers engage more with UGC, it will be seen as more relevant and better quality than content that gets ignored. Remember, our goal is to get our GMB page showing up in more searches. Better engagement with your posts will improve your SEO and get you more views.
If you enjoyed this article, take some time to listen to the latest podcast episode on Experimarketing with Colin Carrasquillo
Curated, quality insights?