●

Best Practices
Mar 7th, 2022
Google Ad Extensions 101 For Dealers
Ad extensions are dynamic add-ons to Google ads that expand the information you can show in any given ad.  They are usually more eye-catching than the ad text itself, leading to more click activity.
While the strategy behind your ad campaigns is complex, the basics of ad extensions are just as important to understand and implement into your dealership's marketing. Here's the breakdown of the ad extensions your dealership should be adding to search ads to maintain a good presence online. 
Price Extensions 
Price extensions allow you to add vehicle pricing underneath the ad so serious shoppers can consider their options right there in their search window.  When setting up price extensions, it's critical to set up a real-time integration so that your ads reflect the current pricing on your website.  If you set up something more manual, the ads will not reflect price and inventory changes and this  can lead to a lot of confused and frustrated customers.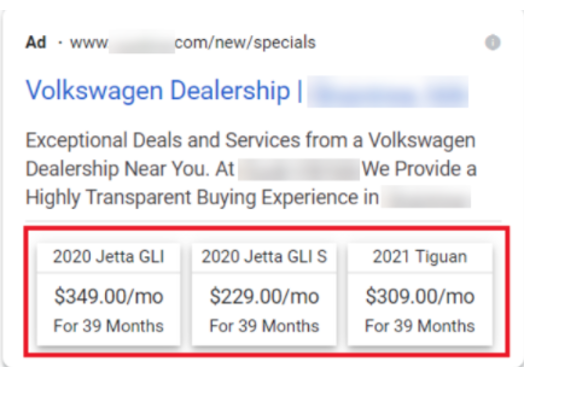 Callout Extensions 
Callout extensions allow for dealerships to add special promotions or unique offers that stick out below the ad information.  It's a great chance for your dealership to differentiate themselves from the competition and try to lure in new customers.  For example, dealerships can point out things like price matching, trade-ins, and warranties.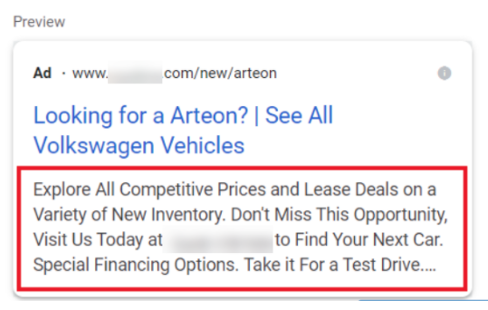 Location Extensions 
Location extensions make it super easy for shoppers to see where your store is on the map and how far it is from their current location.  The location extension is also clickable, leading the shopper directly to Google Maps.  As we already know, shoppers have little patience so any shortcut to finding you is a win for your dealership. 

Call Extensions
Call extensions are super instrumental in driving more leads to your dealership because it's a click-to-call feature that makes it easy for shoppers to find your phone number without even going to the website. There is a lot of flexibility in the call extensions to support your business model, like turning on the call extension only during your opening hours or turning this on or off for mobile/desktop depending on your goals. 
Google also helps you set up tracking for call leads when you implement call extensions, so you can make sure you're tracking inbound leads/calls directly from ads differently than other clicks. 
Sitelink Extensions
As mentioned before, the more shortcuts for your shoppers, the better the shopping experience.  Sitelink extensions allow you to link directly to certain pages within your website to get your shoppers familiar with your brand and your inventory. It also means eager shoppers that know exactly what they want to see can get to the page quicker. 
Dealerships should consider setting up sitelinks to their top inventory and incentives pages, trade-in options, and profit centers (like service) to drive the most relevant traffic directly to the pages linked. 
Image Extensions
Image extensions allow you to complement your ad text with rich visuals. This can really enrich a dynamic search ad by bringing a shopper's attention to the images you upload along with the description and headlines. While your dealership does have to comply with Google's size and dimension best practices, it's a pretty easy addition to search ads that can bring more attention to your ads. 
Consider this your go-to list for all things Google ad extensions. Whether you manage this in-house or through an agency, it's important your dealership understands the implications of ad extension strategies and implements best practices to drive the most qualified leads to your website. 
Happy advertising! 
Ilana Shabtay is the VP of Marketing at Fullpath, Automotive's first customer data and experience platform (CDXP). She is an experienced marketer, highly skilled in digital marketing and artificial intelligence, and the host of the InsideAuto podcast. Having spent almost a decade in the automotive industry, Ilana continues to develop critical skills to drive marketing and serve the dealership community in a new era of technology.
View full profile
Curated, quality insights?