●

Commentary
Oct 7th, 2013
How effective are Online Surveys in Automobile Marketing Research?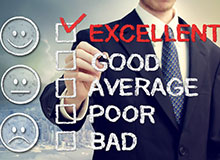 As the internet becomes an even bigger part of our lives, businesses of all types will have to keep adapting and embracing certain trends. There are pros and cons, but the pendulum is undeniably swinging toward all things digital — and it may never swing back.
Some industries, such as automobile marketing research, have deep roots in more traditional business methods like conducting surveys by phone or at the local mall. They, too, must adapt to survive. But is adaptation good for business? How effective are surveys conducted online about auto marketing? The answer seems to be "very."
Benefits
For starters, online is cheaper. There are no paper costs, and labor costs are far lower because instead of sending dozens of surveyors out and about, you need only one tech guru mass-emailing or posting. While Inc.com points out that, online surveys aren't as scientific in nature as traditional surveys, since there's no way to guarantee purity of research, the site says the cost factor generally outweighs this negative.
The reach of online surveys far surpasses that of traditional methods. Clarity Research, which conducts online automotive marketing research, says it can reach random samples on a local or national level, which helps it get a more representative respondent mix. Doing research online also allows CR and other companies to find hard-to-locate owners and use methods such as email addresses to more effectively target certain population groups.
With an increased reach, companies often see increased sales. In research conducted on online marketing, Survey Analytics found the mere mention of an automotive product (in an online survey someone comes across) can lead to a doubling in sales. The surveys act as a sort of de facto advertisement, especially surveys on new products, which may be introduced to thousands of potential customers with an online marketing survey.
Online research also offers simple, technical improvements that improve ease for participants.
The psychology behind surveys
Consumer Psychologist says an online survey can be written to automatically skip questions deemed irrelevant to a participant. For example, if a respondent answers "no" to "will you be in the market for a new car in the next six months?" then the follow-up questions about that potential purchase can be passed right over. This also applies to "yes" questions. Users who prefer imports to domestic cars can have questions tailored to them about Toyota and Hyundai rather than wasting time with questions about Ford and Chevrolet.
Infancy: Survey-A Silver Lining:
Getting people to read online surveys, however, can be a challenge. Face-to-face surveys, after all, are much harder to ignore because of the person right in front of you. But Survey Analytics says this can be overcome. Personalization of invitations, incentives and catchy graphics can entice people into the survey, thus broadening the reach of the research. Reminder emails can also be sent, but not too many, considering it can turn off potential respondents. And one thing that's easy to do online but nearly impossible in person is to let respondents see the results of their research. People who can see that their opinions actually factored into the making of a product or service are far more likely to take part.
Of course, respondents not reading online questions carefully can also be a factor that taints results. Consumer Psychologist says a lot of online survey-takers tend to do a lot of them and therefore are conditioned to rush through questions. This obviously makes the results less valid. This can be offset by putting in controls such as a progress button that only appears after one or two minutes, forcing the respondent to properly think about whether or not they want a Hemi engine.
Online surveys as an automobile marketing research tool are still in their relative infancy. But they show great promise and are already more effective than any other research method. They aren't going anywhere and they only continue to improve.
Sameer Bhatia is founder & CEO of ProProfs.com which is a leading provider of online learning tools for building, testing, and applying knowledge. ProProfs Survey Software offers marketers and trainers powerful-but-simple features without requiring them to download or learn expensive software. Sameer has a background in technology with a Masters in Computer Science from USC (University Of Southern California) and is an ed-tech industry veteran. You can find Sameer on Google+ and Twitter.
Curated, quality insights?