●

Commentary
Sep 11th, 2017
How Mobile Marketing Advancements Influence the Car-Buying Process
The message-delivery methods to automotive consumers have drastically changed over the past couple of decades, when customer retention and acquisition was not much of a science.
Beyond crudely targeting markets geographically, the best chance you had for focused advertising was zip-based, prescreen mailers and localized print media.
Broadcasting, a "ye olde" nautical term, was appropriate casting as far and wide as one could for the least amount of spend. The emergence of the iPhone and other smartphones have changed the world, and one of the last bastions of big-ticket retail now has the majority of shopping activity on these devices — automotive.
Why?
Consumers now shop in multimedia and multi-channel environments. It seems like just yesterday auto dealers were getting their arms around shoppers being stimulated by a TV ad, researching it on a PC, or picking up their tablets to browse inventories, and ultimately dialing up the dealer on a mobile phone.
Mobile devices, however, have advanced tremendously in the past few years and are now able to cover all platforms, integrated relatively seamlessly with comparable speeds to PCs and tablets. Add the location services into the mix so you can find what you want, what you can afford, and where you are — all in a device you can just slip into your pocket. Here's how it works: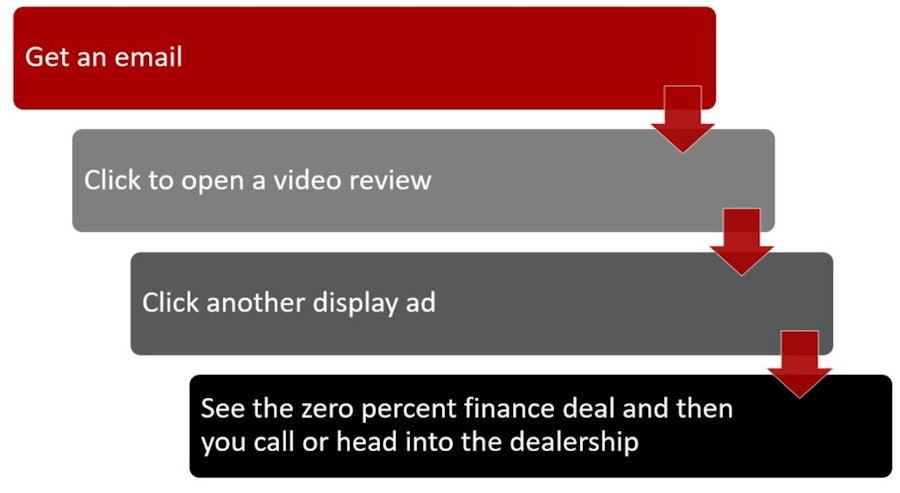 What are social media platforms' most active devices? Mobile. Cox Automotive found that 59% of shopping time is spent online, and 49% of that time is on mobile devices.
The same report cites the most telling stat: About nine out of 10 online shoppers are deciding what they will buy and expressing their purchase intent there, with a total of 14% solely using mobile. New vehicle sales have a particular dynamic that makes it even more conducive to completing a mobile experience.
Consumers have an expectation of quality from most car manufacturers, so an in-person inspection is seemingly less warranted, making mobile shopping OK. Used car shoppers, however, want a closer look at every part of a pre-owned vehicle, and the limited screen real estate of a mobile device can hinder viewing wear and tear clearly. J.D.
Power estimates the average number of dealership visits continues to drop, from 3.5% in 2012 to 2.8% just last year. That might not be a fair representation of the behavior, however. Various studies indicate that in this multi-channel shopping environment, there are as many as 20 virtual dealership visits in a complete mobile experience.
Consequently, those glass-front doors at the showroom should be, and will be, swinging open less. But concurrently, fewer shoppers will be going back out those doors, and more will be leaving the lot with a new car.
Well-informed consumers close deals better and faster. Integrating data that focuses marketing efforts on shoppers most likely to be in market with the ability to purchase and the propensity to buy now distinguishes a dealer from its competitors.
Providing these shoppers data, tools, and processes to inform and capture mobile engagement when they are behaving with interest in your product is key to dealership success.
Call it the "moment of truth" if you wish — it's the dealerships' opportunity to capture the customer by providing answers to their logical next questions: "What's the best deal?" . . . "What payment do I qualify for?" . . . "What credit score gets the best lease deal?" . . . "What score do I need for 0% APR?"
In a recent Google keyword analysis, those very questions ranked in the top search percentiles, right after queries associated with vehicle questions. An analysis for a major group found that growth in finance-related queries in auto was outpacing all other automotive queries two to one.
Payment options, payment methods, and access to instant credit have been powering online shopping for years. Find an Amazon merchant or another online property for a major purchase that doesn't offer payment options, and you've found the exception.
Credit card companies and standalone applications are filling the credit transparency void. Credit Karma alone touts that it has more than 20% of age 18 and up shoppers on its platform. Why? Because consumers want to know their credit status to focus and enhance their shopping experience, and decide how and from whom to buy.
Monthly searches for "free credit score" and "Credit Karma" number in the millions per month. In recent years, our company has been called upon to provide dealers the data to find the right consumers to reach, along with real-time solutions for dealers to capture customer engagement and provide credit data in a mobile, one-click environment.
The information is available to dealers in standalone form or integrated directly into partner platforms. Usually, twenty-twenty means perfect vision.
Now, it represents a year only 29 months away. So, what will things look like then? Expect mobile's footprint to widen. One can only guess how, since today's school-aged children can find cool videos on their phone and fire it to the big screen in a nanosecond.
Streaming TV shows and movie channels are also increasing in popularity, and are more often than not directed by mobile devices. The advancements in both automotive and technology is inspiring, along with the opportunity it affords the dealership community.
John Giamalvo serves as vice president of dealer services for Equifax, where he oversees collaboration among top national dealer groups and enterprise alliances to provide auto insights and solutions to help dealers acquire, engage and facilitate efficient transactions with consumers.
Curated, quality insights?