●

Best Practices
Feb 10th, 2021
How To Handle A Customer Dispute Like a Pro: Part 2
In Part 1, you will recall that we had the goals of discovering the truth, building trust, and de-escalating the customer's anger (a.k.a. extracting the venom). We learned how to set expectations, communicate during the first meeting, and how not to irritate the customer. Here's how to build on your initial success and capitalize on the customer trust you have earned.  
The Second Meeting: Gather Final Information and Achieve Mutual Understanding
If mistakes happened, acknowledge them. It builds trust and continues to make you human and trustworthy in the eyes of the customer.
If the dealership made a mistake during the sales process, it's okay to say, "I'm sorry."
Disarm by telling the truth.
Continue to acknowledge the customer's emotions (i.e. angry, upset, anxious, etc.) Try to extract the remaining venom here. Let the customer vent as necessary. When you find that the customer is repeating the same thing over and over it's time to say, "Let's focus on how to make you happy." You do not want to have the customer repeat their bad feelings over and over as it begins to wear a groove that is hard to overcome.
If you don't take care of the problem now, it is going to get worse, and it's going to cost more money and you are going to create a problem for someone else at the dealership.
Be creative and ask lots of questions. 
Ask multiple questions, "If I could do this (xx), would that make you happy?" During these conversations ask things like:
If I could buy the unit back at $xxx (including a profit for you as the dealer) would that interest you?
What if I provided you with a service credit for $xx? (This option will only cost you fifty cents for every dollar that you offer to the customer.)
What if I could sell you a different unit and take yours as a trade-in?
How would you feel if I were your personal concierge during your ownership experience so you could call me with any issues that you had and I would take care of them?
Some solutions are non-monetary. Explore these options. Customers want to be pampered and feel important. How can you accomplish those things?
Offer to put the solution in writing "to make you more comfortable so that you are assured of getting exactly what we are discussing."


The Third Meeting: Buy-in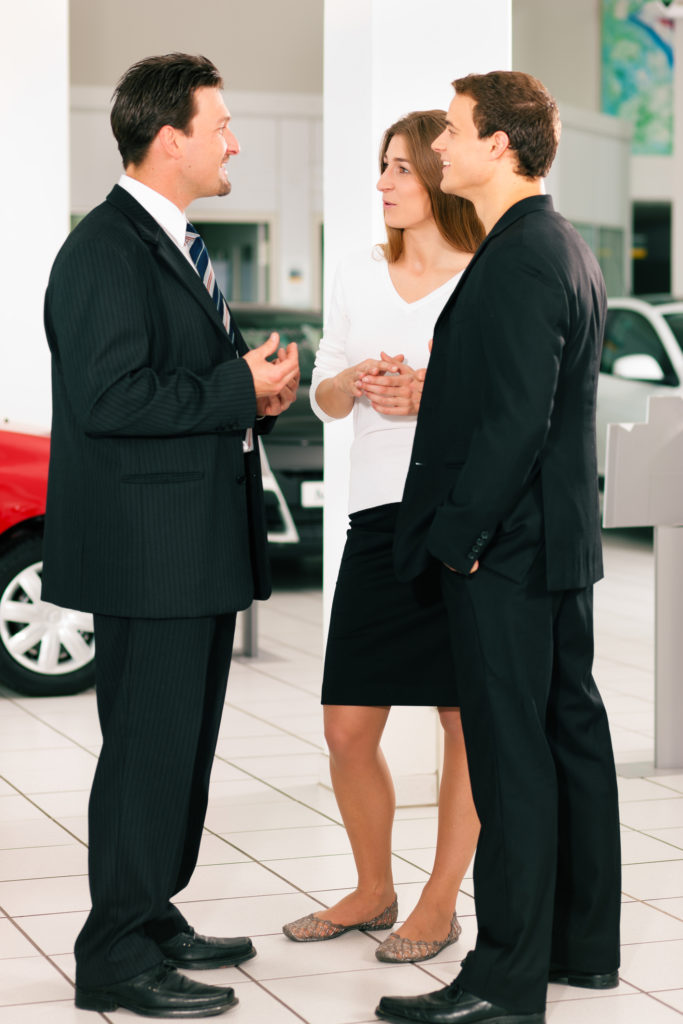 Present at least two (2) potential solutions for the customer. When you present a singular solution, a customer feels like you are shoving an answer down their throat. If you proceed that way, then a lot of the trust building efforts you've earned will evaporate. Be creative and don't be afraid to try something different.  
It's okay to offer options where the economies are different. For example, maybe you offer to make three (3) payments of $xx or a service and parts credit of $yy and those numbers have $500 difference between them. You may be surprised which option the customer chooses.
In any event, offering options shows you care and that you are trying really hard to help the customer. Words can be perceived as "cheap," and here you are showing the customer that you care by not just serving up one option. 
Wrapping Up With The Customer
Put your agreement in writing. Consider having the customer sign a release of any further dealership obligations.
Follow Up! Follow through! Follow Up!
Execute on your promises. Make sure you personally see that things are done.
There is no shame in asking for help or advice or a "TO." Sometimes, other personalities may help you re-close the customer on a solution. This is just like selling in many ways.
Consider documentation changes to your customer facing paperwork to guide how this process may look (i.e. an alternative dispute resolution structure.) Be creative here, too. Arbitration is not the only way to handle this. I think arbitration is overrated and ineffective and does not solve problems. It prolongs problems but does not help you, in my opinion. That is a future topic that I will cover. In short, there are all kinds of creative structuring which may work for your dealership.
So, you did it! Be proud of yourself and allow yourself to have a quiet moment of success. Success comes in many forms and a job well-done is the result of your good attitude. Well done.
Please contact me if you have any further questions. I've handled well over 1000 customer complaints of all shapes and sizes in my 30+ years in the business.
Check out these 3 videos with quick steps for resolving a dealership customer dispute, complaint, & problem.
A dealership franchise owner for thirty years, Tom is now the Lead Consultant & Founder of Better Vantage Point, providing Dealer Dispute, Compliance and Risk Mitigation Solutions.
Tom also spearheads Tuck The Octopus which helps dealerships proactively manage governance, risk and compliance which has a direct impact on the customer experience.
View full profile
Curated, quality insights?