●

Best Practices
Jul 25th, 2013
It's Mobile-Mania—but Dealers Still Lag with Mobile-Friendly Credit Apps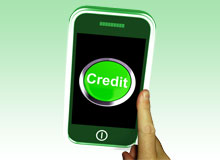 And they're one of the best ways to generate the highest-quality leads cheaply!
The mobile wave isn't at a tipping-point, it's tipped, hard. Sometimes I feel like I read as many new studies about the explosive growth in consumer mobile/smartphone adoption as there are smartphones in use in America today — that would be 170 million![1]
Here are a few choice, recent, mobile stats, because we can't digest the new "mobile-first" consumer realities enough:
And, of course, the mobile wave is rewriting the car-buying process:
46 percent of consumers searching for local products/services (like dealerships) now exclusively use mobile as their research tool.[6]
And 31 percent of consumers now use mobile devices specifically when car shopping, up from 24 percent the year before.[7]We hear from so many dealer clients that mobile now drives over 50 percent of total traffic to their sites.
In the last year, most dealerships have really stepped up their mobile game: making their website mobile-friendly, engaging in various types of mobile marketing…even adopting a dealership app.
But one area where most dealers are still lagging is that they don't have a mobile-optimized consumer credit app strategy. That's a big, missed, opportunity and here's why:
Highest Quality Leads
With 9 in 10 consumers now shopping online, it's becoming increasingly difficult for dealers to determine who's just looking, who's seriously ready to buy, or whether that shopper is even USE qualified. When an online/mobile shopper fills out a credit app and puts their personal info online, it's one loud, clear signal that they're transitioning from the "just shopping" to the buying cycle.
Dealers Are Losing the Preapproved Financing Battle
While the majority of car shoppers now research financing online, 50 percent plan to get preapproved through a bank/credit union and only 34 percent at a dealership.[8] Because most dealers and banks/lenders have a weak mobile credit app presence, you would gain a new advantage. And you're reaching car buyers where they increasingly "live"…on their smartphones and tablets.
People Do a Whole Lot of "Stuff" on Their Smartphones
For many smartphone users, their smartphones are an "appendage" that's with them 24/7. In fact, Americans now spend more than 2.5 hours daily on their smartphones/tablets, nipping at the heels of the time they spend with TV! (168 minutes daily).[9]
Financing Needs to Move to the Front of the Sales Process
Moving auto financing to the front of the sales process is increasingly critical for dealers and their customers, because it can slash the old, frustrating three-hour sales process to under an hour. Web and mobile-optimized credit apps, which, of course, get people preapproved, pre-test-drive, create significant, new efficiencies.
Best Practices in Mobile Credit Apps
If a dealer wants to get their online credit app mobile-friendly (or they currently have an online credit app presence through lenders or vendors) there are certain key things to execute on:
Mobile "version" doesn't mean mobile-optimized: Too many dealers and vendors offer up the same version of their online credit app on mobile. Consumers can technically access the app, but because the experience and interface isn't mobile-customized, it's unwieldy and a major headache to fill out. People will simply abandon it. Best practice: an auto mobile detect platform, which means if a consumer is accessing the application through a mobile device the application is automatically formatted to be mobile-friendly.
Your online and mobile credit apps need to engage: the more rich, compelling content, like streaming video and calls-to-action, mean more financing apps for your dealership.
Make it quick, easy, hassle-free, and make them feel secure: Having an initial credit app as long and complex as the Dead Sea Scrolls means they will also abandon it. Keep is simple: gather their name, address, phone number, email address, date of birth and Social Security number. Then the credit score gets run. Then, if they're prequalified, you can ask for more details like income and residence info. Messaging about how their personal info is 100 percent secure needs to be prominent throughout the experience.
Many online and mobile credit apps are for direct loans, and for an amount, rather than for indirect loans or those tied to a specific vehicle in a dealer's inventory. Only apps for indirect loans ensure that a dealer gets that share of the interest income, the dealer reserve. Apps for indirect loans, and ones for a vehicle rather than an amount, are where the profits lie.
In general, any online/mobile credit app that pre-approves auto shoppers for financing should be based on your dealership's credit criteria.
Given the staggering growth in mobile adoption and time-spent-with-mobile, dealers using these golden rules for mobile credit applications should see their credit apps grow exponentially. And anyone serious about driving the highest-quality leads at a low cost needs to get serious about a mobile credit app strategy now.
Pete MacInnis, founder/chairman/CEO of DealerCentric has 34 years experience in automotive finance, including co-founding Onyx Acceptance which originated over $14 billion in auto loans, and was acquired by Capital One. He began his career with WFS Financial, helping grow the company from $100 million in assets to over $4 billion serviced. At DealerCentric, Pete oversees the creation of a more streamlined sales and financing experiences for the industry, including Mobile Get Pre-approved in Seconds.
[1] Nielsen data, 2012
[2] Pew Research Center, 2013
[3] MobiThinking data, 2012
[4] Google data, 2012
[5] eMarketer, 2012
[6] xAd-Telmetrics Mobile Path to Purchase Study
[7] Chrome Research 2012
[8] Kelly Blue book survey
[9] Flurry Analytics report, 2013
Curated, quality insights?