●

Commentary
Feb 7th, 2020
Kissing Babies & Shaking Hands: Reality of Social Sales
Ali Reda sells more cars each year than any other human being on the face of the earth, and whenever he gets ready to leave a local restaurant, his wife and kids know it's going to take them a good twenty minutes to make it to the exit while Ali is shaking hands, working the room and making friends all the way to the door. 
Getting to know people. Letting them get to know him. "I don't think there's a single business in my community that I don't know the owner or the manager, " Ali says.
And here's the great thing about the car business, virtually every person in that restaurant drove a car to get there. In fact, almost every person you've ever met knows someone who's going to be shopping for a car in the near future. The outside world is a target-rich environment.
And virtually every person who is shopping for a car says they would prefer to know their salesperson before they ever set foot in the dealership. People prefer to do business with people they know, like, and trust. The math is pretty simple if you want to sell more cars, make yourself known to a lot more people.
Make more friends; sell more cars
Everybody is telling you you have to get more involved on social media, you have to promote yourself, you have to build a brand, but social sales started long before social media became a thing. We just used to call it building relationships.
Sales trainer Fran Taylor says he figured out early on that there are a lot more people out in the real world than there will ever be in the dealership even on your busiest sales days. All you have to do is get out there and talk to them.
"Talk to 15 people a day outside the dealership for 30 days and see what happens, he says. "It's like taking candy from a baby."
Customers who walk in the door looking for YOU, their friend in the car business, instead of preparing to go into battle with an unknown automotive assailant are more likely to make a purchase, decide to buy faster, close with higher grosses, give better CSI scores, leave more glowing reviews, are more likely refer their friends and family to you and, course there's a greater chance of them returning for another purchase from YOU, their friend in the car business.
So why in the name of Benedict Cumberbatch do salespeople spend all of their spare time waiting around for the up bus and arguing over who gets the good leads? The good leads are out in the real world. Get out there and get you some.
Unfortunately, when I'm in dealerships training sales teams and I ask salespeople what they do out in the real world, who they hang out with, the most common answer I get is... crickets. 
Work. Eat. Sleep. Repeat. If that sounds like your team, then please read this next line very carefully:
If the human beings on your sales team do no have an active, engaged SOCIAL life with other human beings in your community that's an enormous BUSINESS problem for your dealership.
Your people and their relationships are the ONLY things in the world that differentiate you from every other dealership in the world. You don't just need to allow your people the time and freedom to be involved and make friends in the community; you need to require it.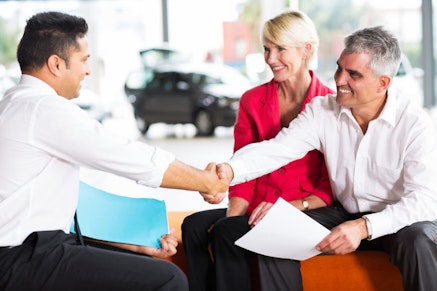 So here are 3 quick ways to start talking to strangers away from the dealership and turning them into friends and customers.
SMILE
If you want to make new friends, you need to look more friendly. You can't walk around looking like the dog just took a whiz in your cornflakes and expect strangers to talk to you.
JOIN A NETWORKING GROUP
Nathan Hays at Jefferson City Autoplex in Missouri says he got into the car business when he noticed that every networking meeting he went to had dozens of real estate agents, insurance agents, and mortgage brokers, but not one car salesman. He discovered an untapped, captive market.
Every day in your town there are breakfast groups, lunch groups, after-work groups, every person there is expecting you to put a business card in their hand, and every single one of them drove a car to get there.
WEAR YOUR WORK
Wear a shirt or jacket with the dealership logo on it. Wear a name badge. Go all in and wrap your car... whatever it takes to let all those potential new friends and car buyers out there in the real world know where you work and that you're proud of it. Let the logo start the conversations for you.
It's your job to keep them going.
Terry has authored three #1 best-selling books, spoken to audiences from coast to coast at TedX, The National Association of Broadcasters, and the National Automobile Dealers Association and sold ads to dealerships from Moose Jaw to Miami.
View full profile
Curated, quality insights?