●

Commentary
Feb 15th, 2021
Mask-less Socialising: What This Means For Your Dealership
There will come a time, sooner than we think at this point, where we'll be living in a post-COVID era. We'll be back at our favorite crowded bars, our kids will be in school — real school — and we'll be on the road: business trips, family vacations, and holidays. 
But while we may be able to share the air with others again, the remnants of COVID will still linger. Predictions are that many retail habits- like curbside pickup- will be ingrained in our society forever. And considering the amount of new proud Peloton owners (seriously, check their stock), I'm assuming at-home and on-demand workouts won't be going anywhere either. 
So what does this mean for your dealership? Just because we'll hit a post-COVID era does not mean dealerships should do away with some of the accelerated technology adoption and customer service accommodations derived from the pandemic. Quite the opposite: dealers should expect a shift in retail behavior forever. 
Full funnel digital commerce 
COVID introduced new emerging markets to automotive that helped the industry's fast economic rebound starting in 2020 Q3. Millennials, one-car families, New Yorkers. It was therefore imperative for dealers to have the technology in place to reach those buyers; efficient, hyper-targeted campaigns to attract new customers during a time of financial stress and uncertainty. The dealerships that were able to switch on and off messaging instantly, leverage streamlined data, and automate marketing campaigns were investing in full-funnel digital commerce that makes 1:1 matches between the shoppers and inventory. Reaching your customers with technology-driven marketing will stay relevant as buyers shift even more focus to online and pre showroom visits. Your dealership should have the infrastructure in place to target and engage all funnel shoppers, anywhere, including a top-notch browsing experience on your website, even if you see an uptick in showroom walk-ins.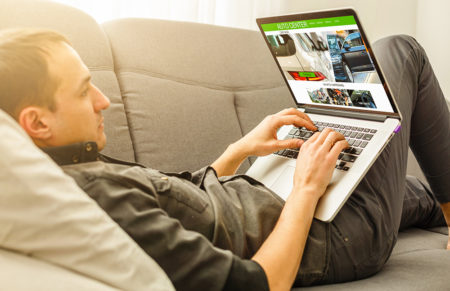 Shortening in-person visits
Even if there is no rampant pandemic, no one will want to spend their entire Saturday inside your dealership. This was true pre-pandemic and even more true post-pandemic. Dealerships that kept up excellent customer service during COVID were able to shorten the time in-store and do as much as possible before the customer visits. As the average in-market shopper only visits 1-2 dealerships, you need to make sure your dealership accommodates for the new normal that will never go back: less time indoors, less contamination, more efficiency, everywhere. Dealerships need to set up the closest thing to curbside pickup — or curbside test drive, if you will — to keep customers in-line with their new shopping habits. Less friction and more efficient appointment setting will be key.
Facilitate the sale
While facilitating the sale was always the number one priority for dealerships, consumers have a new level of expectations that we need to take into account. We've seen the world go upside down, and with that, business models adapt to continue to reach consumers in any circumstance. Curbside pickup, drive-though testing sites, cocktails on-the-go. Dealers should gear up to continue to provide virtual trade-in evaluations, solo test drives, service pick-up/drop-off at home, and more because shoppers now know this is an option and may very well prefer it. Consumers have become "spoiled" by the flexibility of the new normal and it's predicted this will dictate many new retail habits in the future. Make it easy for your shoppers and facilitate the sale to accommodate all funnel shoppers. 
So yes. There will be a time where we'll all be back at our favorite pubs, hugging family members, and going into work. However, COVID has changed the face of business and customer service and dealers should prepare to stay competitive in this environment. It's about continuing the best practices that kept automotive strong in 2020 and beyond. 
Ilana Shabtay is the VP of Marketing at Fullpath, Automotive's first customer data and experience platform (CDXP). She is an experienced marketer, highly skilled in digital marketing and artificial intelligence, and the host of the InsideAuto podcast. Having spent almost a decade in the automotive industry, Ilana continues to develop critical skills to drive marketing and serve the dealership community in a new era of technology.
View full profile
Curated, quality insights?