●

Commentary
Mar 5th, 2014
Mobile Marketing Drives More Calls to the Dealership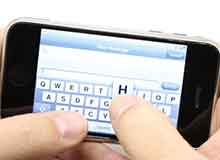 From sales to service and everything in between, dealers across the U.S. are feeling the results of a successful mobile marketing strategy. Mobile apps are improving customer retention as they provide customers an in dealership experience even when they're out of the dealership. Responsive Email Design (RED) email campaigns are dramatically increasing open rates and click rates, while progressive mobile channels, like the mobile wallet, are delivering super targeted coupons and special offers driving more traffic to the sales and service drives.
An outcome of this mobile explosion is that mobile solutions are flooding dealerships with more phone calls than ever before. Before mobile apps and RED email campaigns, call to actions such as 'Call to Schedule' were nearly impossible to locate and even more difficult to select on a mobile device, but now these action buttons are placed front and center on a mobile device, allowing functions like one tap dialing to ensure quick and direct interactions.
One of the nation's largest dealer groups has experienced hundreds of additional phone calls and an 18% increase of service appointments in just one month, as a direct result of their new mobile optimized email communications.
But there are obstacles that will stand between your dealership and the positive results that come from an influx of phone calls. Customers tap the call button when they think about it, but not always when you're open, so calls come in outside of hours and when your advisors are busy, so make sure you provide the support your dealership needs to make sure that every customer is taken care of and every call is answered.
Contact a trustworthy vendor that offers inbound and overflow automotive call support through a customer interaction center. Call support gives your dealership the ability to make the most out of every opportunity, setting more appointments while keeping ASMs focused on selling in the store. With inbound support, every call can be answered and appointments can be consistently set when your sales and service personnel are busy. This even allows you to track and report on inbound service appointment calls.
And overflow support is critical. Make sure that every call is answered, even if it's coming in outside of business hours, giving your dealership the 24/7 availability it needs to drive more sales and service revenue, all while improving the customer service experience.
Make sure the vendor's call center agents are trained to do everything your internal operators can do, from giving out driving directions and hours of operation, to setting appointments, transferring calls and capturing hot leads.
Prepare your dealership today and bring your mobile marketing strategy full circle with the support it needs to succeed.
Mike Martinez is chief marketing officer of DMEautomotive, the industry leader in science-based, results-driven automotive marketing that provides a range of marketing services to the biggest and most innovative automotive organizations in the industry. For more information, email [email protected].
Curated, quality insights?