●

Commentary
Feb 19th, 2014
Mobile Marketing Strategy for Dummies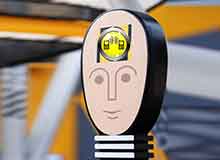 With all the talk about mobile and mobile apps, you're probably pumped, ready to jump head first into this new era of automotive marketing. Well, either that or you already feel like you're drowning beneath a great big pile of technology that you really don't know much about…So let's break mobile down and make this easy no matter where you are in the mobile adoption process.
Mobile is no longer a single channel of communication, but rather an entire marketing communications platform specifically designed for powerful, real time, customer engagement. That platform consists of six key mobile channels (responsive email design, mobile apps, mobile wallet, mobile web, QR codes, and text messaging) that work together to create a powerful mobile marketing strategy, developed to bring your dealership shooting to the top.
Fifty-six percent of dealer customers open emails using their mobile device (DMEautomotive 2013 auto[mobile] survey), so start by implementing Responsive Email Design (RED) to mobile optimize your email communications. To make it easy, just call your email marketing provider and ask if they support RED, if they do then great, start using it right away, but if they don't then it's time to find a new partner. Monitor your open and click-through rates with RED and experiment with the placement and content of easy to tap buttons (these should be call to actions) like call us, visit us, schedule an appointment, etc.
It's also vital to invest in a dealer branded mobile app for your dealership, after all 80 percent of the time a consumer uses their mobile device it is spent inside apps (Flurry Analytics). The app will ultimately serve as your dealership's mobile hub, directing the consumer to everything from store hours and directions, online appointment scheduling, vehicle inventory, targeted communications, and to access special offers and coupons. Soon, the consumer will even be able to pay for service via the app. Partner up with a vendor that offers a dealer branded mobile app and start promoting your app through email, on your dealer website, with in store advertising and get your service and sales teams spreading the word! Make the app a part of your entire customer experience with your dealership.
After you have a dealer branded mobile app it's easy to start incorporating more progressive mobile functions, like the mobile wallet. The mobile wallet is an awesome way to distribute coupons and special offers, because it offers geofencing capability, which targets consumers at an exact place or time and where they can take action right away through their mobile wallet. Now is the time to start experimenting with the mobile wallet and geofencing capability. Use the mobile wallet primarily for coupon offers and build traffic using a "punch card" method for the mobile wallet, like "Buy 3 Get 1 Free."
Now that the mobile web has become more mainstream, not having a mobile optimized website is like keeping your store closed a few days every week. If you don't have a mobile website, get one, now, and welcome to 2008! Test your mobile website. Is it fast? Is it easy to navigate? Taps happen much faster than clicks — is your mobile site built for speed? Check out your design. The majority of consumers use mobile sites while at, or near your showroom; is your mobile site helping them make the right buying decision?
QR codes are a great way to distribute things like your dealership's mobile app, however the top two places auto service customers are directed to via QR codes are product info and links to a homepage (DMEautomotive 2012 survey). Consumer research tells us that using a QR code to send them to a simple URL annoys them to no end. Stop annoying your customers! Start using QR codes where they can be a useful tool for the customer. Use QR codes to send customers to download your dealership's mobile app, distribute special savings coupons, contests, and special offers.
Text messaging is a powerful tool, but heed this warning: The more you increase texting the more you increase potential exposure to expensive lawsuits, so be very careful here and only use texting where it will be useful and welcomed! A potential use of texting is for informational purposes, such as "vehicle ready" and "your special parts are in" communications from service. Be very selective with your text messages and make sure your entire texting strategy is 100% compliant, including your opt-in and opt-out mechanisms. Have a very specific message in your text communication and be sure to have your legal team review your text messaging strategy and scripts first.
While each of these mobile channels serves a very different and specific purpose, the correct use and combination of each can be the perfect fusion for your dealership's mobile marketing success. Please visit www.dmeautomotive.com and download your free eBook, The Big Picture Book of Mobile Marketing Strategy, to learn more.
Mike Martinez is chief marketing officer of DMEautomotive, the industry leader in science-based, results-driven automotive marketing that provides a range of marketing services to the biggest and most innovative automotive organizations in the industry. For more information, email [email protected].
Curated, quality insights?