●

Commentary
Sep 25th, 2013
My Best Advice for Increasing Internet Sales Opportunities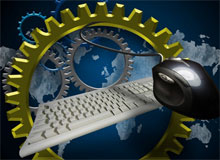 In the nearly five years that I've served as internet sales manager for Gary Lang Auto Group, we've worked very hard to attract and convert more online buyers. Considered a destination dealership, ours is located in Northern Illinois, an area where consumers do a lot of comparison-shopping and research. As a result, we rely heavily on our website and digital access points across the internet to drive interest and foot traffic into our showroom. To that end, we have been very successful.
One of the challenges we initially encountered was finding the right online tools to facilitate direct communication with buyers. We weren't looking to just communicate, but to improve the buying experience and personalize our online interactions so that more connections equaled more sales opportunities. We also knew that while our team was incredibly well trained in responding to email and phone leads, live chat and mobile text were new ways to communicate, requiring our dealership to adopt an instant follow-up and an always-on posture.
To start, we began by paying attention to research including a MarketingCharts' report, which states that 57 percent of online shoppers feel more confident when they can watch or see a product. In response, we began incorporating video into our sales processes.
We created YouTube walk arounds and personalized video email responses to engage prospects and help highlight our dealership. Yet we still needed to address the lag time associated with email and voicemail follow-ups since it is a well know fact that time can kill deals. So from there, we moved toward enabling instant communication with prospects.
Our dealership selected Contact At Once! for their ability to integrate live chat on our website and all of our consumer touch points across the web. Live chat complimented our video strategy, because it allowed us to be present and influence buyers at key moments during their decision-making processes. Customers gained immediate access to us and we found that more of them were entering the sales funnel.
To address the challenge of keeping our dealership readily accessible day and night, we enlisted the help of the Contact At Once! chat receptionist team to cover the gaps when our salespeople were unable to answer the chats themselves. By using this approach we were maximizing our potential ups. After implementing chat on our website and on our third-party listings, we found that consumers who started chats on our third-party listings were just as likely to purchase from us as those who chatted with us from our website.
Implementing these video and chat strategies has given our dealership a boost and our team members easy and effective tools to increase show rates and convert a higher number of opportunities into sales. Plenty of times, I've been asked for my best advice and suggestions for improving internet sales. The bottom line is this: find effective sales tools your entire team can use, implement them throughout every department, and then train your team to get better and better at using them.
Curtis Snyder is the internet sales manager for Gary Lang Auto Group and has been with the company since 2009. He lives in the Northwest Chicago Suburbs with his wife Alyssa and they are expecting their first child in February. Curtis enjoys selling cars and making customers happy and is an avid fan of both, College and Pro Football.
Curated, quality insights?