●

News
Jan 3rd, 2018
New Vehicle Prices Climb to All-Time High in December
Santa Monica, CA — January 3, 2017 — The average price of a new vehicle is expected to hit the highest point in history in December, according to the analysts at Edmunds, the leading car shopping and information platform.
Edmunds estimates that the average transaction price of a new vehicle was $36,495 in December, which is a 3% increase compared to December of 2016 and a 13% increase compared to December of 2012. The average down payment on a new car is also estimated to reach all-time high in December of $4,056. This is up $227 compared to December of 2016 and $105 from five years ago.
"Vehicle prices have been rising all year but really hit a crescendo in December. Even though holiday bonus checks likely played a role in boosting down payments to record levels, when buyers are willing to put down more than $4,000 for a new car, it says something," said Jessica Caldwell, executive director of industry analysis at Edmunds. "There are fewer buyers in the market right now, but those who are there are not only feeling confident, they're willing to shell out the extra cash to get a larger vehicle with all the bells and whistles.
They know what they want and they are willing to accept the higher costs." Edmunds analysts say the December year-end closeout sales likely did the trick to gently lift sales of 2017 model year vehicles. In December, 42% of new vehicles sold were 2017 model year, which is a dramatic improvement compared to 70% in October of this year. However, sales of outgoing model year vehicles were still slower than last December, when 35 percent of new vehicles sold were 2016 model year.
Incentives are expected to average $3,459 in December, which is down only 3% from the year's peak in October and up 1% from December 2016. "Automakers and dealers faced a rather precarious situation at the start of the fourth quarter due to record levels of 2017 model year inventory languishing on lots," Caldwell said. "Although incentives continued to flatten slightly this month, it is clear that dealers were highly motivated to meet their year-end goals in December.
As we head into a declining market in 2018, it's at least a positive sign for the industry that dealers will be able to start the new year with a majority of 2018 model year vehicles on their lots." More insight into recent auto industry trends can be found in the Edmunds Industry Center at www.edmunds.com/industry-center/.
New-Car Finance Data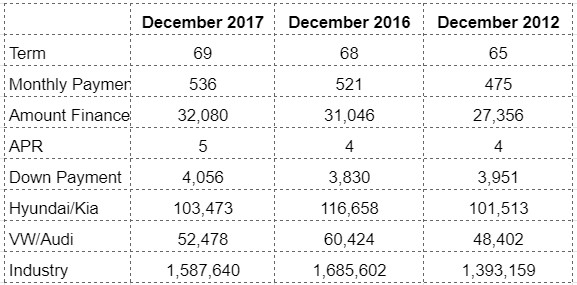 Used-Car Finance Data

About Edmunds
Edmunds is the leading car information and shopping platform, helping millions of visitors each month find their perfect car. With products such as Edmunds Your Price, Your Lease, and Used+, shoppers can buy smarter with instant, upfront prices for cars and trucks currently for sale at more than 13,000 dealer franchises across the U.S. Edmunds' in-house team of unbiased car-shopping experts provide industry-leading vehicle reviews and shopping tips, and the company also has a 20-year-old forums community of car shoppers and enthusiasts, where members can get shopping advice and learn what others are buying and leasing cars for. The company is regarded as one of America's best workplaces by Fortune and Great Place to Work. Edmunds is based in Santa Monica, California, and has a satellite office in downtown Detroit, Michigan.
Curated, quality insights?