●

Research
May 19th, 2020
Podcasting Provides New Opportunities for Local Auto Dealers
From nationally-known shows like Joe Rogan and Ben Shapiro to niche programs catering to a specific audience, podcasts are officially a thing. As of fall 2019, 51% (144 million) of the US population had listened to a podcast, and 21% listened weekly. While podcasting has largely been a national play, it's now reached the point where an increasing number of opportunities are becoming available to local advertisers.
Before we jump into costs and specifics, let's look at why you may want to consider podcast advertising for your dealership1.
Podcast listeners listen to an average of seven different shows per week (up from five in 2017).
80% listen to all or most of each episode (fewer ads and lower tune-out).
The most popular age group for podcasts listeners is 25-44, which makes up 49% of total listeners. 56% of podcast listeners are male.
45% of monthly podcast listeners have a household income over $75K vs. 35% for the total population.
27% of US podcast listeners have a 4-year college degree vs. 19% for US pop music.
Podcast listeners are much more active on every social media channel (94% are active on at least one vs. 81% for the entire population.)
Podcast listeners are more likely to follow companies and brands on social media.
Podcast listeners are more likely to subscribe to Netflix or Amazon Prime (meaning they are less likely to be exposed to TV advertising.)
69% agreed that podcast ads made them aware of new products or services.
So how is podcasting different from radio?
Podcasting might look like radio. But where radio is mass media, podcasting is very personal and intimate for the listener.
Like Netflix and streaming video, Podcasts are 100% on demand. This translates into much higher engagement since the listener consciously chooses to listen when it's most convenient for them. This, in turn, equals higher engagement for your ad content as well.
Podcasts don't have to follow the standard broadcast clock and can be of any length. Typically, they're a library of bite-sized chunks listeners can choose to explore depending on their interests and available time.
Podcasts offer a large variety of topics. As of this writing, there are over 700,000 active podcasts and 29 million podcast episodes available. Popular listening platforms are Spotify, iHeart, and Apple podcasts. And local Podcasts are booming. Here in the Seattle market, for example, there are podcasts to support practically every local sport (Seattle Mariners, Sounders, Seahawks Man2Man, Seattle Sports Saturday, and more) as well as a wide variety of local topics. Many local radio, tv, or other personalities also produce their own podcasts as well.
The number of ads (spot load) on Podcasts is far less than commercial breaks on traditional radio, which further highlights your message and "makes it personal."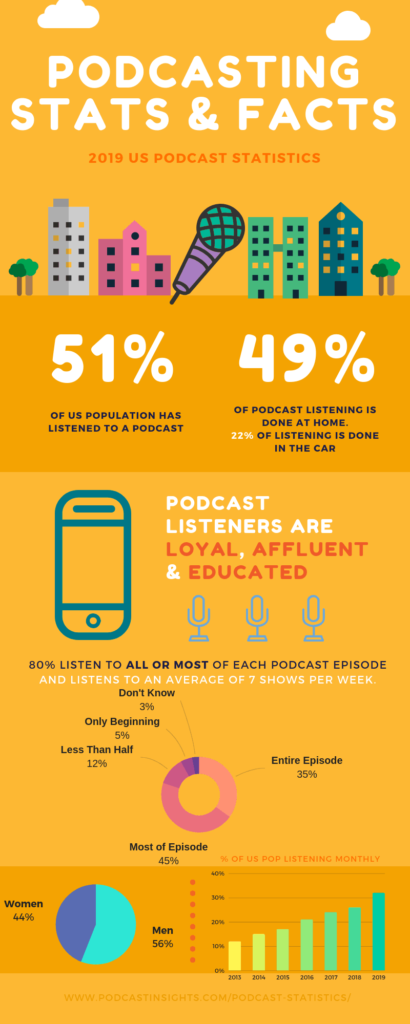 So How Do You Advertise?
The price to advertise in Podcasts varies and is typically based on audience size as measured by monthly average downloads per episode. As of Oct 1, 2019, the industry average price per 1,000 listeners was $18 for a 30-second ad, and $25 for a 60-second ad. Like most advertising, rates are negotiable, but ad positions are very limited. Keep in mind that standard lengths aren't required, so it's not uncommon to contract ads longer than 60-seconds.
Beyond cost, it is essential to understand how Podcasts mandate a different approach in the creation of sponsorship content. Typical commercial-style radio ads and jingles sound very out of place on a Podcast. Instead, see if the show host, especially if they're local, will read your ad copy or – even better- provide an endorsement or testimonial for you! If that's not feasible, then use a heartfelt voice like the owner of your dealership. An additional benefit of this approach is that you can make copy changes relatively quickly and inexpensively. To get some ideas, find Podcasts you enjoy and listen to how they approach the sponsorship content, or hire a professional to help you. Then be consistent.
In Conclusion
Podcasts are already a proven platform for national advertisers, and benefits await dealerships who get connected with relevant Podcasts on a local level. Who knows, you may even decide it's time to start your own Podcast. But that's a subject for a different day.
Citations source:
Ed Steenman is the owner of Steenman Associates, which provides traditional and digital media services to automotive dealerships and dealer groups nationally.
An internationally recognized writer and presenter, Ed specializes in media planning-buying and a Video OTT and has more than thirty years of experience providing traditional and digital media services to the automotive industry.
View full profile
Curated, quality insights?