●

Commentary
May 7th, 2013
Professional Networking as a Competitive Advantage for Car Dealers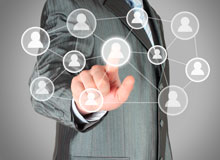 Last week I had the honor and privilege of speaking at the Automotive Leadership Roundtable. As each of the previous ALR events have been, the venue was superb and the dealers who attended were among the nation's most successful and true leaders within our industry. A friend of mine, Neil Amaral accepted my nomination to attend as one of the top independent car dealers in America. His New Jersey dealership puts many franchised points to shame in all measurements. Neil opened my eyes up to an opportunity that translates into sales and profits which I am sure too many dealers fail to take advantage of…The power or networking in the Auto Industry.
Although I am going to use an example specific to Amaral Motors, it is merely one of many examples I have witnessed or participated in over the years…Profiting from a network of professional contacts. Previous to ALR I had several conversations with Mike Timmons and Ken Potter at TrueCar regarding a Used Car Affinity Sales Program for TrueCar dealers.
While at ALR I took the opportunity to Introduce Neil Amaral to both Mike and Ken from TrueCar. Before the end of the event, they had worked out a deal for Amaral Motors to be an exclusive TrueCar Used Vehicle Center for their area of New Jersey. As Neil pointed out when he thanked me, had he not listened to my description of the ALR event and trusted me as part of his professional network, he would not have secured his deal for the TrueCar Used Car Program at Amaral Motors.
As difficult as it may seem at first glance to be able to predict such "six degrees of separation" type of connections, it is actually a lot simpler than most dealers realize. Let me explain, because of social and professional networks online, today's automotive professional and his or her networks of business connections are more readily available and visible than ever before. Take a look at my profile on LinkedIn.com/in/RPaglia and you will see that there are over 200 auto industry professionals who have written recommendations of some sort…It does not take a clairvoyant to predict the potential for referrals and introductions.
Neil Amaral is a lot like several very successful dealers and general managers I have known over the years, he sees the opportunity to leverage relationships for the benefit of his dealership's marketing, sales, and operational efficiencies, then focuses on developing those relationships. In many cases, the dealers who are the most effective at getting more value than other dealers spending the same amounts, are the ones who focus on their relationships with key people and creating the desire to deliver above and beyond what the dealership is actually paying for.
This begs the question…Do the dealers who focus on developing relationships with key marketing resources and suppliers get more for their dollar than the dealers who maintain arm's length relationships and focus on negotiating price points? There are many professional managers who believe in the "Purchasing Department" approach of grinding for the lowest cost deal, but it appears that there are also a growing number of highly successful dealers who have become advanced relationship management practitioners from the marketing supply side perspective. Are you one of those dealers?
Ralph Paglia is vice president of digital for Tier 10 Marketing in addition to being the founder and editor-in-chief of the Automotive Digital Marketing Professional Community (www.automotivedigitalmarketing.com).
Curated, quality insights?