●

News
May 7th, 2012
Q & A with Test Drive Generator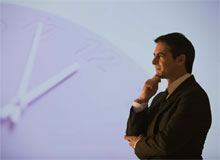 Dealer Marketing Magazine publisher, Brett Stevenson interviewed Test Drive Generator CEO, Bryan Dawson, to talk about his company's innovative new software for auto dealers' websites.
Brett: So, Bryan, we were intrigued by the idea that a dealer's website could generate scheduled test drive without any human involvement. How does that work?
A: Bryan
Our software is designed to be highly visible on the dealer's site and to grab the car shopper when they arrive at a car they would like to drive. By allowing them to schedule the test drive themselves, without a salesperson's intervention is a very important part of our success generating test drives.
Brett : It sounds like allowing the consumer to schedule without talking to a salesperson is intentional and necessary for success?
A: Bryan
When we were first building the software we recognized that most consumers prefer to visit a dealer's site to look for the car they want, and one reason they do this is to search without a salesperson following them around the lot. It's one of the things car shoppers prefer about visiting a dealer's website. Once they find the car they want on the site, they need to be able to schedule a test drive without having to contend with salespeople who, naturally, want to gather information, push the sale, and get information on trade-ins and financing.
Although all of this is a necessary part of the sale, it is better to leave it alone until the car shopper is on the lot and driving the car. Test Drive Generator is designed with one specific goal: Get the customer on the lot to test drive the vehicle.
Brett: So your company software will help a dealer schedule more test drives. What should a dealer focus on after that?
A: Bryan
Closing the sale. Most dealers know that a test drive is a gigantic buying signal and we are seeing closing ratios around 80 percent with customers that take a test drive. Dealers who use our software usually focus on teaching their sales people to close the sale as part of the test drive. When a person is happy with the vehicle, enjoys driving it, and can imagine owning it, that is the time to close the sale and move on to the details.
Curated, quality insights?