●

Research
Feb 24th, 2020
Research Reveals How Dealerships Optimize Their Digital Marketing Channels
As dealers commit more and more attention and budget to digital marketing, choosing exactly where to invest becomes a challenge. Complicating that decision is the fact that today's car shopping journey is more scattered than ever, due to multiple factors: 
The expectation of transparency and instant availability of information
The rapid growth in the number of places to turn for information 
The rise of the self-serve mindset and decrease of trust in experts
The dominance of mobile devices for all kinds of digital activity
Combined, all of these factors serve to break up the customer journey across many devices, many shopping sessions, and many sources of information, making it harder than ever for dealers to choose how to reach those shoppers effectively.
To help understand how dealers are navigating these decisions, we surveyed over 300 US car dealers about how they approach digital marketing, what's working and what's not, and how they measure success. Here's a look at what they told us and how different types of dealerships stack up.
Dealers use of digital channels
We asked about usage and performance across seven categories:
Third-party lead providers (such as CarGurus)
Facebook ads (video, display) 
Paid search (Google, Bing, Yahoo!) 
Other social channels (Instagram, LinkedIn)
Retargeting (ads that follow shoppers to other sites)
Web video ads (pre-roll, popup, on-page, YouTube)
Paid email marketing (buying lists, sponsoring third party emails)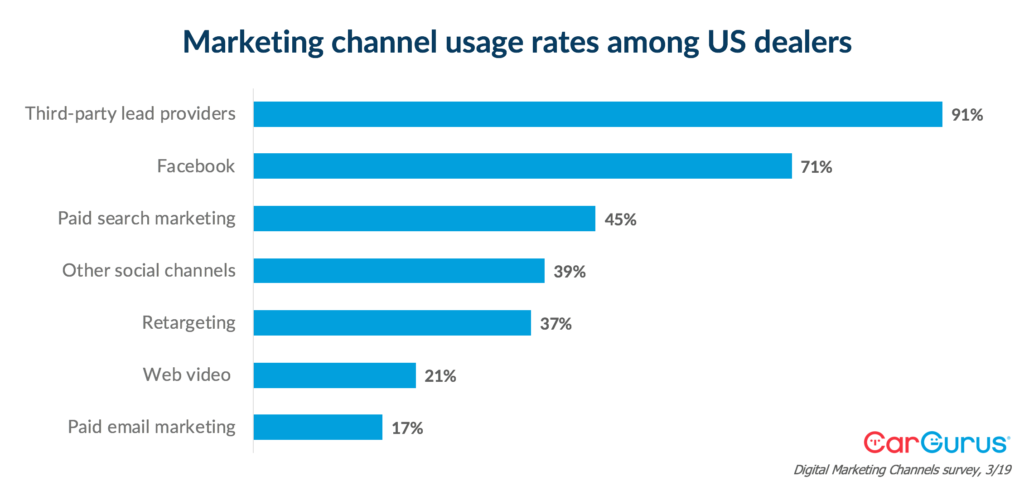 The most popular channel was third-party lead providers, with 91% of respondents using them, with Facebook second at 71%. It was a little surprising to see only 21% of dealers saying they use web video ads because other research has told us that consumers see web video as a critical component of their car-buying research.
Unsurprisingly, with bigger budgets and more staff, franchises were more likely than independent dealers to use all of the marketing channels we asked about. The biggest differences between the two were that franchises were almost 4.5x more likely to use retargeting than independent dealers and 2x more likely to use paid search. 
We didn't find many marketing channel usage differences when looking at metro vs. rural except that metro dealers were 30% more likely to use "other social," such as LinkedIn or Instagram, and 19% more likely to use paid emails. This is most likely reflective of the audiences in those channels being more appealing to metro dealers than rural dealers. The results also indicated that rural dealers are 19% more likely to use retargeting, which makes a lot of sense: if you have a smaller total pool of buyers, making sure you maximize your chances of success with every lead that comes in is critical and retargeting is the key way to do that. 
Quality vs. quantity
We also asked dealers how effective they thought each marketing channel was at driving lead volume and lead quality. Overall, there was very little difference, with all channels rating slightly higher for volume than quality. Some channels had higher scores than others, but there were only a few spots where channels showed a noticeable difference in dealer ratings for quality and volume. 
For both web video and Facebook, dealers showed more dissatisfaction with lead quality compared to lead volume: the number of leads they're driving was generally acceptable, but the quality of those leads wasn't high enough. Paid search leaned in the same direction, but in a more positive way: dealers particularly like the lead volume paid search can drive, even if they're not in love with the quality of the leads. That may be because dealers understand the role of paid search as a high-funnel channel, so they're not expecting ready-to-close leads. 
Signs of confidence
The research showed us that overall there's no shortage of confidence, with 55% of franchise dealers and 38% of independents saying they were very or extremely confident in their marketing strategies.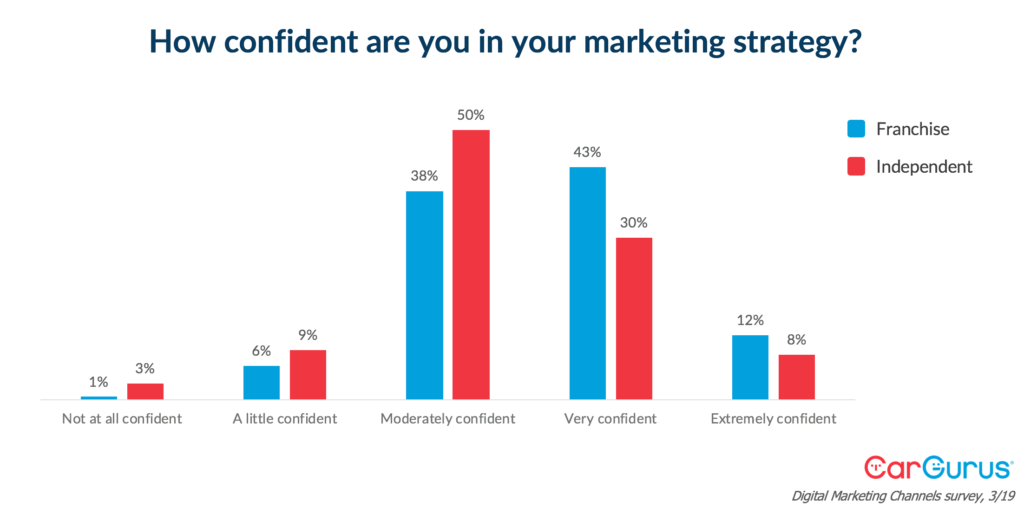 But beyond general marketing confidence, we also looked at how dealers' channel usage compared to their confidence in their overall marketing. Perhaps unsurprisingly, we saw that dealers who used more channels report higher confidence: dealers who used all seven of the marketing channels in the survey scored 24% higher in confidence than those who only used one or two channels. This correlation could be interpreted in one of two ways: confident marketers could be more likely to use more channels, or using more channels could lead to higher confidence – but either way, there is a connection.
The role of retargeting
Retargeting is one channel that is ripe for growth. In today's fragmented journey, retargeting has some specific appeal:
As the car shopping journey gets longer — from 5.1 weeks in 2018 to 5.5 weeks in 2019, according to the CarGurus Buyer Insight Report — retargeting rises in importance as a way to stay connected with potential buyers
With shoppers visiting over 13 auto shopping sites on average, retargeting gives dealers a chance to stand out
Since price validation is so important to many shoppers, they're likely to seek out many sources of information, and retargeting increases your chances of bringing them back to your site.
Choosing the right marketing mix for your dealership
There's no single answer as to what makes the ideal mix of marketing channels. Instead, dealers looking for an advantage need to follow some basic guidelines:
Always be looking for the next channel to add
Choose content and media to match buyer demographics and shopping journey stage
Execute, measure, adjust
With the right approach, execution, and measurement, dealers small and large can find an effective mix of digital marketing channels to help them sell more cars. 
Curated, quality insights?