●

Best Practices
Aug 27th, 2013
Responsive Email Design Part Two: Show Me the Results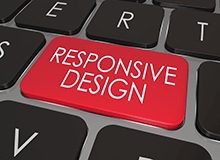 Responsive email design is a critical part of any complete, forward-thinking mobile strategy. As we discussed last time, responsive email design uses new techniques in coding to automatically reformat your email content in an optimal layout for whatever device your customer is using to read that email — regardless of whether it's being read on a desktop, tablet, or mobile device. By automatically optimizing email content for a specific call to action, this type of design delivers a compelling reading experience for the viewer, evoking more response, more action and more ROI.
One of the nation's largest dealer groups implemented responsive email design in April, 2013, and in just one month they experienced an open rate increase of 6.7 percent, as well as a click-through rate increase of 1.2 percent, across all devices. But, it is the specific calls to action that proved to be most actionable by the consumer.
Desktop Email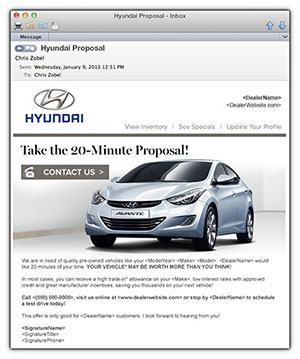 Before responsive email design, calls to action such as 'Call to Schedule', 'Schedule Service Online', and 'Maps and Directions' were nearly impossible to locate and even more difficult to select on a mobile device with the inherent "small screen/fat finger" problem. Now, these action buttons are not only placed front and center on a mobile device, but allow functions, like one tap dialing, to ensure quick and direct interactions, getting the consumer where they want to be, faster. With one tap direct dialing, the same dealer experienced hundreds of additional phone calls, an 18 percent increase in service appointments scheduled online, and further engaged users through the 'Maps and Directions' call to action, bringing in more business to the service drive — all in just one month!
It's vital that the dealer understands how to engage with customers in this new environment in order to deliver a compelling and actionable message. With responsive email design the dealer is able to direct consumer behavior, driving traffic to a preferred destination.
Mobile Email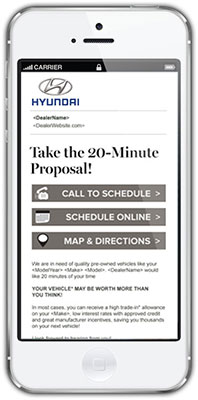 Applying promobile channels such as responsive email design to the dealer mobile strategy will be what sets the forward moving dealer apart from the stagnant. With consumers creating a more competitive environment than ever before and innovations in mobile happening at breakneck speed, dealers need to establish marketing and content that is flexible enough to accommodate change.
Combing mobile channels such as responsive email design, the mobile app, mobile websites, mobile search and texting will set up a successful mobile strategy that targets the on-the-go consumer.
Chris Zobel is director of strategy at DMEautomotive, the industry leader in science-based, results-driven automotive marketing that provides a range of marketing services to the biggest and most innovative automotive organizations in the industry. For more information, email [email protected].
Curated, quality insights?