●

Commentary
Feb 21st, 2020
Sales Opportunities Start… In Service?
It might sound counterintuitive, but one of your best ongoing opportunities for boosting dealership sales lies in the Service department.
Consider the typical sales prospect walking through your showroom front doors. They wait for an average of six years between vehicle purchases.1 Their life circumstances are wildly different from the last time they bought, and yet they expect you to know more about what they need than they do.
Just a few of the factors at play in figuring out what they need include education, employment status and salary, relocation, marital status, and the number of children at home.
Now, it goes without saying that you can't know every detail about a customer. Luckily, thanks to the convergence of market data, consumer trends, and demographic segmentation, you don't actually need to know everything to pinpoint what vehicle best suits a prospect.
You just need to know key information relevant to purchasing decisions, pair that with your existing dealership management system (DMS) data, then compare your customer to other people like them to suggest a deal based on larger trends and customer segments.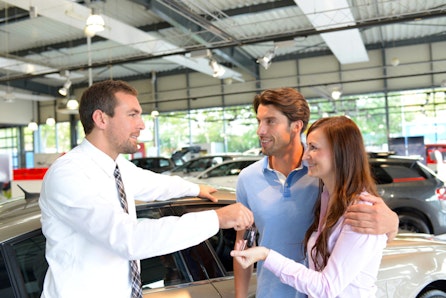 It Starts in Service…
Where does the Service department come in? Well, Service serves as the perfect launching point for mining your existing database for qualified sales leads.
Why is that the case? Consider what happens in Service: You get a crystal clear snapshot of specific customer needs basing on their current vehicle situation, paired with the demographic and trend information available to you. You're then empowered to approach customers before they declare themselves "in the market."
This process isn't just identifying qualified leads – it's creating them by proactively nudging prime sales targets toward a buying decision based on insights gleaned in the Service department. Think of it as activating dormant buyers who didn't know what they needed until you presented the perfect offer to them – a scenario that's totally in line with the expectations of today's car shoppers.
In fact, a service-to-sale success benefits every profit center in the dealership:
Used Vehicles: High-quality trade-in to resell on the lot or at auction
New Sales: Vehicle sale to rotate aging inventory and meet original equipment manufacturer (OEM) incentives
F&I: Extended warranties or insurance plans
Parts and Service: Internal repair orders and a higher likelihood for continued service
If you can get in front of a prospective buyer before they start looking, you're likely to win the sale. Combining your customer data with predictive analytics allows you to plan the perfect approach.
…But it Doesn't End There
What's the key takeaway here? It's worthwhile to think harder about where your best leads come from and leverage the information already present within the four walls of your operation.
Adopt a proactive approach to funneling leads to your sales team via Service, and your entire dealership will reap the benefits.
1 The Nest
Curated, quality insights?