●

Best Practices
May 19th, 2021
The Chip Shortage Is Coming! Is Your Used Inventory Ready?
By now, the entire industry and many consumers have heard about the chip shortage ready to hit automotive showrooms about the time our summer kicks off. A shortage of semi-conductor chips due to COVID slowdowns with production hit auto makers in the early part of 2021, and dealers are now bracing for impact. Popular vehicles like Ford F-150 trucks and other models are harder to come by right at a time when vaccinations and a lessening of restrictions are bringing car buyers nationwide back to dealership lots in droves. 
While there are a lot of ideas on how dealerships can work around the shortage and continue to turn a profit, one theme that continues to resonate throughout the industry is to have dealers look to their used car inventory to shore up sales before the event.
As we look to the summer buying season, what are some things you can work on now to ensure you're ready? 
1. Build Trust
A recent Marchex report shows more than 91% of people surveyed said they rate trust just as, if not more, important than the price of a vehicle. This becomes even more crucial when it's time to look across your used car inventory. What products can you use to your advantage to help build that trust with the customer? One of our favorite ways to show dealerships how to do this is with a Lifetime Powertrain Warranty. By offering a Lifetime Powertrain Warranty as an additional safeguard for the used vehicles in your inventory, you're adding another layer of trust to your guest's purchase. 
2. Use Extras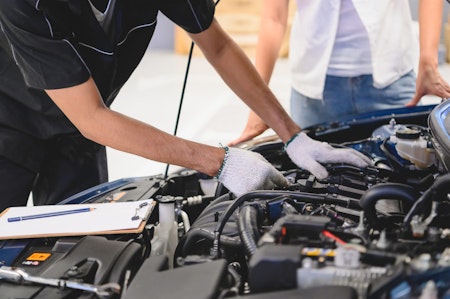 Just like our example with the Lifetime Powertrain Warranty suggestion above, throwing in extras to entice customers to move forward with a used vehicle has shown to be an effective way to move the needle toward a sale. Some of the add-ins we've seen that work well are:
Warranties
Free oil changes
Complimentary tickets to a local sporting or arts event
Even a contribution to the buyer's local charitable organization of choice 
3. Do a Complete F&I Audit 
Now is the time to look through and audit your current F&I offerings. Used vehicle buyers tend to purchase more ancillary products like dent and ding protection and paint repair. Some things to look at as you go through your audit – look over your disclosures to ensure you are up to date with compliance. Important terms to check include stating the purchase of products is not required to obtain financing, and the agreement or declining of products will not affect APR. Lastly, ensure every F&I product you offer is properly displayed on your presentation page with benefit statements for each. 
4. Increase Promotion of Popular Used Vehicles
Several models, like Ford F Series pick-ups, will continue to drive demand. The longer the chip shortage lasts, the harder these popular used models will be to find on dealer lots. Ensure you are identifying the most popular models on each of your lots and promoting them heavily as we move into the summer months. 
While the chip shortage is not ideal, you can act now to shore up your used inventory and build trust to push buyers toward the used vehicles on your lot. A combination of promoting high-demand vehicles, auditing your F&I products, and offering incentives like Lifetime Powertrain Warranties can go a long way when building the buyer confidence needed to push you to the finish line this summer. 
Curated, quality insights?