●

Commentary
Sep 30th, 2020
The Importance of Diversifying Your Revenue Streams at Your Dealership
Recently, major shifts in the automotive industry have all been traced back to the COVID pandemic. While we could talk all day about the numbers and what it means for dealerships now, what we should be talking about is what dealers can learn from this entire dilemma. 
While we've experienced multiple recessions, we have never experienced a pandemic in the automotive industry. For dealers coming out of 2020, it's time to seriously consider diversifying your revenue streams and investing in digital tools across the board.
What We've Learned from the Drop-in Car Sales
It's no surprise that in a recession, car sales falter. We've seen this plenty of times before, and we'll most likely see it again. What was different this time around wasn't just the fact that customers were wary about making large purchases like a new vehicle; those who wanted to buy were scared to go into the dealership in fear of the virus.
Investing in digital tools to sell your cars online quickly became the solution. So, now that shoppers know online car buying is a possibility, new behaviors and habits have been created. Car buyers are going to expect this new experience to be the norm from here on out. If your dealership doesn't adapt to this new buyer behavior, you'll lose out on car sales. A customer will more than likely go to the dealership that does offer them the opportunity to shop and purchase all online.
However, this doesn't mean it's time to put all your eggs in one basket. Even when the pandemic has passed, consumers will still be concerned about buying cars. Unemployment is still high and job security will continue to be a huge issue for many people. While investing in online car selling is one option of investment, there are places in fixed ops you should be shifting towards as well.
Why the Service Department Saw a Decline
Historically speaking, the service department has always been recession-proof. Customers prefer to put extra care into the cars they have during a recession rather than buy a new one. But in March alone, service requests fell a whopping 56% across the US. So, what happened?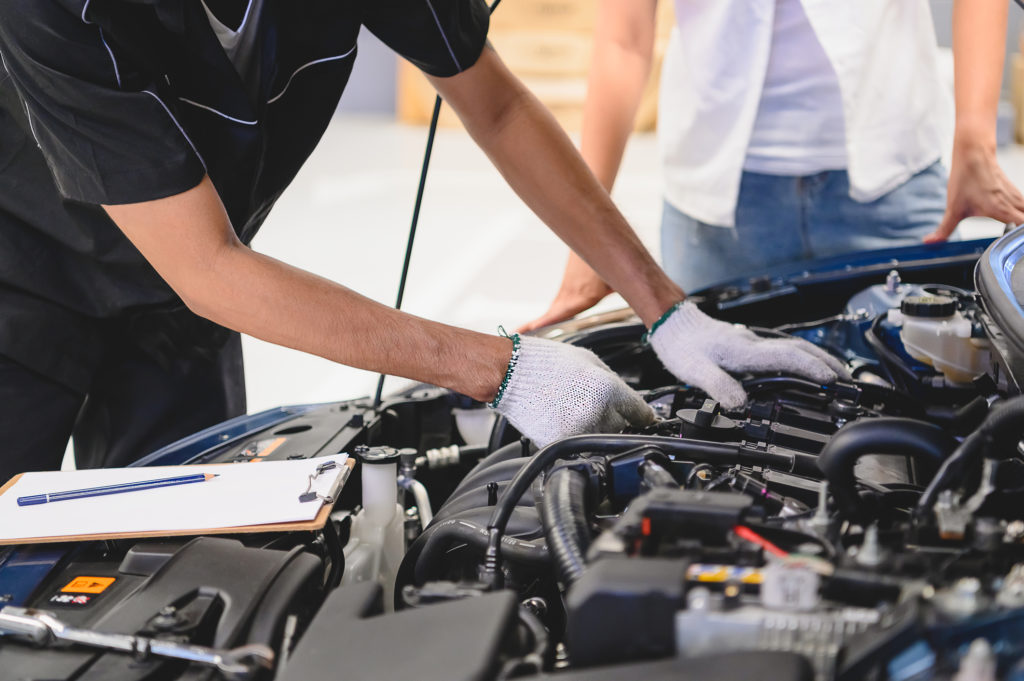 Social distancing happened. While dealerships and their service drives were labeled an "essential service", car owners were still scared of the pandemic spreading. They not only stopped coming in for regular maintenance, but they were driving much less. 
Many businesses have either made working-from-home mandatory well into 2021, or they've decided to go remote permanently. Half the nation is keeping schools, gyms, and bars shut down, and people still aren't traveling as much as they used to. This has been leading to less mileage on cars and therefore, less maintenance required. Luckily, service requests have gone back up since. But, the fear is still there that this could happen again with a second wave. 
While you shouldn't give up on service, there is another department in fixed ops that has been coming out on top that you should consider investing in.
How Many Dealers Found Solace in the Parts Department
It's not shocking that we saw part and accessory sales skyrocket since the rollout of stimulus checks in April. Online part and accessory sales have been a huge revenue stream that continues to grow, and 2020 has been the year where it all blew up (in a good way).
With social distancing, shoppers weren't going to come to your parts counter to order the parts and accessories they needed. For almost everything, consumers have turned to eCommerce to get the products they need, and parts were not left out of the equation. For dealerships using the RevolutionParts platform, we saw online part sales increase an average of 50% between June and July 2020 compared to the year before.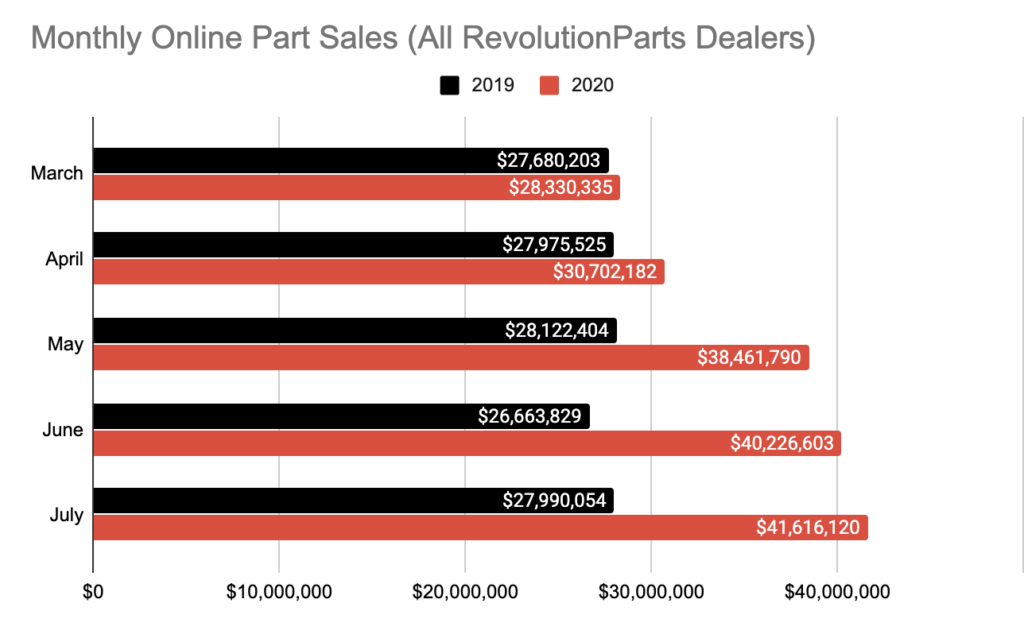 DIYers had a lot more time on their hands to work on their project cars, mechanics who work a side business or might have been laid off found a way to provide for themselves, and even your average Joe and Jane found that they could do a few minor maintenance repairs at home. It turns out your garage is a great place for social distancing!
Dealers who had already begun diversifying their revenue streams and invested in online parts and accessories saw the reward and the proof they were looking for. Parts and accessories aren't a revenue stream to be ignored.
Where You Need to Diversify & Invest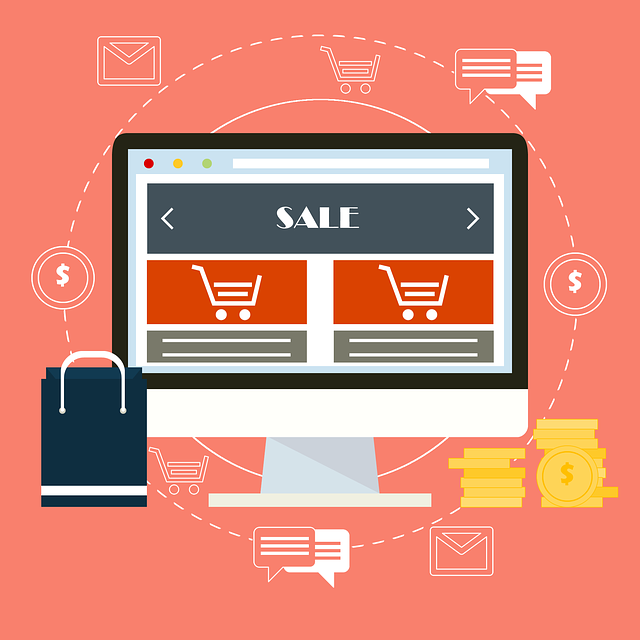 The best option for any dealership right now is to invest efficiently during this downtime. Reevaluate your business model and figure out where you can be diversifying your income and innovate new ways to generate revenue.
No matter what department you look at, there has been an increase in online demand — and an increase in demand to do business in different ways. Your customers are online, and digital tools and business models are the keys to building a parts business and dealership of tomorrow. Invest in the proper tools now, and you will start generating more profitable revenue for your business.
Sources:
1. https://www.autonews.com/retail/pandemic-accelerates-adoption-digital-tools
2. https://www.autonews.com/service/parts-and-service-pandemic
3. https://www.revolutionparts.com/auto-trends-due-to-covid/
Ibrahim Mesbah is the Co-Founder and CEO of RevolutionParts, which transforms the way parts buyers and sellers connect.
A technologist, founder, and CEO, Ibrahim is passionate about marketplaces, payments, and eCommerce. Having spent the last decade leading the RevolutionParts platform, which has powered more than $3 billion in parts and accessories sales. 
View full profile
Curated, quality insights?