●

Research
Sep 4th, 2020
The Pandemic's Ripple Effect: AI Marketing Tech Trumps Traditional Marketing Agencies
With millions of consumers turning exclusively online in the recent months, dealerships were forced to acknowledge their aging digital infrastructure. 
Outdated solutions, like traditional marketing agencies, simply didn't cut it anymore. And for dealers, relying on intuition, and 'what worked last month' quickly became a thing of the past.
While many dealerships rushed to implement new solutions to bring in "online" buyers, we saw that dealerships who stayed resilient-- or recovered quickly-- were ones that adopted automated technologies. In such a dynamic, unpredictable market, humans can't respond to the way machines can. 
As COVID-19 accelerated dealer-tech adoption, including digital retailing and beyond, the industry was given a unique opportunity: witness how automated software will react to unprecedented customer behavior. What will machine-driven learning understand from the new normal? What will it change, and how will it optimize to outperform humans in this ever-challenging reality? 
With millions of additional eyes on the screen, and a government-mandated lockdown, what would you expect the AI to do? 
Here's what we found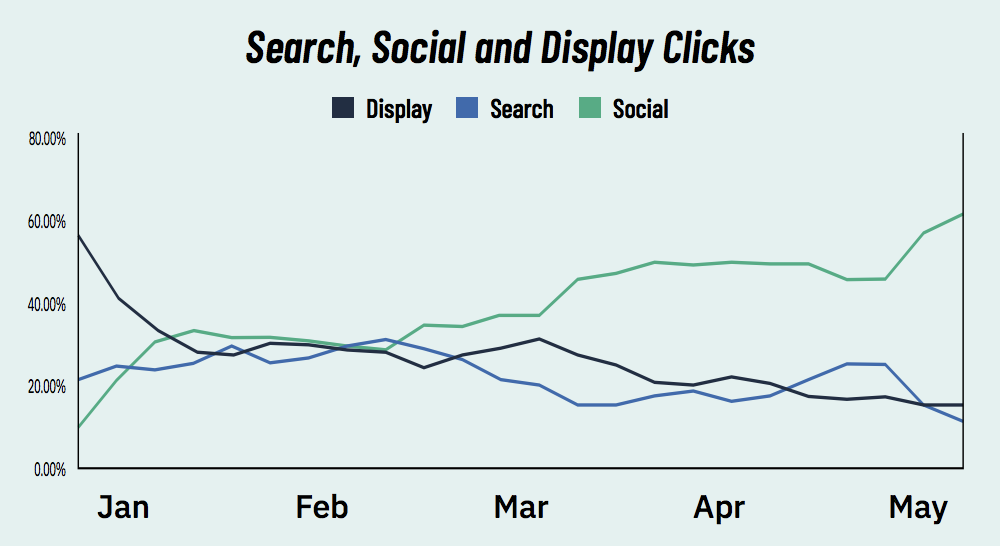 Since the start of COVID-19 lockdowns, consumers naturally paused previous efforts to limit their time spent on social media apps. Social media consumption increased from 20.8% of total app usage (Jan 1) to 24.1% (Apr 12). Combined with a 21% increase in total global usage, social media advertising has become more cost-efficient. For dealerships, this was translated into more clicks from social ads specifically. 
Digging deeper into automated marketing results, we looked specifically at Acquire, an automated SEM that leverages thousands of data points to strategically place ads across social, search, and display. As you would imagine, Acquire automatically shifted budget toward social channels as the machine learned that's where shoppers were spending their time. 
From February and March to April and May, conversion rates on social media increased by 34%, and new users increased by 37%. Meanwhile, the proportion of dealership budgets allocated towards social advertising (as opposed to search) nearly doubled.
Below is an example of a northeastern automotive group that adopted automated technology for marketing before COVID-19 outbreak. While this group did lower overall advertising spend as a response to the economic downfall, the technology helped the dealer stay resilient and steadily increase leads from March to May, despite the pandemic. The graphs show a drastic shift in the budget from search to social and a steady lead haul, regardless of the overall budget decrease. 

Here's our consensus - and why you should hop onboard...
As the market drastically changed, automation was able to respond instantly, with no lag time, something that does not happen as quickly when using traditional, manual marketing methods. 
With more budget dedicated to cost-efficient social media advertising, dealerships were able to identify and target shoppers where they were spending their time at home, resulting in more leads at a lower cost.
Because of the robust machine learning capabilities, this automated solution automatically adapted to consumer behavior changes in ways that humans simply cannot. 
From the data it's clear - dealers will have to ditch the manual labor and instead become agile marketers by adopting top-tier automated solutions that will keep up with the changing environments - helping you beat out the competition at any given moment.
For the full data report, please visit here. 
Ilana Shabtay is the VP of Marketing at Fullpath, Automotive's first customer data and experience platform (CDXP). She is an experienced marketer, highly skilled in digital marketing and artificial intelligence, and the host of the InsideAuto podcast. Having spent almost a decade in the automotive industry, Ilana continues to develop critical skills to drive marketing and serve the dealership community in a new era of technology.
View full profile
Curated, quality insights?