●

Research
Jul 7th, 2021
The Power of Return Parts Buyers
You probably know the age-old business adage that it's cheaper to sell to an existing customer than it is to acquire a new one. In fact, it's about 5x more expensive to acquire a new customer than it is to sell to an existing customer. It's been reported that increasing customer retention by 5% can yield a 25 - 95% increase in profit for your business. Furthermore, the average success rate of selling to an existing customer is 60-70%, while that of a new customer is just 5-20%. 
All customers are important, but not all of those customers are created. Although every vehicle owner is a valued potential parts customer, the difference is between new and returning shoppers. RevolutionParts recently looked at a year's worth of data consisting of over 100 million unique users. Based on the data, here is why return parts customers are so important:
They lead to more purchases
They spend more money
They bring in additional business
Return Parts Buyers Make Up More Than Half of RevolutionParts Web Store Visitors
RevolutionParts shopper behavior data shows that return shoppers account for 54.9% of visits, where new shoppers account for a lesser 45.1%.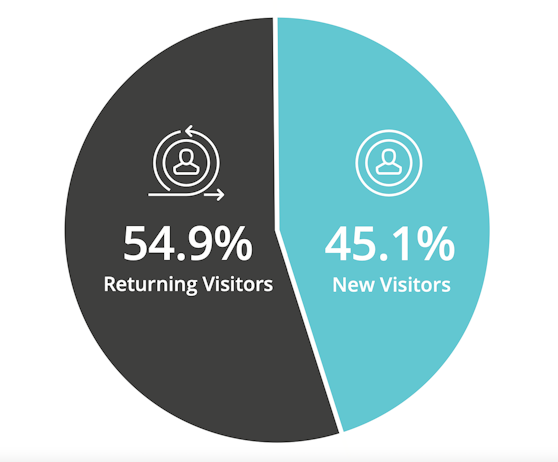 More than half of web store visitors are return customers; this emphasizes the importance of nurturing customer loyalty through marketing and outreach after the initial point-of-sale. 
Return Part Buyers Spend More Money
It's no secret that you want customers to spend more in your parts department, and that is exactly what return customers do. Return shoppers to RevolutionParts web stores spend $65 more per order on average. Once someone makes a purchase from your web store, they are likely to spend more money the next time they purchase a part from you. 
Return Part Buyers Convert at a Higher Rate
Getting someone to come to your web store costs ad dollars. Once someone lands on your website, your job is to convert them into customers. The higher your conversion rate, the less money each conversion costs you. Return parts shoppers convert at 2X the rate of new visitors, meaning they will take less money to acquire.
Return Part Buyers Bring The Customers to You
Word-of-mouth is a blessing to your marketing budget. After all, it's free advertising. Generally, research has shown that return customers refer 50% more people than one-time buyers. When you give customers an affordable, convenient, and reliable shopping experience, not only will they come back for future needs, they'll tell their friends and family to shop with you too. That means you stand to gain new customers at absolutely no cost. RevolutionParts found that over 5% of gross sales came from referrals.
Get the Full eCommerce Shopper Behavior Report
The RevolutionParts eCommerce Shopper Behavior Report gives insight into the behavior of new and returning customers, including demographics, the devices your customers are using to purchase their items, and customer traffic sources. To view the full report, visit: https://www.revolutionparts.com/
Ibrahim Mesbah is the Co-Founder and CEO of RevolutionParts, which transforms the way parts buyers and sellers connect.
A technologist, founder, and CEO, Ibrahim is passionate about marketplaces, payments, and eCommerce. Having spent the last decade leading the RevolutionParts platform, which has powered more than $3 billion in parts and accessories sales. 
View full profile
Curated, quality insights?