●

Commentary
Oct 9th, 2012
The Revolution of Mobile Apps in Today's Automotive Industry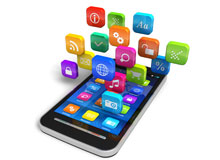 Mobile apps continue to have a profound impact on every aspect of the vehicle purchase and ownership experience. Due to their superior speed, ease of use, and greater depth of features, apps are more effective at getting people closer to the dealership. They have become a necessity for dealers looking to excel in today's automotive market.
Roughly 46 percent of all Americans now own a smartphone and ownership is expected to grow by 30 percent this year. Total app downloads measure in the billions; the number of adult smartphone owners who've downloaded an app has doubled in the past year, according to Pew Research Center's Internet and American Life Project.
Consumer mobile app adoption is really as profound a sea change as the rise of the internet and the shift to desktop computing. When it comes to mobile usage, the time people spend with apps has actually overtaken the time they spend web browsing. According to Flurry Analytics, smartphone and tablet users now spend 94 minutes a day with apps, compared to a mere 72 minutes spent browsing the web. Simply put, more and more people will access information via mobile apps.
Apps have become the most powerful platform ever for conducting commerce and managing customer relationships. We know from Driver Connect (our dealer branded mobile app) that the average user spends nearly 21 minutes in the app with each visit, versus an average of five or so minutes spent on a dealer website. In addition, twice as many pages are viewed by the app users than an average dealer website.
Driver Connect Data from DMEautomotive

Although apps have a heavy influence on automotive consumers, the novelty wears off quickly if the app isn't well designed or does not offer useful tools. According to Kristen Purcell of the Pew Research Center, it is imperative that an app become "sticky," meaning it is retained by at least 30 percent of downloaders.
You must give consumers useful, clever tools and practical value in their everyday life that keeps them coming back to the app frequently or their fingers will tap the delete button. In the past 30 days, 75 percent of the consumers accessing Driver Connect were return visitors. Among consumer users of Driver Connect, 15 percent scheduled service in the past two months directly through the app, or approximately 30 percent of all app users who were due for some kind of service scheduled a service appointment via the app. That is massive dealer value. The true power of an app comes with repeat usage. Once that "muscle memory" is built, the app becomes a platform for multiple types of commerce. What's crucial at this time is for dealers to invest in an app now, and learn the lessons on how to make it stick; because the curl of the wave is approaching fast, and no one can afford to be left behind.
Mike Martinez is chief marketing officer of DMEautomotive, the industry leader in science-based, results-driven automotive marketing that provides a range of marketing services to the biggest and most innovative automotive organizations in the industry. For more information, email [email protected].
Curated, quality insights?