●

Best Practices
Dec 12th, 2012
The Right Customer Loyalty Program for You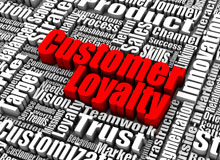 General Motors says it costs five times as much to attract a new buyer as it does to retain current customers. The sizzle may be in winning new customers, but the profitability is in retaining customers.
The latest studies indicate that loyalty to a brand or a manufacturer declines after just three years. This fact means you will need to retain your customers or they will become a conquest opportunity for your competition.
No doubt, you have some type of loyalty or prepaid maintenance program in place to reward customers for remaining your customers. Offering customers such incentives to earn their ongoing service and vehicle purchase dollars is becoming more crucial these days.
Yet even where such programs are in place, a more assertive approach to retaining customers' business will pay immediate dividends. This article discusses this practical way to retain customers' automotive dollar. It outlines a down-to-earth, "go get 'em" strategy that endears customers to the dealership in ways they'll share with friends and family.
Create retention buzz
This kind of retention is what the most elaborate customer loyalty programs hope to deliver, but this strategy does it without the cost, administration and management requirements of most other methodologies. With my strategy, all you need is a telephone, your customer database, and a polite, energetic, dedicated and persistent individual who wants to share good news with your customers.
Dealers using this strategy to reach out and retain customers report that many of these customers go out of their way to thank the dealership. They thank the dealership for being proactive and for helping them into a new vehicle months, or even years, earlier than they ever dreamed would be possible.
They'll tell their friends and family how surprised they were at what you did for them. They'll congratulate themselves on having been so wise in choosing to do business with you in the first place.
A simple, potent strategy
Okay, so how does this "practical" loyalty program work? The place to start is to identify customers in the database to direct your retention efforts towards. You can do this analysis by manually raking through the database or using software to do the work for you. Regardless of your analysis process, you'll want to identify customers fitting certain criteria, such as:
Nearing finance or lease completion
Driving newer models sold by you, where the lease or equity position places these owners in attractive trade positions
Nearing OEM warranty expiration
Infrequent service customers
These customers are typically at a potential defection point — the time when they're considering their next purchase. Or, they're customers not using your service department, but who might if you go out of your way to invite them back. When you're not romancing these customers, they're easy conquest opportunities for competitors.
This retention program offers no rewards or points for remaining with the dealership but does offer more solid, money-saving opportunities brought to the customer's attention at this crucial time. In other words, this plan makes it almost impossible for the customer, money-wise, to want to take their business elsewhere. Here's what you do:
Identify customers fitting one or more of the profiles above
Establish a plan for reaching out to these individuals (we find that telephone calls and direct mail work the best, usually in combination) and then continue to follow up. This ensures the connection to your dealership, whether for the next oil change or their next vehicle purchase.
Sell the appointment — don't "sell" the customer. Invite them in to discuss the potential equity or mileage penalty in their vehicle, with the assurance that you can offer ways to save them money.
Your customers will feel advantaged, special, and wise when they discover how this kind of retention program has saved them money and time. You'll retain their business and sell more cars, often from five to 30 percent more units a month, depending on current sales volume.
Boyd Warner is CEO of AutoAlert®, Inc. (www.autoalert.com), the most advanced lead generation solution available on the market today. Contact him at [email protected].
Curated, quality insights?