●

Commentary
Apr 3rd, 2013
The Showroom Shuffle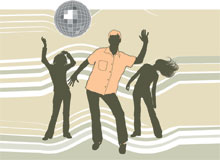 Was it really all that long ago that "The Macarena" swept the world by storm and people were performing it everywhere? Of course, that was before the rise in popularity of social media and a truly interactive internet.
In today's news, and with the aid of internet acceleration, "The Harlem Shake" has become an overnight, international phenomenon. Best described as drunken, spastic, spontaneous line dancing, The Harlem Shake went viral in February 2013 and continues to gather momentum. If you've never heard of it, do yourself a favor and Google it right now to save yourself the embarrassment when it comes up in a future conversation with your friends or colleagues.
I must admit that I am more than amazed, considering the flamboyant and overt emphasis on promotion, that more dealerships haven't already released their own YouTube versions of The Harlem Shake. I bring up The Harlem Shake as an example of how trends go viral globally and instantaneously at flash-fire speed in today's connected world.
Most recently, I noticed a trend developing specifically in automotive retail that has the potential of becoming a viral phenomenon. It's been termed "Showrooming." Showrooming describes the growing practice of consumers continuing to shop online using their mobile devices even while they are on your lot, driving your cars, and interacting with your sales professionals. For the purposes of this article, let's term the phenomenon 'The Showroom Shuffle.'
Back in December, one of the dealerships I work with messaged me all excited, because they had just delivered a pre-owned Dodge Challenger to a customer who had watched one of their videos on YouTube where they had demonstrated the vehicle. The customer did this while sitting in the waiting area of another dealership! In fact, the customer was waiting to get into the F&I office to sign the contract when they decided instead to contact my dealer.
Think about that scenario again for a moment. The customer had already made a deal on a unit at another dealership, and before they could get the contract signed, the customer backed out, left the dealership, and bought instead from the dealership I am working with.
J.D. Power and others have published statistical data that speak to the phenomenon of Showrooming. According to their 2012 Automotive Mobile Site Study, 31 percent of in-market vehicle shoppers visited auto websites via their smartphones with over half of those shoppers doing so while physically at a dealership. Slap a little cold water in your face here, dealers...Your customers are still shopping you against other dealers right up until the moment they physically sign the contract!
So, how does your dealership defend the deal even when the customer is physically on your turf, but still shopping? And, even more fun when you are the competitor, how do you steal a deal from a customer who is actually seated at a sales person's desk in another dealership? Two strategies:
First, do not have your salespeople away from the customer for long periods of time, especially during discussions of figures or negotiations. I am amazed at sales processes where the salesperson leaves the customer sitting in the office by themselves while he/she goes and talks at length with the manager or spends a half hour getting the trade appraised while the customers are virtually unsupervised or unoccupied. What exactly did you think they were doing while your salesperson was not in their presence? Instead, change your process to ensure the salesperson remains with the customer most of the time. One last thing: Never, ever let them take the car on a test drive without your salesperson accompanying them…duh!
Second, be available to online shoppers in real-time, all of the time. This is where a mobile-enabled dealer chat and texting service like Contact At Once! is essential in today's competitive retail environment. It's not only necessary to place it on your website, but also at every touchpoint between you and the consumer. Think about it — a Showrooming customer is much more likely to chat or text you than to call you if they are sitting in front of your competitor. When you add chat or texting options like you would your phone number to your marketing, its proven that more of today's smartphone and internet savvy shoppers will take you up on the offer to converse.
Remember, a deal has a heartbeat, a pulse, a rhythm. It's all about timing. If that customer at another dealership is still shopping, you're only going to get one shot and the window to respond closes quickly. When you've missed it, it's gone. Do you want to be the victor or the victim? Be sure you're equipped with the right tools and the right sales processes to win the conquest deal or keep the deal you thought you already had.
James A. Ziegler, CSP, HSG is a world-class professional speaker and an internationally recognized expert in automobile sales, management, marketing and advertising in the retail automobile industry and nationally recognized magazine columnist. His upcoming Internet Battle Plan XIII in April in Detroit is one of the premier automotive seminars in North America and Jim is proud to feature Scott Monty as a keynote speaker. For more information please visit www.ZieglerSeminars.com or www.InternetBattlePlan.com.
Curated, quality insights?