●

Best Practices
Apr 3rd, 2014
Three Simple Changes for Increasing Your Internet Sales Now!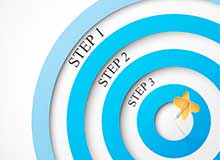 Online initiated sales have been growing in our industry for some time now. In fact, here at Ciocca Hyundai in Lebanon, Pa., 60 percent of our new and used vehicle sales come from our internet department. Whether your store sells 30 or 300 cars a month, you can positively impact your internet sales with a few easy adjustments.
#1 Get in the Chat Game
Offer live chat everywhere your phone number is: on your website, third-party listings, etc. Sometimes a shopper is at work and can't call, but he can chat with the dealership. He gets the instant answers he's looking for, and you get the opportunity to draw him off his device and into the dealership for a test drive. (We use Contact At Once! because they can place chat everywhere and generate more sale opportunities for us.)
Here's a chat conversation tip to help: Don't ask for contact information upfront. Instead, get their name and build rapport. Think of it like a phone conversation, only typed. Once you've sufficiently answered their immediate questions, ask something like: "My cell phone number is 717-222-3333 — what's yours?" In my experience, the prospect often provides it without hesitation!
#2 See Objections as Opportunities
Be prepared not to accept the first objection. I cannot tell you how many potential deals would have been lost had we stopped at the first "no."
Say a prospect discovers the vehicle is out of her price range and says so. Offer her another option, such as a Certified Pre-Owned vehicle. If online shoppers say you're too far away, let them know how far others have driven to purchase from your dealership. Maybe even offer to let them take the car overnight to see if it's the right car for them! Whatever you do, don't accept that first (and sometimes second) "no."
#3 Partner with the Right Website Provider
Finally, understand that your online showroom is as influential to sales as your physical showroom. So partner with a premium website provider for an effective website with a low double-digit or single-digit bounce rate and a fast page load speed.
According to Google's November 2013 Digital Drives Auto Shopping Study, the "average" bounce rate in our industry is 40 percent…which reflects the less than stellar websites customers are contending with today. (Let's admit that the "average" dealership website is hardly premium.) Test it yourself: Hook up wireless devices to a local hot spot or public Wi-Fi, navigate to your website and view inventory pages.
The relative connection speed added to a slow page load time equals frustration. In fact, it's the difference between people shopping your inventory and abandoning your site altogether. Plus, a premium website provider will listen to your suggestions and tailor the calls to action across your site for the shoppers who respond to different things: price, availability, special perks, etc.
These three changes can make a mountain of difference to your dealership and your internet sales!
Megan S. Barto is the Marketing Director at Ciocca Honda in Harrisburg, Pennsylvania and Ciocca Hyundai of Lebanon in Lebanon, Pennsylvania. She has been with the Ciocca Dealerships since early 2007. In her spare time, she's a mother, an athlete, and plays guitar in a Harrisburg, PA rock band. Megan is highly active on twitter where she's affectionately known as @skeetle.
Curated, quality insights?