●

Best Practices
May 31st, 2013
Three Ways to Reach New Car Buyers Using Social Media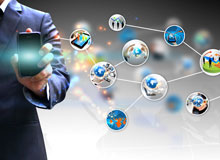 Social media is has dramatically changed how people shop for cars. A recent study by Starcom Mediavest Group and Big Fuel found that social media posts dramatically affected the decision-making process to purchase a new car: 30 percent of the social conversation is about the intent to buy a new car, and if a brand was not included there, it was unlikely to be the final purchase choice.
The challenge for today's car dealerships is to get involved in that conversation and set the stage for that purchase to come to your place of business.
How does a smart dealership do that? To be successful, dealers need to do more than just post deals. Dealers need to communicate directly with the customers, engaging on issues local and national, responding to concerns — all with a real, human voice. Here are a few ways to build relationships on social media and bring more customers to your door.
1. Engage with customers, through good and bad
The first step is to join the conversation, even on just one platform, like Twitter or Facebook, and start extending your current activities to this new medium.
If your dealership sponsor a youth sports team, share a note of congratulations when they win a big game. Follow and communicate with local TV/radio stations. Even simpler, you can share posts from others that compliment your dealership with a simple addition of the comment "Thanks!" — these endorsements have real value to potential customers.
If you feel more comfortable with images than with words, perhaps utilizing Instagram or Pinterest to get people to take photos of themselves behind the wheels of your vehicles would get your customers engaged.
On the flipside, be careful not to ignore negative comments being lobbed at your dealership. Actively searching (or employing technology to do so) for posts about your business and handling them swiftly, even with a simple, "We're looking into this!" will ensure that no negative vibes are left hanging in the ether.
2. Post third-party content
Although a lot of posts will be personalized, sharing content from other sources can be just as effective as original content. Curating from a diverse group of trusted third-party sources, whether it's Car and Driver, Automobile Magazine, or the local paper, will garner as much attention, respect, and engagement from followers as most original content.
But the human voice can't be lost in this. Social media is still about people, and while technology can help discover and curate, it can never replace the nuance of the brand's voice. Successful marketers present the shared story as only a slice of the big picture, adding the "how" or "why" to show that this makes a difference for the reader and showcases your dealership as a trusted source of information.
3. Seek out leads
Social media is a great source for sales leads. In a three-day span, it was found that more than 1,700 potential leads for purchases were found on Twitter, often mentioning specific brands like Jeep, Audi, Honda, and BMW.
For example, if you're a dealer in the Cincinnati area, keep an eye on tweets in which users ask for recommendations or vehicles on sale. If you don't have the time, utilize a service to find them for you. Dealers ignoring this vast sea of comments and inquiries on social media platforms are also turning their backs on countless new customers.
And it's not only the younger crowd that's active on social media. Boomers in particular like to address the dealer and also the brand in their posts, so it's easy to track them.
Fortunately, technology can help you manage all these social media conversations in one place. Your dealership network may already have a platform you can use, such as our product, Rallynet, and there are others on the market with different features and price points. Yes, it will take you an hour or two to set up your account the first time, follow your relevant area outlets like your local papers, TV, and radio stations, and input your key search terms for the brands, model, and city. But once you are up and running, checking in two or three times a day for a few minutes should be enough. It's simpler and less expensive than shooting a TV spot or even setting up a website. Social media is becoming a more valuable and cost-effective tool to bring buyers to your door, so those minutes that you spend to develop your skills there may quickly become the most valuable investment you can make to grow your business.
Joe Doran is co-founder and CEO of Rallyverse, which helps companies discover and share great content on social media, is a seasoned and accomplished senior executive with 15 years of experience managing digital media, advertising, and social media solutions in high-growth companies such as Microsoft, General Mills, and Media6Degrees. He is a sought-after expert in interactive advertising, advertising technology, and social media, and an active investor and advisor to a number of social and advertising companies.
Curated, quality insights?