●

Commentary
Apr 1st, 2013
Top Tips from Social Media Award Winning Dealers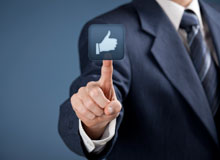 Most dealerships are learning the hard way that there is more to success online than simply getting people to "like" you on Facebook. If your social media strategy isn't engaging or interesting to your target, it will get "blocked" or "disliked" pretty quickly.
Dealerships need to find unexpected and engaging ways to get audiences involved with their business. Only the campaigns that drive loyalty and interest will start to take on a life of their own and become successful social media campaigns. Here are some creative campaign ideas you can try from just a few of the 2012 Automotive Social Media Award-winning dealers…
Rich Ford's "New Year's Resolution Campaign," which won the Most Creative Facebook Ad Campaign Award, took advantage of the New Year by challenging their Facebook fans to come up with the most compelling way that a 500 dollar gift card would help them realize their New Year's resolutions.
Submissions by Facebook fans were then voted on by other Facebook users, and the entry that got the most "likes" won the gift card. The contest was heavily promoted in the local market with Facebook Ads. This campaign drove 687 new "likes" and had a viral reach of 272,300.
Tempe Chrysler Dodge Jeep, winner of the Best Facebook Contest & Ad Campaign Award, gave away four VIP tickets to the Phoenix Open and also donated 10 dollars for every new Facebook Liker to the Juvenile Diabetes Research Foundation.
The three week contest was promoted heavily in the local market using Facebook Ads and Sponsored Posts. This campaign increased liker count by 1308 and Tempe was able to collect 1081 in market leads that included email addresses. They had an amazing 6,340 clicks with a 61 percent custom audience match rate. The numbers speak for themselves!
Having a solid strategy for reputation management is also a big part of social media marketing. A study of more than 1,600 car buyers and 600 dealerships found that nearly 70 percent of recent car buyers said review sites influenced where they shopped.
Many buyers were also willing to drive long distances to purchase vehicles from dealers with positive reviews. Your dealership's reputation is crucial to driving sales and loyalty. Norm Reeves Honda, winner of the Best Online Reputation Award, is a high-volume dealer located in Cerritos, CA (LA metro area).
They have done an outstanding job generating high volumes of positive reviews nicely distributed across the most important review sites in their market, and they are benefitting from significant traffic to their website. How did they do it? They started tracking customer reviews just like they do sales and challenged their staff to get their happy customers to go online and leave reviews.
They also regularly survey their customers to fix any issues and ensure excellent service. Norm Reeves Honda generated 305 positive reviews, well distributed across the top five sites* with a 4.4 star average for 2012 which resulted in 2470 website referrals from these top 5 review sites.
It is hard for dealerships to stand-out in social media, but creative campaigns and a great online reputation can improve customer loyalty and generate more leads and sales.
* Digital Air Strike, 2012, Automotive Dealership Social Media and Online Reputation Study.
Alexi Venneri is cofounder, CMO, and COO-social media of Digital Air Strike and has been in the automotive industry for over 15 years; she has worked on the dealer and vendor side and has partnered with multiple OEMs. Prior to cofounding DAS she was president of the Van Tuyl Automotive Group advertising agency and she was also CMO at DealerTrack and Who's Calling. www.digitalairstrike.com.
Curated, quality insights?