●

Best Practices
Mar 26th, 2014
Using Online Channels to Market to Millennials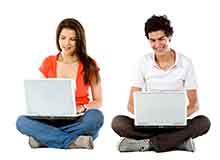 Millennials, born between 1982 and 2000, are the first generation bigger than the infamous baby boomers, and according to industry experts carry $170 billion annually in spending power. Highly educated, millennials may have a hard time getting their first job, but over the long term have huge value as consumers. Automotive brands that can capture their brand loyalty early are well positioned to earn more of millennials' wallet share as they age.
Millennials are extremely technology dependent — they are rarely without their mobile devices. That has big ramifications for auto brands and dealers who rely heavily on traditional media such as newspaper advertising.
So how can brands and dealers market most effectively to millennials?
Get on social media, and monitor your online reputation
Many millennials don't make a move without consulting their social media network. If someone they admire likes your brand, you're in. They are also much more likely to check out online reviews at sites like Yelp. Check out your profile and make an effort to raise your ratings. Respond to reviews, even negative ones, publicly to show that you truly care about the customer experience.
Let them handle much of the research and buying process online
Your website should be crafted using responsive design techniques, meaning it looks great and functions well whether it's viewed on a PC or a mobile device. First impressions count, and a bad first impression on the web can meana millennial never returns to your site. Worse, millennials will share a bad experience via social media, so the effect is amplified.
Don't spam
Email marketing can be extremely effective with millennials if it's targeted and relevant. They expect a personalized approach that emphasizes customer benefits, not marketing-speak. But because many millennials don't use email as frequently as other generations, auto brands and dealers should also…
Explore mobile marketing
Millennials tend to text far more often than they email. This can be a plus for marketers, because text messages have a 99 percent read rate, with 90% read within three minutes of delivery. Moreover, data shows that dealers enjoy on average a 31% response rate across their SMS campaigns. That's a significantly higher response than a typical email.
Don't worry, the salesperson is still relevant
Though millennials prefer to handle most of their research online, in the end they still want to drive a car before they buy, and they want a trusted advisor. That's where your salespeople come in. Keep in mind that, as with email marketing, a transparent approach emphasizing benefits and not marketing speak is best. This generation values frankness more than any other.
You may have the perfect cars for millennials, small, fuel-efficient models packed with technology, with an edgy design, but if your marketing isn't right, those cars won't sell. Keep these tips in mind to make sure you're speaking millennials' language.
Craig Vore is the insights manager at Outsell. He is responsible for driving strategic analytics and creative innovation in Outsell's Digital Engagement. Outsell provides to their clients in channels including web, direct mail, email, mobile, and social marketing.
Curated, quality insights?