●

Commentary
Jun 25th, 2018
What Is a Featured Snippet, and How Can It Increase Your Web Traffic by 30%?
Digital disruption is a hot topic — it's happening everywhere. But it's not bitcoin, blockchain, or artificial intelligence that I want to discuss. Instead, let's discuss the impact of search engines on the car buyer's journey, and particularly the changing face of Google's search engine results pages (SERPs).
The number of different search results have been increasing in recent times, and at the moment there are more than 20 different types of results. Perhaps the most compelling of them all is the featured snippet.
The #1 search position has long been held as the Holy Grail for SEOs and businesses. But now it's position #0 (the featured snippet).
If you want to attract new buyers to your website and build brand exposure, then acquiring a few of these snippets will drive results.
What is a featured snippet?
You may not have heard of featured snippets, but if you've made a few Google searches, you've seen them. They are presented as a paragraph, list, or table.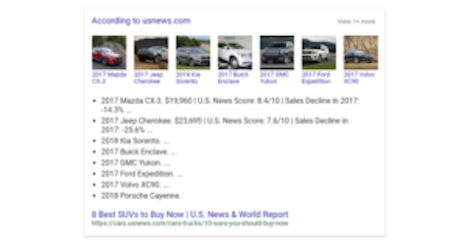 Here's a featured snippet when searching for "what is the best SUV to buy." This featured snippet for USANews.com will be returned an estimated 1,000 times each month for searches in the U.S. It's obviously visually compelling among the traditional search results.
Why should I target featured snippets?
If the average car buyer is visiting only two dealerships before purchasing and Google is the web's largest referrer of traffic, then it makes sense to increase your visibility in their search engine. And what better way to do that than score some valuable featured snippets?
That's where your search result will clearly stand out from your competitors. It's obvious that featured snippets lead to increased visibility, but in terms of tangible results, the reports are varied depending on the industry and the query.
There are some positive reports, however, including:
How do I target featured snippets?
There is no magic sauce. Google hasn't told us how to do it. Instead, we must rely on experience and the results of studies from search analytics software companies like SEMrush.
According to its research, "It appears there's no way to rank in a featured snippet if you don't already rank anywhere on the front page of Google." That's your first obstacle. It means you need to identify the search terms where you already rank in the top 10 and that also currently return a featured snippet.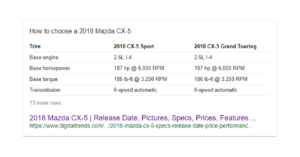 In some instances, you're going to have to add new content to those ranked pages. For others, you'll need to reformat them. For example, if you search for "Mazda CX5 specs," you'll see the featured snippet for digitaltrends.com.
This snippet will be shown an estimated 320 times each month. So, you need to identify what it is that makes digitaltrends.com the chosen snippet and use what you've found to optimize your page. If you're a Mazda dealership, you'll likely have all this snippet information already on your site.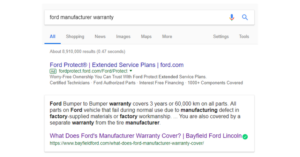 For other opportunities, you may need to add the "snippet-optimized" content in a concise paragraph or via a list of features.
Ford dealerships around the country will have information about Ford's manufacturer warranty, but it's Bayfield Ford that has this snippet secured (for now). Here are other basic tips:
1. If it's a paragraph snippet
Try to understand the intent of a person searching for the term. Do you have a paragraph on your page that would solve that intent better than the existing snippet? If not, create one and try to place it high up on your page.
Keep its length comparable to the existing snippet. And if the current snippet displays an image, look at its orientation and design and embed a similar one on your page.
2. If it's a list snippet
Obviously, you need the list if you don't have it already. Look closely at the snippet's formatting and look to emulate it. This might include &LTh2> or &LTh3> tags, or unordered &LTul> or ordered &LTol> lists. Does it have Roman numerals, standard numeric lists, or bullet points?
3. If it's a table snippet
Like the list snippet, aim to format your table similarly. If you want to learn more about how to target and acquire featured snippets, check out this Moz Whiteboard Friday episode with Britney Muller.
A shift in your content marketing strategy will help
Most dealership websites target the user when they are searching where to buy the car. They ignore the earlier research stages identified by Google's five key auto shopping moments.
If you make a shift to provide valuable information to the car buyer during the earlier research stages ("which car is best?" and "is it right for me?"), you'll open yourself to many more featured snippet opportunities.
Plus, there's the benefit of generally engaging your buyers earlier, long before your competitors.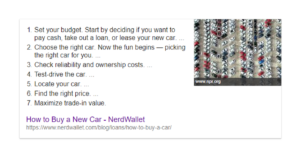 Take this example: If you search for "how to buy a car," you'll see this featured snippet from nerdwallet.com. This term is searched 8,100 times each month in the U.S.
If your dealership landed a snippet like this, not only would you get brand recognition and increased traffic, you'd also most likely establish a level of goodwill and trust for being open and honest.
Featured snippets and the future
The immediate benefits of attracting a featured snippet will be obvious to you shortly after you acquire one. You will probably see increased traffic that should lead to more new car sales. But you can consider the objective of earning these snippets to be much more than that.
They can future-proof your business. That's because the number of featured snippets continues to climb with the growing influence of voice assistants.
Research suggests that 40.7% of voice queries are answered using the information drawn from a featured snippet.
Quentin Aisbett leads Australian-based digital agency OnQ Marketing. Responsible for clients' overall online strategies, he focuses on SEO, content marketing, and marketing automation. If you would like a free SEO audit for your dealer website, visit www.onqmarketing.com.au/website-audit; for more information on generating review links, go to www.onqmarketing.com.au/google-review-link-generator.
Curated, quality insights?